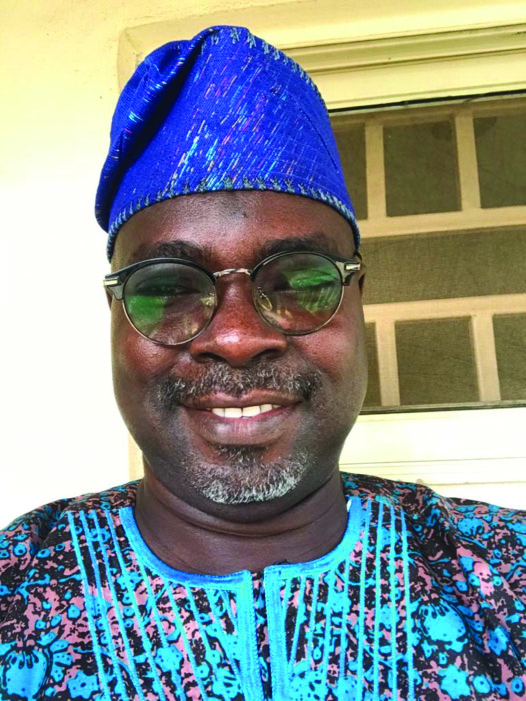 Jamiu Olawumi, the Special Adviser on Education to Osun State Governor speaks on the condition of education in the state, with Hammed Shittu
What is the reaction of stakeholders to the recent review of Osun State's education policy?
I want to say a big thank you to our amiable governor, Mr. Gboyega Oyetola who has created a conducive atmosphere for us to work. Because, were it not for his belief and the confidence he reposed in us, the Commissioner for Education and myself, the Special Adviser on Education, all these feats wouldn't have been attained in the education sector. As we speak today, by November 9, 2020 a new academic session would start in Osun and we will start the implementation of the reforms that we have carried out in the education sector. Principally among those reforms, is the issue of single uniform. We have new leadership of schools, primary, junior secondary and senior secondary, coming to the ministry to obtain the uniform they jettisoned when we had the monolithic uniform in Osun. The advantage from this is that we are behind the flags of the countries of the world. When you stand by your flag, among the comity of nations, you have the passion, the patriotism and the zeal to serve your country. So, we are bringing back the era of healthy rivalry among schools. We recall when we were in secondary schools, by the time you are representing your school, you see your school uniform, you get happier and that is what we are reenacting.
Apart from this, what other areas do you think the state would benefit from the review?
Let us talk about the economy of the uniform. The time the last administration of Ogbeni Rauf Aregbesola introduced the single and monolithic uniform, somebody, in the person of former Commissioner for Education was quick to say that it was an intervention because people of Osun were poverty stricken. Yes, the governor invested a lot of money, N2 billion in the uniform, but what did we get as deliverable from monolithic uniform? One, the uniform was given to a single company not based in Osun; N2 billion was given to a foreign company, the owner came to Osun to invest and build the factory from the money and repatriated the entire money to Lagos. That was capital flight as against the cloth sellers at Idi-Seke in Osogbo, at Atakunmosa market in Ilesa, at Odo-Ogbe market in Ile-Ife who would sell in pieces to students and retain the N2 billion in Osun State. What we witnessed then was capital flight. Even people who were selling clothes, who were creative, who went to a Chinese company to produce the uniform so that they could sell were arrested and locked up at Ilesa prison. So, it was a uniform monolithic from a jackboot, it was more or less a military dictatorship in "Agbada". So, what we are bringing back now as economic consequences is that cloth sellers in Osun would have advantage to tap into that N2 billion. Imagine what that N2 billion would revolve within the economy of Osun State as against the capital flight we suffered under the administration of Aregbesola. So, single uniform will go by November 9, 2020 and every school will have its school uniform. We have also restored the names of schools; we don't have Government High School, Government Junior, Government Middle.
What we have now is Oduduwa College, Ile-Ife, not Oduduwa College High School, what we have now is Ilesa Grammar School, not Ilesa Government High School. We have Osogbo Grammar School now, not Osogbo Government High School.
Two days ago, St Johns School old students association in Ile-Ife honoured the governor, Mr Gboyega Oyetola for restoring their name and their uniform. You cannot destroy iconic schools founded before 1960 and so on. Oduduwa College, Ile-ife was the school Baba Lateef Jakande attended, the same school late Richard Akinjide former Attorney General of the Federation attended. You cannot just come and destroy these schools. Because of these developments then, various old students association of these schools abandoned them. Infact, Ilesa Grammar School Old Students Association went to court to challenge the government.
Governor Gboyega Oyetola today has restored the names of these schools. And, as I am talking to you St Johns Grammar School, Ile-Ife is investing N50 million into rebuilding their school, St Lawrence Ilesa has invested N47 million, the old girls of Baptist Girls High School, Osogbo are planning to buy uniforms for 1500 students. Because of these policy review and implementation that we have done, you can't remove the hands of old students from their schools, you can't run their school better than they have experienced. Whatever you are bringing as a reform must go along with the sentiments attached to those schools. By November 9, 2020 these schools would have access to their uniforms. If you move around Osun State now, you see the tailors busy sewing uniforms, the economy was killed for eight years through the uniform given to an individual to run at N2 billion, which turned out to be capital flight, but is now resurging.
What are the conditions of schools in Osun as of today?
We have a problem that we collectively inherited from Ogbeni Rauf Aregbesola's government and that is the state of schools in Osun, our schools are in dilapidated conditions. There are new schools, and these mega schools are unnecessary, I am saying this with all sense of responsibility. If you get to Ayedaade Grammar School in Ikire, the new school, or the so called Mega School they built there is collapsing while the structure of the old school there is still solid. There was no reason to build a new school in that compound. Even when the water of the new school was not running, they had to tap from the old Ayedaade Grammar School, it was as worse as that. The school, I mean the entire school now is suffering from natural cracking, the roof is sagging. Of a particular interest to us is the Mega School in Ejigbo, called Wole Soyinka because of the name attached to it. It was named after Nobel Laureate, an international figure but if Prof Wole Soyinka were to visit that school today, he will plead with Osun State government to remove his name. In that school, they used floor tiles as wall tiles and the tiles are falling away, they used plywood as roofing sheets and put Kontaa on it, they said it's an imported technology from USA. I don't know where they use plywood to roof a house, a building of that magnitude, the roof is gone! When they were constructing it, the school hall collapsed and they had to rebuild and you discover that they gave somebody a consultancy job, and the same person is also a contractor.
That was what we experienced during the last administration and we are trying to refix. Particularly, if you look at the number of schools we have in Osun, about 519 secondary schools, that government built 11 completed 10 and 5 of the 10, no furniture the 11th one is 90% completed at Iwo in Iwo Grammar school. The last time we were writing WAEC, we were praying fervently to God because the roofs were seriously leaking. The last administration built the so called mega schools at the entrance of towns and cities so that when you are coming into the state capital you will see new schools and you will not even care whether you have other ones that are rotten. We had about 380 schools rotten, we had 286 schools without laboratory in Osun.But, the picture being painted the outside world was that they were building schools in Osun in a place where Iwo have over 280 schools without laboratory and we say we are pushing for science education. That is there for us to fix; Gboyega Oyetola's government is fixing in the next three years over 100 schools. They would be refixed, rebuilt and will provide laboratories for them. From November 9, we are going to have inclusion of old students associations.
But we are doing something novel, we are bringing in the board of governors for schools. In those days, if you remember, your school would have a board of governors. What's the composition of the board of governors? We are having two alumni members, one would be the chairman, we will have two from the school itself, the principal and a teacher would be the secretary making four, we will have a representative of Muslims community, a representative of Christian community, and there will be two parents making eight. So, the issue of who gets what, who discriminate against who would be a thing of the past. And we have issued circular that no child must be discriminated against because of religion, tribe and sex. So, the issue of we are doing something because of a particular religion does not arise, because government is the owner of all schools since 1976.We retain those names so that we will not lose our sense of history that this school, before 1976, was owned by a particular religion or religious group. That is part of what we are doing from November 9. So, we are set to reopen schools and before November 9, I must also tell you that we are recruiting 2,500 teachers, the competitive recruitment teaching examination will be computer based. This is so because we want our teachers to be computer literate; so the examination would be done through the CBT before we start the interview. We have a lot to do and we are doing it. When you talk about what we are reviewing, you look at the composition of people who sat down with us to look at the problems in the education sector. We are talking about a retired General in the Nigerian Army, the first Chief of Defence Staff, General Alani Akinrinade, he represented Osun Development Association. Perhaps some people don't know, Osun Development Association was the main association that fought for the creation of Osun State.
They cannot fold their arms and see things go awry, because some set of people felt that they should do something unusual and create names for themselves. When education was collapsing and Osun was collapsing they had to come to our rescue. The like of Chief Alani Akinriande is the like of Chief Alani Bankole in Ogun State. So, you can't talk to diminish the status of such people. We also have emeritus professor, Professor Olu Aina; he's also a member of Osun Development Association. We have Professor Funmilayo Obilade, former commissioner here, the immediate past Vice Chancellor of Tai Solarin University, in Ogun State. We also have a former Registrar of WAEC as a member. Let me tell you this, when Aregbesola's policy was on, you have boys taken to single same school and you also have girls taken to single same school. I mean, girls were taken to St Charles Grammar School, which had been a renowned male school for years, Baptist Girls High School the same thing.
So, we now have Jamiu Abdullahi in Baptist Girls high school, carrying certificate of Baptist Girls High School. A presumption of fraud is established against that kind of a person. How can a male be carrying the certificate of a girls' school. So, all these anomalies have been reviewed and we are implementing them on November 9. Girls will move away from boys' school and boys will move away from girls' school. There is also another one that we are reviewing, that is Early Childhood Care Development Education. It is for the kindergarten classes, it's been acknowledged and applauded by even the World Bank, World Health Organisation and UNICEF that we are to provide early childhood education for pre-primary age. This was cancelled during the administration of Ogbeni Rauf Aregbesola. Instead of you having those kids in school, you now have mushrooms and unqualified substandard Nursery and Primary Schools where parents take their children to. And we are smarting from COVID-19 pandemic. We can't allow the rot to continue, because it was a rot. So, those are the things we are going to do and we are prepared to do them.
When should people of Osun expect your own education agenda to begin?
You can now start to judge us from November 9 because that is when we are going to start the real education policy programme of the Oyetola administration. We are going to make sure that there is collectiveness; there is inclusion in governance of schools. Even when government had money, we could make sure we deliver reasonable part of education development required of a government. Now that we have old students associations that were hitherto sacked from schools like Osogbo Grammar School, they are building a multi-million Naira gate to beautify their school, they brought the application and we gave them the go ahead. So, when you are entering Osogbo Grammar School in another two or three months, you will think you are entering a polytechnic of university.
Ordinarily, schools should be more beautiful than homes, it is then that schools will become attractive to students. But when their homes are better than what they meet in schools, they won't come but when we make schools more attractive, they will be able to leave their houses and go to school and learn. So, by that, this government will want you to judge us from the sense of belonging that we have restored; the good spirits of yesteryears that became elusive because of the policy. And let me tell you this, the policy on education in Nigeria is 6334 and by November 9, we are starting the 6334 in Osun State. What we had under Aregbesola's government was 4534. Four years in primary education, five years in junior secondary, and three years in senior secondary school and four years in tertiary school. I will tell you the flaws in that. The government of Aregbesola took primary five and six to secondary schools.
I heard that somebody who was commissioner was trying to justify that. But what he did not tell people is that they moved primary five and six to secondary school alongside their teachers. The impression given was that they moved to secondary school from primary five and six to tap into the knowledge of more qualified teachers who are graduate teachers. That could not be correct because they moved them with their teachers even with their furniture. The popular reason they did this was because they were running free meals for students in primary 1 to 4 and they said primary 5 and 6 are being traumatised by not eating food. Education and future development transcends irrelevance as in feeding, it's completely irrelevant. This is because an average parent in Osun is prepared to give meal to his child before Aregbesola came here. Also before he came here, parents were buying uniforms for their children.
When I went to school, my parent bought school uniform for me and there was nobody who was going to school naked before Ogbeni Aregbesola came, the uniform could be old, not that they were going half or naked to schools. What Ogbeni Aregbesola was doing at that time was just providing jobs for his boys. Now, we are having primary 1 to 6 in one compound, one school JSS 1 to 3 and SS 1 to 3.The teachers for primary schools who were moved to secondary schools will come back to primary school to come and teach their pupils. It is far from the truth that it was because of more qualified teachers in secondary schools they moved the pupils. A boy and a girl are expected to sit in class with their teacher who will teach them English language, Arithmetic, Social Studies, Civics and Integrated Science. These are the subjects they teach in primary schools. They were trying to justify the errors and I think its unfortunate.
What is your government doing to boost the morale of teachers?
It's a known fact worldwide that Oyetola's government has not defaulted in the payment of salaries to all civil servants, teachers inclusive. Infact, what we did when we came to office was to apologise to teachers who were traumatised and grieved by not paying their salaries fully under Aregbesola's government. We still owe them arrears of almost 36 months which this government is prepared to pay to make them happy the more. The teachers will be trained, and about two weeks ago, we had a day training for teachers in every federal constituency and they were happy they had it. Let me also say this, before Ogbeni Gboyega Oyetola came to office, those teachers had struggled to acquire more degrees and more qualifications and the government that left did not accept it, instead they were to be dismissed for attending courses without permission. But our government has forgiven and pardoned them and they have presented those certificates for advancement. So, what they lost under Aregbesola, they have gained much more under Oyetola's government. What I think has happened here is a sort of divine intervention because we have better sense of belonging and better sense of duty to the uplift and betterment of Osun people's lives and that is what is found in Oyetola's administration.
What are your achievements on the development of tertiary education since you assumed office?
Osun State University is doing well, infact it's a model peculiar to Osun, having bigger deliverables than other conventional universities. This is a university that is run as a semi-private university. Their calendar is stable, the quality of education is right, there is industrial harmony within the university. And we have no cause to worry about the products of Osun State University. What we are doing now is attending to other tertiary institutions. We have a polytechnic at Iree, we have College of Technology in Esa-Oke, we have a College of Education in Ilesa and College of Education in Ila-Orangun. We have called for staff audit, so as to make sure we recruit more lecturers. Every month, people retire from service, they create gaps, and we can say that we have temporary staff that they call IGR staff, who are part-time lecturers, who should be given permanent appointment. We have done the audit and they are returning those data and government has given us assurances that we are going to recruit more lecturers in those schools. We are not going to do it under the table, we are going to advertise in the Newspapers for all of them to apply and we are going to apply all rules governing the recruitment of lecturers in the tertiary education so that what we have will be the standard and we are very happy that will be happening before the end of the year.
In view of the reopening of schools by the state government after the pandemic, what are the government's outlines of academic programme for the students?
I am very happy to tell you that, while some states were cancelling third term, we brought in third term. And few days ago, the federal government also announced third term. It means Osun is thinking right. Other states, Lagos, Oyo, Ogun and almost all the states of the federation cancelled third term and promoted their students to the next class. We saw this as dangerous because a child who was at home for six months, you will not interrogate what he has studied during the break and do a second term exam, you are now promoting them based on first term results, that is very dangerous. I think we have to consider the children and wards of the common people who do not have access to attend private schools,who would not have access to the internet, to whatsApp training and consider them so that they don't become problems for all of us in the future. And that path that Osun State followed is what the federal government adopted. The federal government has now adopted third term when they resume on October 12, and they will now start the new session in January, almost the same thing Osun State is doing. We just have a differential of two, three weeks in what we are running as third term. It means we are thinking right here.