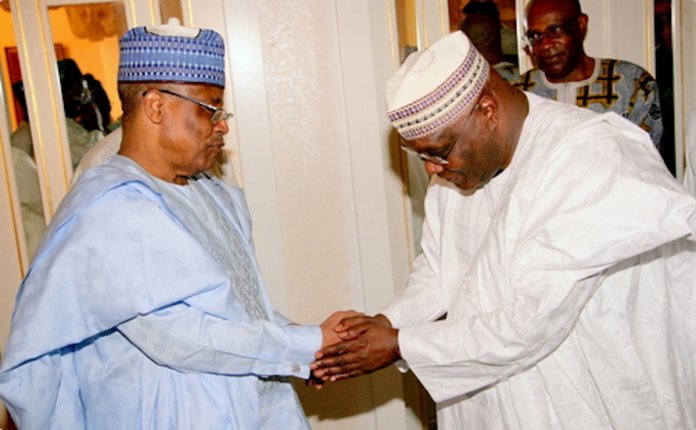 By Laleye Dipo
Former Vice President Atiku Abubakar on Monday paid a visit to former Military President General Ibrahim Badamasi Babangida at his Minna residence.
Alhaji Abubakar arrived Minna Imternational Airport at about 12.30pm and was received by ex-governor of Niger state Dr Muazu Babangida Aliyu .
The duo drove in a black Mercedes Benz to the residence of General Babangida
The meeting between the former vice president and General Babangida lasted over three hours. After the meeting, Abubakar was driven back to the airport in the same vehicle.
The former vice president declined to speak to newsmen at the Minna airport but Dr Aliyu said, "it was a private visit."
"It is not unusual for Alhaji Atiku to visit General Babangida," Aliyu said.
However in an interview with Channels Television Alhaji Atiku Abubakar called for the reform of the Nigeria Police which he said was no longer operating based on its mandate of securing the country and its citizens.
He described as unfortunate the fact that men of the Police who were trained to protect the citizens had now turned their guns against unarmed citizens.
The former vice president restated his earlier statement that the ban on SARS "was in order"
Former Governor Aliyu also applauded the ban on SARS saying "it is long overdue."
"It is not only the SARS that needs reform, the army, other security agencies need reform," Aliyu said.
He said it was nice that Nigerians now know how to ask for and defend their rights in apparent reference to the series of protest that led to the disbamdment of SARS.