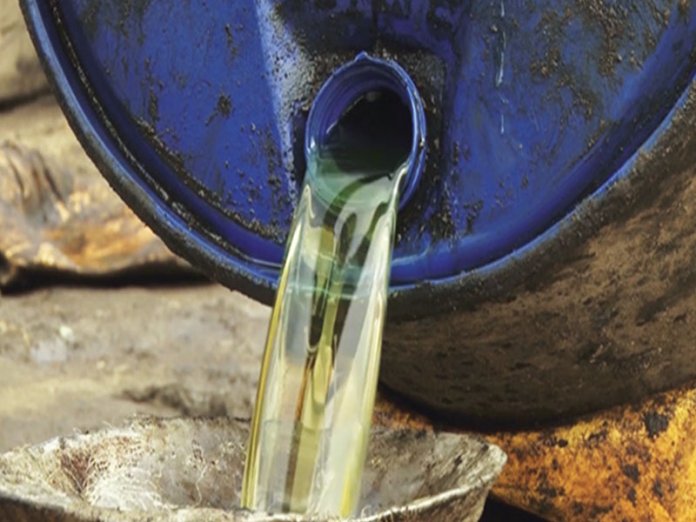 Despite warning from food standard controlled agencies and health experts, that consumers should be wary of unbranded cooking oil, its influx into various Nigerian markets continues. Raheem Akingbolu writes on the ugly development, describing it as a danger to the economy and human health.
From Lagos to Onitsha, Kano to Port Harcourt, different types of unbranded vegetable oil litter the markets. Mostly in yellow, blue and white kegs, this brand of oil has neither manufacturers' address nor any inscription on its formulation.
To nip the problem in the bud, regulatory agencies, especially the National Agency for Food and Drug Administration and Control (NAFDAC), has warned that consumers should avoid such product like a plague in their own interest because of its health hazard.
Perhaps because of the country's harsh economic situation or ignorance, patronage of this poorly produced cooking oil has continued unabated, not minding its negative health implications.
Two months ago, NAFDAC wielded the big stick and closed two vegetable oil packaging retail outlets in Ilorin. The agency classified the outlet as unregistered, highlighting that they have sold more than 2.2 million litres of what it called unverified vegetable oil to the public.
The Kwara State Coordinator of NAFDAC, Roselyn Ajayi, said the closure was preceded by a tip-off that led to the discovery of the outlets which are located at Adabata and Stadium Road, Ilorin.
"We were tipped off by some concerned citizens and we investigated and found out that the individuals were engaged in packaging and selling vegetable oil whose sources are unverifiable.
"Investigation revealed that one of the marketers acquired more than 2.2 million litres of unverified vegetable oil and selling it to the public; those involved were caught packaging and placing labels of unregistered brands on the product," she said Over the years, Nigeria has groaned under the yoke of fake and substandard products in terms of human and material losses. In the food, drink and drug categories, countless lives have been lost while adverse effects have led to financial loss. The national economy has also directly suffered in terms of lost revenues through taxes.
It is believed that Nigeria is ranked among the world's highest market for fake and substandard products and equipment as evidenced by the wanton display of all manner of poor quality goods and products littering the open markets, shops, supermarkets, chemist and other retail shops. Conservatively, about N15 billion is said to be annually lost to fake and substandard products in Nigeria.
Health hazards of unbranded products
Overtime, experts have warned that the harm and risks from counterfeit goods, especially unbranded ones are profound. Through enlighten campaigns and words of mouth, regulators and professional bodies have consistently called the attention of consumers to the fact that fake goods are often bad quality and in most cases unsafe. For instance, unbranded cooking oil is believed not to have been subjected to the same health and safety procedures as legal items and so the damage can potentially be fatal.
Meanwhile, the Nigerian Heart Foundation (NHF) and NAFDAC have announced that contaminated vegetable oil is the kind that has been diluted with other forms of oil, including animal fat, adding that once it gets congealed at room temperature, or packaged in unhealthy containers. The regulators have also labelled it unfit for consumption.
With increase in the number of Africans having heart related diseases, the abnormal situation is being linked to consumption of unbranded and other contaminated cooking oil, with possibly high cholesterol.
In a recent statement, the Executive Director, NHF, Dr. Kingsley Akinroye, was quoted as stating that vegetable oil becomes contaminated by interference with any additive that ought not to be part of the vegetable oil or even content injurious to health that ought to have been removed in the course of oil extraction.
According to the expert, vegetable oil produced through unhygienic process may contain high cholesterol and work against the normal flow of the body, thereby blocking heart vessels and leading to sluggishness of blood movement.
In the same manner, NAFDAC has identified safe vegetable oil as one that is sourced from plant, cholesterol free and then produced, packaged and distributed in hygienic situation. The government agency went further in its 'Fat and Oil Regulations 2018', that vegetable oils shall be derived from the botanical source after which they are named and indicated under the regulations for individual oils".
Though the channel of communication may be different, the message is the same.
Concerned stakeholders, including manufacturers are of the opinion that unbranded vegetable cooking oil poses lots of health hazards to Nigerians and that its frequent consumption could cause Cancer and many other heart-related diseases.
Category & Brand Manager, PZ Wilmar, Toyin Popoola-dania said, "We are living in a time when now more than ever we are more conscious of our health, the Covid-19 Pandemic has clearly reiterated the need for healthy eating and importance of a strong immune system.
"Therefore while we are taking all the necessary precautions to avoid contacting and spreading the virus, it is equally important that we pay close attention to what we consume.
"According to NAFDAC, unbranded vegetable oil is unsuitable for consumption and could have negative health implications. The agency says heart diseases are one of such problems due to high cholesterol content and other fattening agents that have been added in them," she said.
"Study has shown us that many people are unaware of these dangers, while many simply consider these unbranded oil more affordable. Also, Nigerians need to be more aware of the fact that quantity is not always quality as this is one of the major reasons majority patronise unbranded oil – more volume and cheaper; unfortunately this is not correct as they unknowingly spend more in the long-run," she stated.
How to avoid substandard cooking oil
As part of the measures consumers should deploy to avoid contaminated cooking oil, experts in the health sector, have recommended cooking oil that meet heart-friendly standards of Nigeria Heart Foundation, NHF; National Agency for Food and Drug Administration and Control, NAFDAC; World Health Organisation, WHO and other regulatory bodies.
According to them, these institutions have standards for acceptable cooking oil because of the health implications of unbranded or adulterated ones. Besides, the health regulatory bodies have consistently dished out warnings to consumers on the danger of consuming low standard cooking oils as well as making effort to seize illegal products to rid the market of adulteration.
Consumers have also been advised to deal with reputable sellers or ones that have been recommended to them. It is also believed that if consumers trust their instincts, they might not fall prey to dubious manufacturers.
For instance, if an offer looks too good to be true, then it probably measures below standard. It is believed that legitimate branded cooking oil are rarely discounted, more reason consumers should not rush and be fooled into believing they are getting a good deal when they are buying unbranded product.
When asked to comment on the recent development in the vegetable oil market, especially as it concerns the influx of unbranded vegetable into the market, the Director, Public Affairs at NAFDAC, Dr. Abubakar Jimoh simply said the agency is looking at the development and would get across to this reporter at a later date.