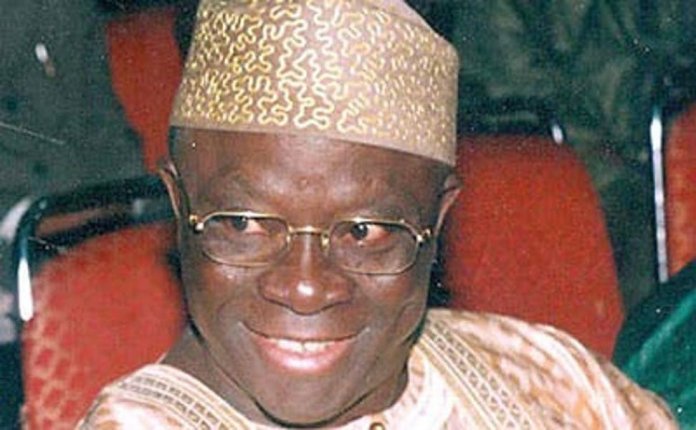 Segun James was with a group of journalists who tasked the former Governor of Ogun State, Chief Segun Osoba to comment on a myriad of controversial statements made by elder statesman, Chief Ayo Adebanjo on a number of Yoruba regional and national issues
Your reaction to the allegation by Chief Ayo Adebanjo that you have sold out?
I want to seize this opportunity to give a strong notice to Chief Ayo Adebanjo that from now onward I will return fire-for-fire. I have over time tried hard to give him the respect of a little difference in our age as a senior brother. But his recent utterances on many fora, particularly in an age that the YouTube is all over the world, I will now come out forcefully to reply every punch of Chief Adebanjo any time he speaks. We were together on the programme about one month ago where he accused me of being a sell-out. And I challenged him that he knows, my character and he knows me long enough that I have an impeccable character in terms of integrity and honour. And he agreed there saying that he didn't say I was corrupt or that I am not reliable but that I sold-out on the issue of restructuring. And I want to challenge him that I have consistently preached that this country needs genuine and true federalism. I have over the years campaigned that what we need is a Canadian model or Australian model in all my interviews. His attitude is that you must agree with his own definition and that you must not have a contrary opinion. I have over time told him that his behaviour is inconsistent with Chief Awolowo's behaviour. Awolowo tolerated dissenting views, he listened to second, third opinions as against Adebanjo's attitude of rigidity. That is the difference between the two of us.
It appears that you and Adebanjo have been having altercations, is there anything that is personal?
Very much so, over time, he has never wished me well. In 1984, shortly after the coup of 1983, the military offered the position of Managing Director of Daily Times to me. I went to our leader Papa Obefemi Awolowo to clear the appointment with him. He was very, very opposed to my moving from Daily Sketch to Daily Times on the ground that, as usual the word sell-out has always been with him. He said it will be a sell out to the military. But Papa Awolowo took the very objective opinion and said, this is a professional appointment, it had nothing to do with politics and that Osoba moving to Daily Sketch will be a big plus to the progressives. Of course, Awolowo's view manifested when I moved to Daily Times because the then conservative and oligarchic family tagged us the Lagos-Ibadan press axis. Meaning Daily Times, Professor Oshonaike in Tribune, and Peter Ajayi in Sketch because we were taking progressive positions. I will give you an example, along the line, we met at Lagos University Teaching Hospital where the former governor of Ogun State Onabanjo was hospitalised when he was in detention.
He now requested me to please help to use Daily Times to run a campaign to help the road to his house in Agboye constructed because that time the road to his house was always waterlogged. And I challenged him that you were opposed to my going to Daily Times, why do you want me to use Daily Times? Onabanjo said yes, I was correct. If you said I was going to sell-out, are you now part of the sell-out? Gboyega Onabanjo, the son of Onabanjo is alive to testify. Along the line, in 1990, when I offered to contest for the governorship of Ogun State, he went all out to abort my ambition and took many practical steps. He adopted Professor Afolabi Olabiyitan as his candidate. He got the Awujale of Ijebuland to call a meeting of Ijebus where a resolution was passed that no Ijebu man should vote for Osoba. Thank God it was the era of open ballot, we went into the primary, and open ballot then is that people queue behind your picture. Even in his home town, Isanyaigbo, I defeated him there. My main campaigner was his Number One man, late CP Odunsi. After my first coming I still invited him and others to form elders consultative forum to me as governor. I invited Papa Adesanya, Papa Ajayi, Papa Osoba of Ijebu Ode, and that was how I ran my government.
In my second coming, he again was opposed to me, he supported my opponent and consistently he has always been after me. Why? Because I always respond to his claim that he is the interpreter of Awolowo's philosophy. I have had occasions to challenge him and I said where did Awolowo appoint him as his Peter and gave him the key to his philosophy? Because I have always argued that my relationship with Awolowo was independent of any of them. I met Awolowo when he came out of prison in 1966, I covered his tour of the South-west and since then I became close to Papa Awolowo even when he was Minister of Finance. He has never been happy that I always tell him that I am as deep with Awolowo as he was when Awolowo was alive. And we, myself, Peter Adenaike and Peter Ajayi, we were nicknamed three musketeers of Awolowo. We were one of the few people who Awolowo told to see him in any emergency without any appointment. And we were among those who were free with Awolowo throughout his life time. We used to dine with Awolowo every other week. He has never been comfortable that I have my own strong credential of being an Awoist as he is.
He said you and Bola Tinubu pulled out of Afenifere to destroy the platform that brought you to power?
As I said earlier, Afenifere was opposed to my governorship in 1990. I am not one of those Afenifere or Adebanjo-made governor. Papa Adesanya, Papa Onasanya, Papa Olaniwun Ajayi, Chief Ayo Adebanjo were all opposed to my candidature in 1990 on the ground that they have zoned the governorship to Yewa. And I went on to win the primary on my own, I went forth to win the governorship without any input from any of them. I will say that loudly. But Papa Adesanya was one of the first to quickly call me and said well, I won the election, he is totally with me. He has never reconciled himself to that. He must never again, say that he made me governor. I was governor against the Afenifere in 1990 and my record in 1990 was what brought me back in 1999 because my performance is clear. In Ijebu Ode I was the one who drove away the tanker drivers who held Ijebu Ode to ransom. I did water scheme in all the major towns in Ogun State during my first coming. I implemented free education and I electrified so many villages and gave the Yewa people paramount rulership. I have records of what I did, so he must never say that Afenifere made me governor. Afenifere never contributed a kobo in 1999, I was the one who funded the elections in Ogun State. Not one kobo was sent to the state Alliance for Democracy (AD). I will always challenge him on that.
He said you are never consistent?
He said we pulled out of Afenifere, they caused it. After we were rigged out, they were gloating and happy to see us kicked out. There is no statement I will make that will not be backed up with example. Papa Adesanya called a meeting after we were rigged out in 2003 at Jibowu to try and see how we can patch up and reconstruct the AD family. Again, at the private meeting, they went after Otunba Niyi Adebayo and he walked out on them on the ground that they made an uncomplimentary remark about his father. He said he was not a bastard, that he values his father much more than he values them, and he walked out on them. That was how they destroyed even their attempt to reconcile the AD governors with the elders. They now went ahead to recognise the AD sponsored by Obasanjo because at that time Akinfeyinwa through Ogunlewe who was co-senator with Akinfeyinwa was the one they suspected was promoted by Obasanjo.
They went to Akure and recognised the Akinfeyinwa wing of AD against Akande and that was what caused the split. You cannot recognise Akinfeyinwa and expect us to recognise a man that we do not recognise as our chairman. And that was the beginning of the split in Afenifere. Since then his utterances, his attitude to people has caused other people to move away from Afenifere.
Can you shed more light on his remark on your inconsistency?
His own interpretation of inconsistency is his own way. Here is a man who when we were rigged out, was the first to jump on the PDP vehicle of Gbenga Daniel in Ogun State. Till tomorrow he is the godfather Gbenga Daniel and that is consistency to him. He moved from Gbenga Daniel to Mimiko in Ondo under Labour. And he went to Ondo to pronounce Mimiko as the greatest among those who are executing Awolowo's philosophy, that free education is the best. He moved from there to PDP's Osun under Oyinlola and praised him. Today, he is in PDP with Seyi Makinde of Oyo. That is his own interpretation of consistency. He said we sold out to Fulani, when he campaigned for Atiku, he forgot that Atiku is a Fulani man too. When he hobnobs with Jonathan that is consistency. His own interpretation of consistency is consistency which I don't agree with him. Awolowo will never jump from one party to the other and Awolowo if he was alive will never hobnob with PDP.
Chief Adebanjo seems to have a very low opinion of you and Senator Bola Tinubu. Of all the five South-west governors of 1999, how come it is just the two of you that he is always attacking?
I told you that Adebayo walked out on them, so it is all of us. Adebayo walked out on them in 2003 in Jibowu. The point is this, Adebanjo has never contested election in his life, let him test his popularity, I challenge him today. He should pick anywhere in Ogun State and let the two of us do a walkabout. There is no village in Ogun State that I cannot call out at least three or four families. Two, he has always been antagonistic to anybody who rose to the level of top governance within the progressive family. He was antagonistic to the UPN governors, and I will give you example. The UPN governors reached out to the PRP governor of Rimi and Balarabe Musa after the 1979 election, they reached out to the GNPP governor in Goni and Barde in Gongola and the two PRP to form 9 progressive governors. He led the crusade against the governors to Awolowo that the UPN governors were total sell-out, and that is his usual language.
When Papa got exasperated he called a meeting of the national executives of the UPN at Eko Hotel. At that meeting Adebanjo led the war against the governors that day, saying that they have sold out. I can recall that Chief Onabanjo spoke on behalf of the governors that day, saying that, Papa all these people shouting they are not more loyal to you than we are. And that if we must win at the federal level, we have to cohabit with others outside the old western region, outside our own political family. At the end of the day Papa moved that the governors should continue with their dialogue with the progressive governors association but that they should report regularly to the national executive committee of the party. They then extended it to 12 more governors, breaking the NPP, then Nwobodo , Mbakwe and Solomon Lar. That was the group that led Awolowo to sign an agreement with Nnamdi Azikiwe in Benin for the 1983 elections. Which Awolowo actually won.
Their reaching out was very helpful. And it is that same progressive that helped us when we moved into the SDP which produced M.K.O Abiola. My argument is this he has never been comfortable with any governor either in UPN or in AD. That is what is manifesting now in his attack on Asiwaju Tinubu, myself, Akande and of course Niyi Adebayo who had walked out on them 2003. Who amongst us has not had political experience before becoming governor in 1999? Lam Adeshina was as far back as 1979 a House of Representatives member. When at that time legislature was legislature. He was a colleague to Senator Odebiyi at the National Assembly then. Adefarati had always been in the progressive fold. Akande was deputy governor to Bola Ige. So was he the one that campaigned for Akande in Osun? I have said that he makes flimsy statements. You said that we are not consistent, was (Tinubu) Bola's fight against Obasanjo on the local government development council that he created, not a major war? Did he not resist until he fought Obasanjo to a standstill before Yar'Adua came to release the funds to Lagos State? I will give more examples of what actions Bola Tinubu and I took as we proceed.
One of the things he said is that before 2015, you and Tinubu were at the forefront of the call for restructuring. But when Buhari (APC) won, you people slowed down and it appears as if you are no more interested in the struggle. And he also claimed that most times you are fighting for your interest?
He should define the interest that we are protecting? I decided not to hold any public office again since I left the governorship seat in 2003. Yes, in 2015 the APC produced Buhari, has he ever called us to seat us down? He has never called to ask what is it that we are doing except to say that we have sold out. First of all when we were forming APC we insisted on true federalism. Now in our manifesto, which you can find on the internet, part of the promises made by us as a result of our insistence was for true federalism which is restructuring in our constitution. He can use the word restructuring, we can use federalism, it is all one and the same. Or we can use the word devolution which is what is happening in UK now. Power is being devolved to Scotland, Wales and other Islands. It is in their manifesto.
We are in government, we don't have to go all out shouting in public because we are part of government. He should even take the time to find out what we have done. Oyegun when he was chairman setup a committee under El-rufai, the governor of Kaduna State to produce a report on true federalism. The matter went to our national caucus with the president in attendance, where we adopted the report. Instead of engaging us to let us continue to fight to get the report to the National Assembly, he doesn't recognise the National Assembly. He doesn't believe that the National Assembly has any role to play, that is his problem. Yes we may have our own problem, and I am not saying we do not have our own internal problem, we do have and we admit it publicly. But I will continue to fight within the party, I won't be making statements the way he makes statements. That doesn't mean that I am not fighting for true regionalism, true self determination, for genuine federalism and regional system as enshrined in our 1963 constitution.
If you are divided as we are seeing it happening today, is that what it was under Awolowo?
Unfortunately it was not so. Papa Awolowo used to tell us that within his fold are all kinds of foxes, all kinds of snakes, different characters that he was managing. Awolowo was a manager, that is the difference between Papa Awolowo and Adebanjo. Adebanjo has never managed anything rather than his chamber. And I challenge him, let him say one landmark legal case that he has won. I will challenge him to that. I am a professional Journalist. Awolowo managed people against Chief Adebanjo's approach. He is instrumental to Afenifere breaking into different sub group within the Afenifere. For example, he speaks so annoyingly about different people. Inside Awolowo's house in Ikenne there is Yoruba unity forum formed by Bihop Ladigbolu. Within the Afenifere Wale Osun's Afenifere Renewal Group, within the Afenifere we have Professor Banji Akintoye as Yoruba World Congress, we have Deji Osinbogu group, we have within Afenifere the Yoruba Council of Elders led then by Alayande. Can you query the credentials of Alayande, that is a core Awoist?
It is the attitude of the likes of Adebanjo that has made Afenifere to break into different groups. And I keep arguing that lets us first of all unite all the different groups within the Yoruba race. Can we go into war with these different groups? And along the line, we have the likes OPC, and Odua Peoples 's Union, we have about 12 groups in Yoruba land today. The Yorubas are intellectually endowed, what is wrong in getting all the big brains in diaspora to form a strong intellectual group to write a paper on restructuring. Where is that paper of the road map they want us to follow to arrive at self-determination? Who is against self-determination? We all lived under regional system, the Yorubas are the greatest beneficiaries of regional system under Awolowo. Awolowo was able to use regional system to create first class region in Nigeria. Which of us will not want us to go back? I have been saying that we should seat together to organise the intellectuals together which Adesanya did in his time at the Airport Hotel. He organised the best brains in all sectors even in Journalism.
They were gathered to write different reports on Yoruba self-determination. That is what I thought we should be doing. He has not spelt out his opposition on the idea of going through the National Assembly at the same time he joined with Chief Edwin Clark from South-south and Nwodo from South-east. He and Akintoye went to meet Saraki only to discover that Saraki has done a lot of work on amendment to the constitution and he is a lawyer. I have always asked him to tell us how you can convoke a national conference without the current National Assembly enacting a law to set up such a national conference. And I have always challenged them, that at any election let us go out and produce people. Let him tell me if he has ever produced a councillor, a house of assembly member, house of representative or a senator from his own area? He is just making statements without having a concrete roadmap. For example, there are two issues that I disagree with him on. In his own dictatorial way he says he has now zoned the presidency to the Igbos. I want to query him, who is he to zone the Yoruba race out of presidential race in 2023, who is he? Where did we meet as Yoruba to say that we are ceding the presidency to Igbos? Awolowo will not behave like that, there will be a meeting where there will be a consensus.
Of course the Igbos have a right to contest in 2023 just as I, a Yoruba man will preach our right to also contest. He has unilaterally zoned it to the east, that is part of his dictatorial attitude. Two, he says we will boycott 2023 elections. Where did we sit down to decide that Yoruba will boycott the 2023 elections? He doesn't read history. In 1964, he was then still in exile in Ghana, the issue of boycott arose, UPGA, went into alliance with AD and NCNC to form UPGA. Overnight they decided to boycott, Awolowo from Calabar prison sent a message that never should we boycott and that boycott is not recognised by law anywhere and that we will lose out. Of course we boycotted and we lost out in the government that was formed in 1964. Our other wing of UPGA in the east refused to boycott and so we produced nobody. Awolowo has never been a supporter of boycott. He should tell me the example of where Awolowo ever boycotted and where he got that philosophy from.
Even if you boycott, other Yorubas will go into the race. The PDP Yoruba will contest, and so who is the loser? Again if we are going to boycott let it be that we all sat and agreed and arrived at a consensus. So these are two major issues which he is preaching already which Awolowo will never have supported. Awolowo will never in his life support boycott.
Given the fact that the two of you are foremost Yoruba leaders, what is the way forward from this seeming war between the two of you?
I have no war with him as far as I am concerned. What is paramount to me is let him stop using insulting language, abusive language, antagonising Tinubu. Lets us find a way of bringing different opinions or views to the table. In a democracy let everybody have a say. As a journalist, 99% of what we publish are opinions and views that we disagree with. But we still go ahead and publish these views. That is out training, I don't know what kind of training he has. But he has no room for second opinion, third opinion or any opinion that does not agree with his own opinion.
The way forward is that the Yoruba nation must come together, all the young elements must be brought in. I am at an advanced age of 81. He is 92. At this age people like him should be in the forefront. I will give you another example, the young people in Afenifere from Alajobi, they were frustrated. I have said to him that charity starts within your family, let us first of all find a means of bringing everybody on board reaching a reasonable consensus on how to approach these issues, not through abusive and insulting language and antagonising everybody.
He keeps attacking Bola Tinubu that he was never for the national conference of 2014. True, Asiwaju expressed his own personal opinion in which he has a right to and asked that he will not support the party sponsoring delegates to that conference. But at the same time, we resolved that the then ACN controlled states with Asiwaju in attendance approving that the ACN states to send delegates to that conference and we did. From Adams Oshiomhole in Edo to Fashola in Lagos, Amosun in Ogun State, Ajimobi in Oyo State and Aregbesola in Osun, the only two states that we didn't control then were Ekiti and Ondo.
The APC states sent delegates, but he will distort history. Under same Bola Tinubu that he is always lambasting, Bola is not a perfect person. His own view may not necessary be in alignment with mine but he has a right to his own view. If Bola was not a fighter how come he was able to fight Obasanjo to a standstill? Obasanjo wanted to make sure that we will not have a party to contest in 2007 election. I can reveal to you today that it was Bola Tinubu that organised Senator Tony Adeoye to form a party. Opadokun also formed another party. Tinubu reorganised both parties and nurtured them to conform with all the INEC rules. It was after the parties were formed that we now showed up at the AC convention in Abuja with Atiku in attendance. It takes somebody who is a strong political practitioner to outwit a man like then President Obasanjo. The same way, if we were not fighting for emancipation how come we thwarted the third term agenda? Where were they? They didn't have a single representative in any of the chamber.
We were the ones who made sure that our party members did not take the N50 million that was being distributed to legislators then and collaborated with everybody in the country including Buhari, M.D Yusuf, then senator Ben Obi and Senator Chukwumerije were leading the senators from the East. And we collaborated with them to fight third term agenda and ensured that it did not go into second reading during the Senator Nnamani presidency in the senate. We have our credentials. He shouldn't just go about lambasting all of us, using the word sell-out. Let us be constructive for once and even if we are going to disengage from the country, we will do it by sitting on the table with everybody, with all ethnic groups. The Northern Ireland went into civil war with UK and so many people died.
At the end of the day, they had an agreement after so many deaths. Yugoslavia fought a war of attrition they separated on a conference table. So Adebanjo should stop apportioning blame. I have asked him, who made you judge on my character, Bola Tinubu's character and Akande's Character? I warned him that the Bible says in the book of Mathew "judge not so that ye shall not be judged."
QUOTE
Here is a man who when we were rigged out, was the first to jump on the PDP vehicle of Gbenga Daniel in Ogun State. Till tomorrow he is the godfather Gbenga Daniel and that is consistency to him. He moved from Gbenga Daniel to Mimiko in Ondo under Labour. And he went to Ondo to pronounce Mimiko as the greatest among those who are executing Awolowo's philosophy, that free education is the best. He moved from there to PDP's Osun under Oyinlola and praised him. Today, he is in PDP with Seyi Makinde of Oyo. That is his own interpretation of consistency. He said we sold out to Fulani, when he campaigned for Atiku, he forgot that Atiku is a Fulani man too. When he hobnobs with Jonathan that is consistency