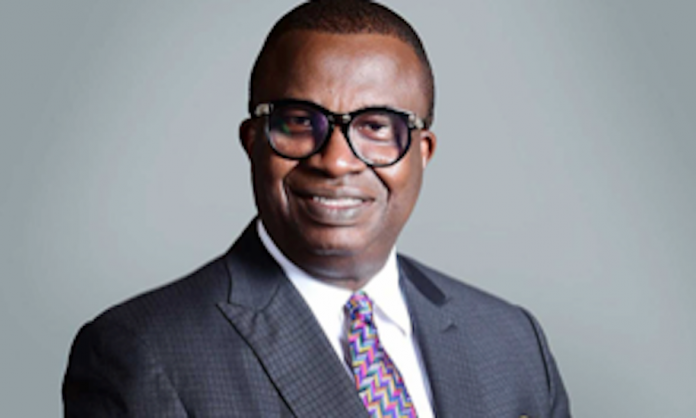 With the COVID-19 pandemic, many countries, including Nigeria have begun to look inward for solutions. In this interview with Nigerian Obstetrician/Gynaecologist and Managing Director, Nordica Fertility Centre, Lagos, Dr. Abayomi Ajayi, he spoke on the concepts his organisation is embarking on as response to the effect of coronavirus on assisted reproduction, which include the recent launch of two new interventions to encourage more couples to access fertility treatment. Mary Nnah writes
Nordica just launched a couple of products during this pandemic to aid fertility treatment. Can you share light on this?
We just launched two new products, known as Nordica Flex Plan and Nordica Xclusive, as our response to COVID-19 pandemic on assisted reproduction. These are innovations developed amidst the pandemic, where the lockdowns have affected local and international travels, hospitality industry, entertainment industry, and most importantly, it has put a huge strain on the healthcare sector.
COVID-19 is the latest topic in town and because of that fertility treatment was suspended all over the world. We know what COVID-19 did and it has been around in Nigeria for over eight months. It affected the economy of the world and we know that Nigeria is not an exception. So we have to respond to these people who probably would find it difficult to pay for In vitro fertilisation (IVF) treatments because of the contraction in the economy.
Nordica Flex Plan is an installment payment plan which allows couples to save towards having babies of their own. With very easy payment options, couples who qualify for the plan, stay focused on achieving their goal of childbirth. The Flex Pay Plan will allow couples to set a target for themselves. While they are on the plan, they will have access to some of our premium services leading up to the final treatment required. I implore couples to take advantage of the plan to complete their families.
In other words, the Flex Pay is for people who are probably on salary and want to do IVF but cannot raise the whole money at once. So you can now decide if you want to save N100, 000 every month. You can then come to us and we would agree on the mode of payment. You can decide to finish making your payment within one year.
The second set of people is those who normally will want to travel to do their treatment abroad. These are those the Nordica Xclusive Service is meant for. Nordica Xclusive is designed for the extremely confidentiality focused clients who may have opted for their treatment abroad.
In the face of travel restrictions and the hazards of COVID-19, they have a premium local alternative that offers flexible appointment-only services with the aim of giving them extremely personalised service. Couples who desire this level of world-class service can apply for Nordica Xclusive.
So, the products that we launched are for those two extremes. So we launched one for people who would normally find it difficult to pay, so that they can pay in instalments and then another launched for people who normally would want to go abroad and we know the reason why they are going abroad, principally because of confidentiality. With the launch of the Nordica Xclusive, we are trying to save the foreign exchange for Nigeria by encouraging people who would normally want to travel out of the country to stay back and get world-class treatment here in Nigeria.
Are there conditions that may prevent couples from taking up any of these plans?
Maybe we should not take the two together because one, the Flex Pay has some agreements we have to enter into before we sign on the dotted lines because it is a contract. For the second one, Nordica Xclusive, what we are offering is more of the exclusivity. So, the condition might be modified depending on who we are talking to, so that would be on the case basis and the kind of services we can offer but the most important thing we offer is that we can fix your appointment where you wouldn't have to meet with other people.
What happens to a couple, especially those on the Xclusive Plan, who must have paid so much and at the end of a specific period they didn't get good results? Would they be allowed to go for another cycle on the same initial payment?
Nobody who does IVF gives you a guarantee that you would get pregnant within an IVF cycle. So we cannot guarantee pregnancy to anybody but what we guarantee is to give them the best. No matter where you go in the world, nobody can guarantee you pregnancy in one cycle. So what we are guaranteeing them is the exclusivity.
What makes a cycle fail most times is because people make wrong decisions. So, even when you are making the wrong decision with the Xclusive plan, we are going to tell you the implications of your decision but we are not going to stop you. What we are offering you, which is different from the others, is the exclusivity and that is all.
Now for the Flex Plan, how much is the least amount a couple can deposit before they can be part of this plan?
The total amount of money they would pay is what determines what they deposit with the clinic. You can pay the total within three months to one year but must not exceed a year. After one year, the contract is terminated. And if a couple deposits a certain amount and along the line they say they cannot continue again, of course they can collect back their money except for the administrative fee.
Why we cannot do more than one year is because the naira rate keeps changing every day, so we can't take that risk because the moment you have entered into the contract, no matter what happens to the naira, you cannot increase the amount. That's a contract too.