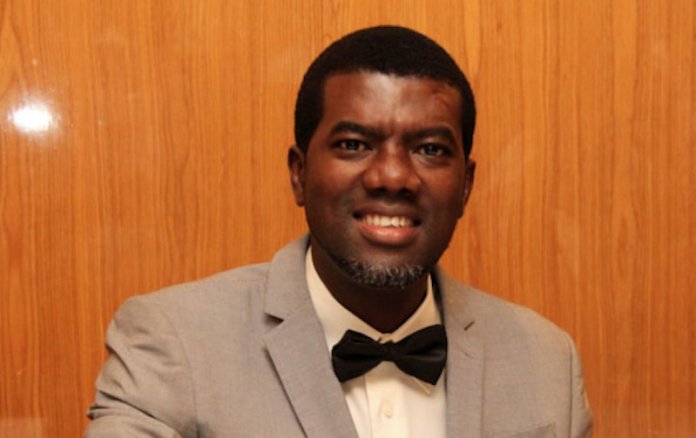 THE ALTERNATIVE
By Reno Omokri
I woke up on Thursday to a barrage of emails and social media messages wishing me a happy Independence Day and frankly, I was ticked off. Happy Independence? For what? For what? On October 1, 1960, Nigeria was debt free. Five years later in 1965, Nigeria was a lender nation. In 2006, Obasanjo paid our entire foreign debt. Today, we are a Heavily Indebted nation courtesy of President Buhari. Are we independent?
And then I did a great injustice to myself by reading Buhari's so-called Independence Day broadcast. That dribble should be called a broad-trash, not a broadcast. I find it hard to believe that a human being can tell so many Goebbelsian lies in so short a time!
You doubt me? Okay, let me now perform a post-mortem on his speech and highlight either the brazen lies or the gobsmacking hypocrisy.
President Buhari's Independence Day broadcast said, "It makes no sense for oil to be cheaper in Nigeria than in S Arabia." Does Saudi Arabia have 10 Presidential jets, like him? Do they budget $500 million to renovate NTA? Or give their NASS ₦140 billion a year?
Buhari said, "It is important we reflect on how we got here to enable us work TOGETHER." How can North and South walk together when under Buhari, the 3 arms of government are all headed by Northern Muslim males? When did Nigeria become a Muslim Brotherhood?
Buhari talked about "structuring a National identity". What rubbish? The Minister of Defence, and the heads of the Army, Airforce, Police, DMI, DSS, EFCC, NIA, NCS, NPS, and 90% of the headship of Nigeria's security agencies are all Northern Muslim males.
Buhari warned of "unbridled craving for political control." This is hypocrisy, coming from a man who said, "If what happened in 2011 should happen in 2015, by the grace of God, the dog and the baboon would all be soaked in blood." Preach to yourself.
Buhari called for "a sincere process of national healing." This from a man who told the World Bank President "to shift your focus to the northern region of Nigeria." Buhari is not a Nigerian leader. He is a religious bigot. A Northern irredentist!
Buhari said, "I chose the path of self-reflection because this is what I do on a daily basis." Is this a joke? This coming from a man whose own spokesman, Garba Shehu, revealed that he spends his time reading "cartoons"? Self-reflecting on Mickey Mouse?
Hypocrite Buhari preached about "Supporting the enthronement of the rule of law." Does Buhari obey court judgments? SERAP Nigeria listed at least 12 court judgments he flouted. A man who arrested Southern judges he suspected of opposition loyalties?
On Independence Day, I am proud of a people who are the most educated people in America and one of the most educated in Europe. There is nothing to be proud of about a disaster that can't produce his WAEC certificate, and has Northernised Nigeria's government and the military!
Buhari said he is "demanding accountability of elected representatives." This is a man who went to Kano on January 31, 2019, to lift the hand of a common thief. A kleptomaniac governor caught on camera collecting bribes. Buhari, you have no honour!
Buhari boasts of "Increasing our commitment to peaceful co-existence in a peaceful, secure, united Nigeria." This is from a man who sent 300 policemen to Southern Kaduna to stop the genocide against Christians, and sent 30,000 policemen to Edo for election.
Buhari claims he is "harnessing and optimizing our tremendous human and natural resources". The only thing Buhari has harnessed is DEBT. He has increased our foreign debt from $7.5 billion in 2015, to $32 billion today and he is still borrowing!
The worst part of the lies Buhari told on Independence Day is the lie of "lifting 100 million Nigerians out of poverty". Can you imagine? Under him, Nigeria became the world headquarters for extreme poverty on July 25, 2018!
Buhari claimed, "I am a firm believer in credible elections." What rubbish! This was a man that confessed that he used "remote control" to win the Osun election. Edo was only free because the threat of travel ban meant he couldn't go to his UK doctors.
Buhari said, "No government in the past did what we are doing with scarce resources." Lies. Obasanjo paid off our total foreign debt when the price of crude oil was one quarter what it was under Buhari. Buhari is not just a liar, he lied unintelligently.
As I have said before, Buhari and his cronies are the biggest threats to the existence of Nigeria as a corporate entity. Nobody, most especially Buhari, should preach Nigerian unity, if they do not first preach Nigerian justice. How can we have unity when the heads of the 3 arms of government are Northern Muslim males, and Northerners head defence, army, police, and 90% of the military and security services?
And thank God for my friend, retired Colonel Abubakar Dangiwa Umar, who has courageously and patriotically spoken against Buhari's hypocrisy. If a few Northerners keep behaving like Munafiqun and justify the president's nepotism, mark my words, Nigeria will divide. They cannot expect others to accept what they will not accept.
Finally, if I am asked to summarise Buhari's 5 years in office in one word, that word would be:
BLAME!
He takes responsibility for other men's achievements and blames them for his failure. Physically, Buhari may be an adult, but mentally, he is a child!