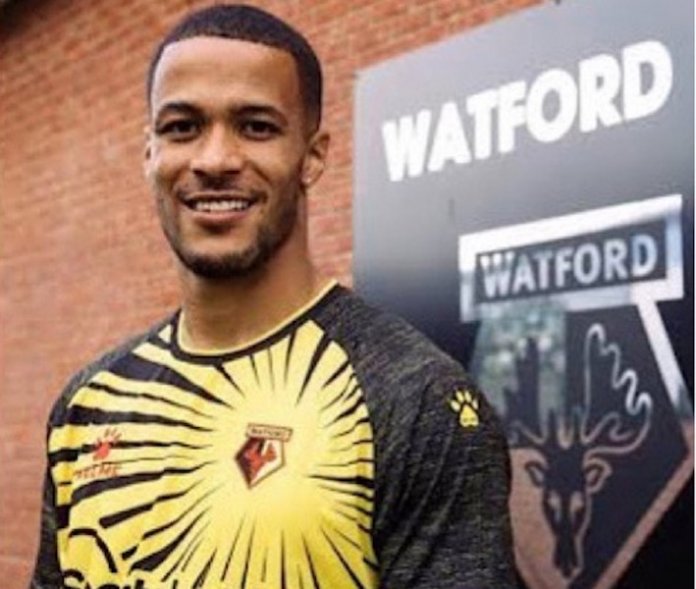 His dream has always been to one day, play in the Premier League and after he had been linked to several European clubs, William Troost-Ekong finally pitched tent with Championship side, Watford with the aim of helping the Hornets back to the English top division after they were relegated at the end of last season. How soon the Super Eagles defender's dream of playing in the English top flight comes to pass remains to be seen
Super Eagles William Troost-Ekong, central defender, during the week completed a five-year move to Watford from Italian league side- Udinese, where he spent the last two seasons of his career. He had before now been linked with a number of clubs across Europe, but ultimately decided that Hertfordshire had the best project for him to fulfill his ambition of featuring in the Premier League.
The Hornets announced the arrival of the 27-year-old on their official website, revealing that he will don jersey number five, becoming the latest to join Coach Vladimir Ivic's squad as they hope to fight their way back to the Premier League next season.
The 27-year-old centre-back began his career with Groningen.
He joined Udinese in 2018 and his move to Watford is the latest in a series of summer deals between the two clubs.
"I believe in the project for Watford to get back into the Premier League," he told BBC Sport Africa.
"It's always been my dream to play in the Premier League and Watford has given me the platform now to get there. Looking at the squad, I believe we have the quality to do it."
Troost-Ekong made 66 appearances for Udinese.
"I've always made tactical decisions for my career and this felt like the right step now for me and my family," he added.
"As for my international future, I have shown what I can add to the Super Eagles. I have consistently contributed to the team's success in the last five years and have had the pleasure of captaining the team."
According to the Watford Observer, Hornets boss Ivic has also hailed the Nigerian as a quality player while expressing his desire to work with the central defender in Hertfordshire.
Born in the Netherlands to a Nigerian father and a Dutch mother, Troost-Ekong played youth football at Tottenham and Fulham in England before starting his professional career with Groningen and Dordrecht in Holland.
He subsequently went on to play top-flight football with Haugesund in Norway, Gent in Belgium, and Bursaspor in Turkey before completing a move to Udinese in the summer of 2018.
Troost-Ekong registered 66 appearances for Udinese in all competitions over the past two seasons, establishing himself as a regular starter in the playing XI.
A full international for Nigeria since 2015, the towering centre-back has accumulated 42 senior caps for his nation, representing the Super Eagles at the 2018 FIFA World Cup in Russia and also at the 2019 Africa Cup of Nations.
Troost-Ekong is expected add more quality to Watford's defence.
Watford aren't really crying out for reinforcements at the heart of the defence, with Craig Cathcart, Christian Kabasele, Ben Wilmot, Craig Dawson and Francisco Sierralta competing for places at centre-back. However, the Hornets' willingness to bring in another defender makes perfect sense, considering the rigours of a 46-game season in the Championship.
While Cathcart, Dawson and Wilmot have previous experience in the EFL Championship, new signing Sierralta has only featured just over 50 times in his club career so far. Troost-Ekong, would therefore represent an instant upgrade on the Chilean, while he also fits the bill as a tried and tested performer in one of the top leagues in Europe.
Having featured for Tottenham and Fulham in his youth career it shouldn't be difficult for him to settle down in England and make an instant impact in the Championship.
Meanwhile, Troost-Ekong has revealed that Manchester United striker played a huge role in his choice of Watford.
"Ighalo used to be my roommate. I spoke to Odion last week. He only had good things to say about the club. He's a great guy, a fantastic player and like a big brother for me," the ex-Haugesund and Bursaspor star said.
Just like Troost-Ekong, Ighalo joined Watford from the Italian topflight outfit – helping them win promotion to the English elite division in the 2014-15 campaign.
Meanwhile, a member of the Super Eagles technical crew, Tunde Adelakun, has stated that Troost-Ekong joining Watford is a "win-win" for the centre-back.
His move had raised some eyebrows on why he opted for a lower tier, but Adelakun asserts it is to be closer to his family who are based in the city of Watford. More importantly, Troost-Ekong will be able to help the Hornets get back into the Premier League having finished in 19th place last season.
"It brings him closer to home so he can be part of seeing his family, especially seeing his young son growing, Adelakun told The Athletic.
"As soon as he told me about it and as soon as I heard that it was Watford, it was going to be a win-win for him because he will be within a very short driving distance from home, so he can stay at home and still be able to play good football as the Championship is a very good league. He will get game time and develop. We're all hoping for that to be a great success.
"The carrot that was dangled before him is that Watford have a good project going. They were disappointed to get relegated and they plan to go straight back up, and they believe he can be an integral part of that, which means it can be part of him coming back to the Premier League, which is where he has always wanted to play."
Adelakun went further to explain how Troost-Ekong has been fond of life in England which never left him after departing Spurs. His senior career has seen him play in the Netherlands, Norway, Belgium, Turkey and Italy, but he has always wanted to settle in England.
"William has always been a London boy," Adelakun continued. "He never left his affiliation with England and therefore, when he wanted to buy property, he wanted to buy in England because he regards that as home. Even in Norway, Turkey and Italy, when he reports for international duty, he always flies via London. He has always found it more comfortable, always leaned towards being in England, and it was no surprise that he bought a house in Hertfordshire."
Troost-Ekong will be in contention to make his debut when Ivic's team travel to the Madejski Stadium to face Reading today.
The Hornets are fifth on the Championship log having accrued seven points from three games, with their latest game a 1-0 victory over Luton Town thanks to Joao Pedro's 35th-minute strike.
He is expected to play a crucial role in the team's return to the Premier League.
Troost-Ekong was part of the Super Eagles squad that won the bronze medal at the 2019 Africa Cup of Nations in Egypt.