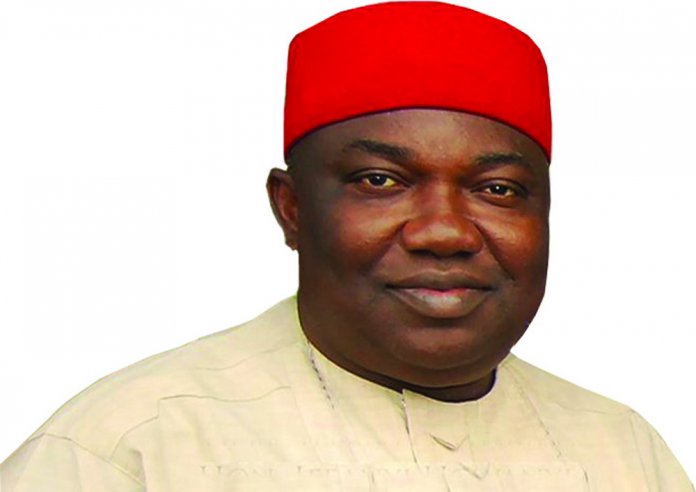 Laurence Ani
Given Nigeria's petro-dominant economy, it often sounds incredulous that economic activities at the turn of the country's independence was driven largely by the sale of cash crops such as cocoa, rubber, oil palm, cotton and groundnuts. In the Eastern Region, oil palm was the mainstay of commercial activities and, as records from the federal archives show, trade in palm produce generated an income of £54m in 1954 alone.
It was the export of this commodity alongside other cash crops like rubber and cashew nuts that funded most of that era's capital expenditure, from roads infrastructure to the cement factory at Nkalagu (now in Ebonyi State), the cattle ranch at Obudu (Cross River State) and, indeed, the University of Nigeria, Nsukka.
But the halcyon days of agriculture ended almost in a blip as the swift, mega earnings of crude oil soon made it Nigeria's prime export. The end of the boom however brought a rude awakening, and laid bare the folly of running a country's economy on a single natural resource subject to the vagaries of trade. It soon emerged that the earnings from the commodity's sale were barely sufficient to run the affairs of state across the federation.
It was a dawning reality aptly captured by the Enugu State governor, Rt. Hon. Ifeanyi Ugwuanyi, at his budget presentation to the state's legislators on December 23, 2016: "Since 2015, the revenue accruing to the state from the Federation Account has been on decline and the need to increase our internally-generated revenue cannot be overemphasized."
The governor had earlier echoed such pragmatism in his inaugural speech. "I believe that this is another great opportunity for Enugu State and Nigeria to look inwards and harness those potential, which free oil money, has blinded us from exploiting," he said in reference to the declining monthly disbursement. "It is an opportunity to live to our full potential and leave the feeding bottles of the federalism syndrome."
Looking inwards meant reviving those economic activities which petrodollars had pushed to the background. This new economic reality has spawned an agricultural revival reminiscent of the independence era. Vast tracts of rice field that once lay fallow as farming increasingly seemed like a halfhearted pastime in the wake of the oil boom have gradually come alive. For instance, all the rice the Enugu State government has used as Covid-19 palliatives were procured locally from communities where the crop is cultivated. These communities are benefiting from the state government's Pivot Irrigation system that has enabled rice farmers to cultivate the crop twice or thrice in a year.
As one of the leading rice producers in Nigeria, Enugu State has recorded a steady output increase. From a yield of 1.5t/ha rice output has grown steadily, with about 600,000 hectares cultivated, resulting in the production of over 1,800,000mt.
These promising indices in rice cultivation have earned Enugu State a Staple Crops Processing Zone status, a project conceived by the African Development Bank in collaboration with the federal government to support states with huge potential in staple crops' production and which has paid the Programme's requisite counterpart fund. This is in addition to the construction of six Centre Pivot Irrigation systems in some communities to enable rice farmers to cultivate the crop twice or thrice in a year, and procurement of 20 tractors leased out to grassroots farmers at knockdown rate.
The government has also launched the Agricultural Feeder Roads projects totaling 46.89 kilometres in 12 communities across the three senatorial zones where rice is grown, a point that further highlights the inextricable link between the state of roads and the economic condition of farmers. It is not only rice that has emerged as the poster crop of Enugu's non-oil export renaissance. It is just one of a few other crops for which the state has identified some comparative advantage. The other crops include cashew nuts, Nsukka Pepper and, significantly, oil palm, which had helped the economy of Eastern Region flourish. The Ugwuanyi administration has revived virtually moribund plantations, and scaled up production at the facility through the massive cultivation of improved palm seedlings that produce more fruits at a shorter time frame.
For the much sought-after Nsukka Pepper, the fragrant yellow chilli sometimes called Cameroun Pepper, the government launched an off-taker agreement to help farmers grow output and minimize post-harvest loss. The off-taker deal has created a linkage market that has taken output to about 25,000 metric tons, much of which is exported. It is expected that output could increase to 100,000 metric tons, a huge boost for the Enugu State government's vision to diversify its economy and make it less-reliant on Nigeria's oil-driven economy.
Cashew nut farming has been similarly incentivized, with higher-yielding seedlings given to farmers' cooperatives as gradual replacement for the mostly aging cashew trees prevalent in the state. The cooperatives have also received cashew-processing machines to help growers attain the requisite global standard for product quality. The goal is to put Enugu ahead of Nigeria's 19 cashew-growing states, to enable it to reap bountifully from the product's flourishing prospects on the international market.
The desire to nurture alternative revenue sources and be less-dependent on the federal purse is yielding the intended results. Proof of this emerged few months back after the National Bureau of Statistics' publication of a report that listed Enugu State as having the ninth best IGR profile in Nigeria currently.
But that push to look inward has not been driven by barefaced mercantilism. This is remarkable, as anything other than a humane revenue drive will have put the burdened the people, already reeling from the economic fallouts of the Covid-19 pandemic. In addition to its sustainably run Covid-19 palliatives programme comprising mostly homegrown staple, the Governor Ugwuanyi administration announced tax exemptions to various categories of small businesses.
That action was spurred by the governor's conviction that strong MSMEs are reliable triggers of economic growth. It also reflects his commitment to eliminate hurdles that often cripple small businesses and, ultimately, lead to their eventual collapse. This commitment had propelled Enugu to Nigeria's second best performing state on Ease of Starting a Business, and the third with regard to Ease of Doing Business in the World Bank Ease of Doing Business in Nigeria 2018 report. Apart from scaling up funding, this tax relief, and Governor Ugwuanyi's abolishing of all bureaucracy that had stymied smallholder farmers are some of the reasons agriculture is experiencing a renaissance in Enugu State.
So, as Nigeria celebrates its 60th independence anniversary, it won't be unusual hearing discussants pining for the good old days when income from agriculture was sufficient for all our development dreams. An appropriate response would be that Enugu is offering a template back to agriculture's glory days.
Ani, formerly editor of ThisDay – The Saturday Newspaper, and Saturday Telegraph, is a senior communications aide to the Enugu State governor.