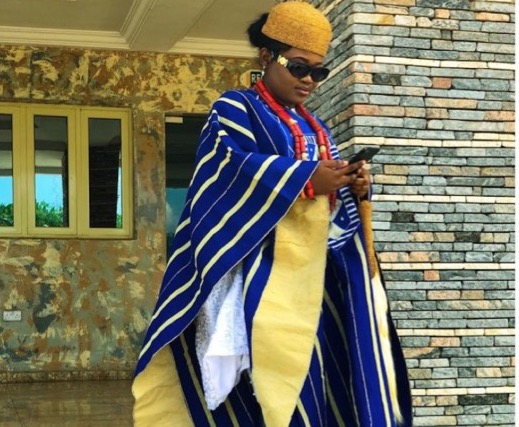 Tinuade Adejuyigbe
Shuttling between lecture room and palace, the Regent of Iboropa-Akoko in Ondo State, Tinuade Babalola Adejuyigbe, never dragged one role for another. That was during her days at Adekunle Ajasin University, Akungba-Akoko, Ondo State. The regent, who assumed the position at age 16, exudes a rare maturity that beats her age, matched by an illuminating brilliance and class. At 21, she may be the youngest regent in Nigeria, but Tinuade has recorded indelible marks for her town, Iboropa-Akoko and has been rated high for her impressive conduct. But beyond her 'now' is a higher feat she savours. She tells Omolabake Fasogbon her tall dreams and challenges as a regent, how she manages advances from the opposite sex despite being celibate and much more
That she is a young female regent has always left many in awe. Last year, the news of her passing out after the completion of her National Youth Service Corps, NYSC trended on the social media for a long time. Few years ago, she never imagined she would play her present role of a regent not to talk of granting an interview like this. This is not only because she never had the premonition of her father's death but also because she is not the first child.
She says, "My father, late HRM Oba Ayowole Adejuyigbe Babalola, died in his prime at the age of 57, his death shocked everyone. While I was still struggling to put myself together over the loss of my father, whom I admire greatly, I was made to sit on the vacant stool for about two weeks after he passed on. Having to take up his responsibilities and fill up his shoes, on the other hand was something I couldn't comprehend at the age of 16. All through the rites of passage, I was in shock and I could not decipher how I felt when I was chosen".
But she said her sister, whom many thought would assume the position after her father's demise, made the role unambiguous for her: "My elder sister and the rest of my siblings have been of great help. While I was trying so hard to adjust to this life, she (my sister) was there rendering all the help she could to make sure that things go well. When things were difficult, she stood up for me to make sure I was comfortable. Right now, I'm just grateful to her and the rest of my siblings as well as my mother. They've all been super supportive, I can't imagine a life without any of them; they are everything to me."
As an undergraduate, eyeing a career outside the palace, the responsibilities to watch the throne and pursue a degree got her pondering, but it wasn't too long before she crossed this bridge. She speaks of how she manages it thus: "Shortly before my father's demise, I got admission into the university to study Public Administration; in fact, he went to the bank to pay my acceptance fee just a day before he died. But then, I was able to adapt so quick. I was able to concentrate on my studies because my chiefs were there; they ensured that I settled in nicely as they handled most of the affairs of the community under my supervision".
How about mingling with co-students and relating with lecturers even with a royal crown on the head? She said: "The relationship I had with my lecturers was quite simple and cordial, they all knew who I was and I also made sure that I was in every class. I did all my assignments and showed up for all my tests. To the best of my knowledge, I did not take undue advantage of my position. I showered respect on every one of them and they showed me utmost respect and regard". Even while observing NYSC camp in Minna, Niger State, she recalls that she was simply an NYSC member that she was meant to be: "Although NYSC officials were aware of my status, my fellow NYSC members didn't know my real identity because I blended so well and I did everything all NYSC members did with the exception of domestic work though."
Royalty, they say, is an honour and responsibility. As a responsibility, the delectable monarch strives to be diligent despite some challenges. These distractions she says, come by way of discrimination and finance, amongst others. Sounding rather low: "Socio-cultural norms and morality are binding on me because I am female. So I am usually careful about my actions, because people are always watching and ready to criticise every move I make. People are judgmental towards female leaders. A female regent is an interim king. In places where you have male regents, they can contest for permanent rulership and get selected. Not for female! More so, female regents are celibate, the men are not. I face a lot of discrimination from men I must confess. Most men make sexual advances at me well aware of the do's and don'ts of my position.
"It's sad that the society does not take women seriously, and we are always at a disadvantaged position in our homes, workplaces and even in the society. Men are usually egoistic, not that they are totally misogynistic but some of them feel intimidated when they see women in power. Truth be told, the position is ridiculed. I recall when I was in school too, people usually addressed me as a traditionalist, like I am a member of a traditional cult".
In responding to male advances, she says, "Boys will be boys, royalty or not. I just bluntly refuse their advances without stepping on toes."
Tinuade also feels government can do better with regard to monarch welfare. "Please let it be known that government should also consider regents' welfare as regents are only being paid peanuts by states government. Moreover, we don't get any special treatment from government despite the fact that we perform same functions as Kings."
Asked how she manages to survive in spite of this, the regent opens up: "I receive a monthly stipend of about N40,000 from the government. Apart from this, I receive help from those who are willing to help and I also practice farming".
Royalty also comes with a lot of sacrifice. For the Ondo regent, apart from sexual abstinence, she can no longer eat at public places like restaurants, parties and all: "My head has to be covered all the time; I can't put on female clothes such as skirts, gowns, and blouse, wrappers etc. I can't go out alone either. Outside these are other etiquettes that I must uphold."
Other than these exceptions, the honour that comes with royalty is pleasant and desirable. The fact that she is the youngest regent in Nigeria and being able to impact lives positively by that position is one feat she will relish till eternity and of course, she did not hide the fact that regency has made her know more than her age. Yet, she desires much more." My greatest dream is not being super wealthy or famous, but impacting people's lives positively, that people could be influenced positively by my principles, not by the things I say or by who I say I am but by what I do. I have a lot of expectations and aspirations. I still have many grounds to cover".
Although a regent, she equally has her casual fetishes that she does not forgo any time she retreats into her shell. "Cooking relaxes me and I try as much as I can to try out new recipes every now and then. I love to cook. Again, I love to play chess and listen to good music. I also love to read in my private corner", she says.