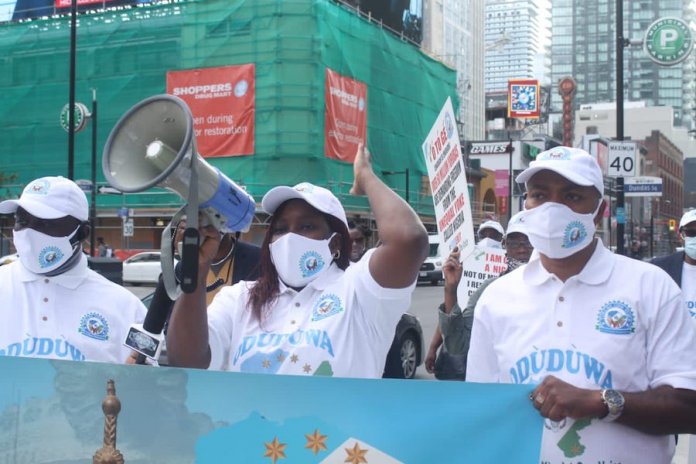 A Diaspora group comprising the Yoruba in six continents, Yoruba One Voice (YOV), has said the Oodua Republic rallies held Thursday across six continents were significant to the destiny of Yoruba race.
Speaking shortly after the rally in South Africa, the Secretary General of the group, Dr. Sina Okanlomo, applauded all members of the group for their commitment to the ideals of the group.
He said the success recorded at the rallies, held across 176 countries of the world, was a big testimony that the group was determined to seek independence of the Oodua Republic, without infringing on the rights of the people of Nigeria, adding that the group had in a letter sent to institutions including the United Nations, European Union, United States of America, African Union and the various embassies, and that of the countries where rallies were held, demanded a peaceful decoupling of the Yoruba territory from Nigeria.
He said: "It is in the interest of the Yoruba nation to exit the current political format and build, in its place, a Yoruba nation that would live peacefully with the neighbours in accordance with international laws.
"As a group of Yoruba in the Diaspora, we are entitled to our rights. There is an urgent need for a referendum as a genuine reason for us to know the basis for our existence. We have resolved to set the ball rolling. We have stated the reason for seeking the complete independence of the O'odua Republic. The rallies came as the best alternative because Yoruba in the Diaspora strongly owe our allegiance to Oodua Republic."
Okanlomo, however, expressed appreciation to IPOB members that joined the rallies from their base for their solidarity and display of maturity during the rallies, and observation of a sit-at-home order in Nigeria.
Meanwhile, a group of Yoruba indigenes under the aegies of "Disciples of Oodua Republic" also held their rallies across the South-west of Nigeria.
They said the rallies were held in good faith and in response to the growing calls from all and sundry for the actualisation of Oodua Republic.
"Yoruba are tired of this system. A country where the security situation is porous, where a governor was attacked severally even with an array of security architectures. A country where citizens cannot hold peaceful rallies, a country ravaged by insecurity, including killings, banditry, terrorism, and economic doom. A country where there is no fund in the national treasury and citizens are subjected to abject poverty. Yoruba are tired of this union called Nigeria.
"With all these problems, there is an urgent need for a referendum as a genuine reason for us to know the basis for our existence," the group said.
Attachments area