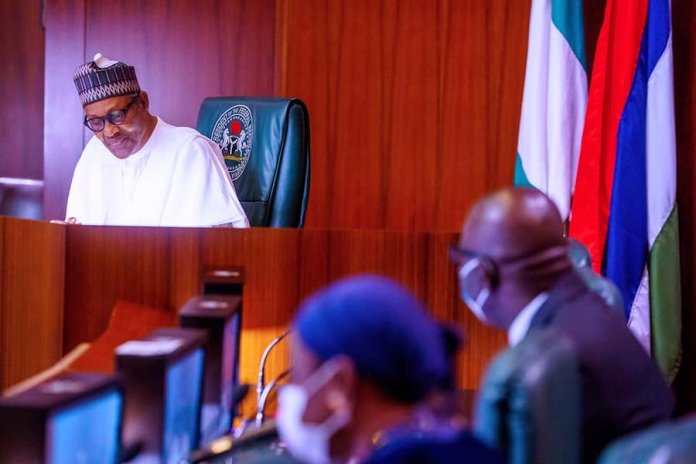 •Governor douses rumour about returning to APC
•Wike: Obaseki must never forget that PDP gave him umbrella when he was left in the rain
Omololu Ogunmade in Abuja
President Mohammadu Buhari, yesterday, said he instructed the Inspector-General of Police, Mohammed Adamu, to ensure that the September 19 governorship election in Edo State was free and fair.
The president stated this when Governor Godwin Obaseki, accompanied by his deputy, Philip Shaibu and the governor's wife, Betty, as well as the wife of the deputy governor, Mrs. Shaibu, paid him a thank you visit at the Presidential Villa.
Obaseki, who dumped the All Progressives Congres (APC) for the Peoples Democratic Party (PDP) after the party disqualified him from participating in APC's governorship primaries in June, was re-elected on September 19.
Buhari told Obaseki: "I thank you for bringing your deputy and supporters to come and see me after beating my party. I am supposed to preside over all Nigerian interests whether I like it or not, but my single desire is to make sure that innocent people don't suffer.
"That message I got across to the Inspector General of Police was that elections must be free and fair.
"If contestants have too much money and they decide to spray, so be it. But what I insist is, nobody should go and raise a counter force to the government, arm heavily-drugged thugs to go and humiliate people."
The President said he wanted democracy to thrive on the platform of credible polls, and added jocularly that he was congratulating the Edo governor 'reluctantly' because he defeated the candidate of his party, the All Progressives Congress.
Obaseki, who also paid a courtesy call on Vice President Yemi Osinbajo yesterday, ruled out the possibility of returning to APC, saying doing so would amount to moral failure.
He dismissed insinuations that he might opt to position himself as a godfather towards the expiration of his second term, saying God forbids that he does so.
Answering questions from State House reporters after the meeting with Buhari, Obaseki affirmed that leaving the PDP, which offered him the platform for re-election, for APC again, would be antithetical to the spirit of integrity.
Obaseki, who insisted that it would be morally wrong to contest election on the platform of one party and dump it for another, added that such an action would also run contrary to what the president told him and his deputy at the meeting.
He said: "The answer to your question, gleaning from the comments of Mr. President, he said that he wants to leave a democracy that is built on integrity, accountability and hard work.
"Those were his words and I subscribe totally to that. It will not show integrity. It will not demonstrate somebody that has ethical or moral foundation to do what you asked about.
"I couldn't have contested in one a party, won in that party and then consider moving to another party.
"It is not the kind of thing to do. It's not the right thing to do and I am sure you will not encourage me to do that."
Also responding to a question if he would attempt to be a godfather, a trend he fought and conquered, Obaseki said he should be crushed the way the former godfathers in the state were crushed.
Giving reasons he would not fall into that temptation, he said godfatherism is unconstitutional, adding that godfathers dare to control those working under constitutional mandates.
According to him, the idea of godfatherism is dangerous to democracy, recalling that when he came to Edo political scene prior to the 2007 elections, their goal was to crush godfatherism in Edo State.
"In the case of godfathers in our politics, I have said in several fora that the whole concept of godfatherism is very dangerous to our democracy. And that is why when we came into the political fray 2006/2007, the mantra then was to get rid of godfathers from our political life. The reason is simple – the godfather has no constitutional responsibility.
"The godfather acts outside the constitution and controls people who are constitutional players. So, if we allow that sort of situation to continue, it will be worse than military rule.
"When people who have nothing at stake, no checks and balance arbitrarily decide that this is the way the constitution should be interpreted, or constitutional players should operate. That's why problems come in.
"God forbid I become a godfather. I should be dealt with accordingly because it's dangerous to the concept of democracy," he said.
Asked how he hopes to unite the state which seems to have been divided along party lines, Obaseki said efforts would be made to ensure the land is healed of bitterness.
He was however swift to add that nothing really showed that there is division in the land because majority of the people of Edo State are his supporters.
"We will continue to try and heal the land. Fortunately, it doesn't show that Edo people are divided. It shows essentially that Edo people have come together under one umbrella.
"That is what the election has shown. We will continue to appeal to those who are outside our umbrella to work with us for the benefit of our people," he added.
On why he was in the State House, he said he and his deputy had opted to pay a thank you visit to the president for allowing free and fair elections to hold in Edo State.
"He insisted that Nigeria should have proper elections, credible elections, free and fair elections and that's what happened.
"So, this morning, we are here in the Villa to show our profound gratitude and appreciation for this, which on the surface will look normal but the implications are very far reaching," he added
The governor said he would build on the foundation his government had laid in the last four years to promote education and build infrastructure.
Wike: Edo gov Must Never Forget that PDP Gave Him Umbrella When He Was Left in the Rain
Meanwhile, Rivers State Governor, Nyesom Wike, says Obaseki is free to return to the APC if he feels the PDP is not working for him.
The Rivers State governor said this on a Television programme yesterday.
Wike, however, said the Edo State governor must never forget that he was given an umbrella when he was left in the rain.
When asked what he would do if Obaseki left the PDP, Wike said, "I don't want to discuss something that is not going to be possible. However, assuming it happens, so what? That is politics.
"If the governor believes that the PDP is no longer a party for him to actualise his vision and his mission, there is nothing wrong but I don't believe that it is going to happen because the governor has consistently told us that there is no way he will leave the PDP. If he leaves the PDP, people in Edo State will not be happy.
"And he is somebody I have that trust in that he will not leave the party. This is a party that clothed him. This is a party that when it was raining, gave him an umbrella."
Wike said he did not play such a big role in Obaseki's re-election but only acted as the chairman of the campaign council.
He said he merely supervised the campaign, presented strategies and gave guidance.
The governor said it would be wrong of anyone to give him the glory when others like Governor Seyi Makinde of Oyo State and Delta State Governor, Ifeanyi Okowa, played their roles.
Wike stated that he did not fund Obaseki's campaign because the governor already had enough money to execute his campaign.
"What resources could I have deployed? He is a sitting governor. What resources can I give him that he does not have?" he asked.