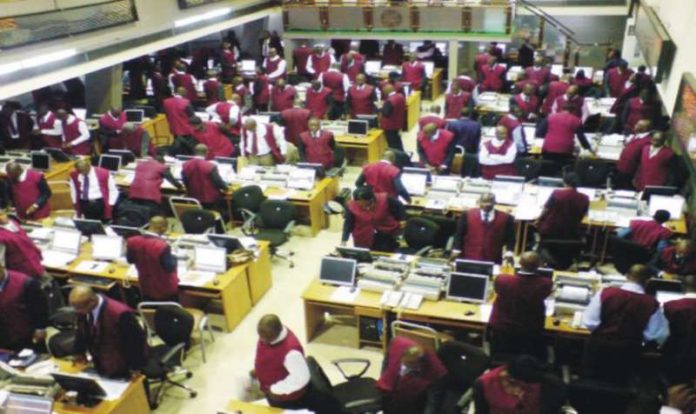 Goddy Egene
The Nigerian stock market sustained its positive trend leading to a growth of 0.79 per cent in the Nigerian Stock Exchange (NSE) All-Share Index (ASI) to close at 25,987.14, while market capitalisation added N106.7 billion to be at N13.6 trillion.
The market was highly bullish as 25 stocks appreciated compared with seven stocks that depreciated. Nigerian Breweries Plc led the price gainers with 10 per cent, trailed by Union Diagnostic and Clinical Services Plc with 8.0 per cent. Royal Exchange Plc and Lafarge Africa Plc garnered 6.8 per cent apiece. Other leading bellwethers that helped to sustain the positive performance are Guaranty Trust Bank Plc(1.9 per cent), FBN Holdings Plc (1.0 per cent) and Dangote Cement Plc (0.89 per cent).
The management of Dangote Cement presented company's facts behind the figures and sustainability report to the capital market community on Wednesday. The Group Chief Executive Officer, Dangote Cement, Michel Puchercos, told stakeholders that while the world faces economic recession and downturn, Dangote Cement is fortunate enough to have had a decent start to the year as reflected in its first half financial results
"We are fortunate to have resilient H1 2020 results amidst impact of COVID-19. Cement is an essential building material with no viable substitutes and the global cement industry continues to grow driven by urbanisation, population growth, housing growth, industrialisation, and infrastructure development, especially in emerging economies such as Africa, where we operate.
"We are presented with a huge opportunity and are strategically positioned to take advantage of these opportunities with our operational efficiency, product quality, modern facilities, and technology to leverage our unique economies of scale and know-how," he said.
Also speaking, Group Chief Financial Officer of Dangote Cement Plc, Mr. Guillaume Moyen, said the company has an outstanding financial profile and has achieved excellent financial performance during this period.
" If we look at the last seven years, you will see that our EBITDA has increased by a CAGR of 9.0 per cent. We have paid over N1 trillion in dividends to shareholders in the last seven years. As Africa's largest cement manufacturer, we will continue to prioritise giving value to investors and other stakeholders," he said.
According to him, the company is doing a mix of short and medium-term debt, to optimize our cost of capital.
"The board continues to consider all financial options for the company to create long-term value and manage liquidity requirements to support Dangote Cement's long-term growth and value creation," Moyen added.