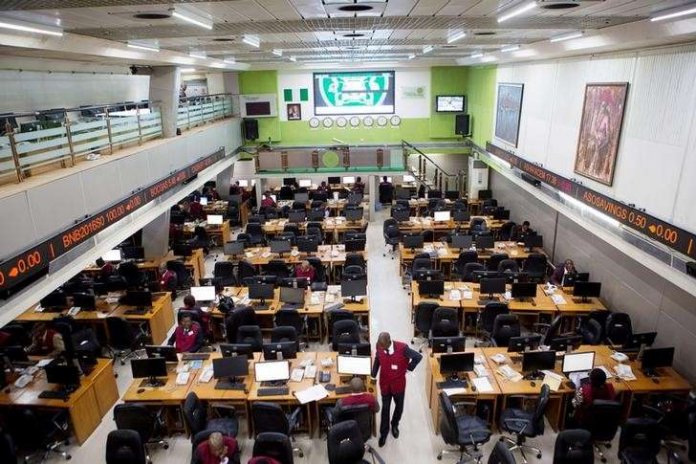 The value of trading rose 17.1 per cent to N12.692 billion invested in 1.139 billion at the stock market last week, compared with N10.842 billion staked on 1.226 billion shares the previous week.
The increased value came despite a decline of 0.08 per cent in the Nigerian Stock Exchange (NSE) All-Share Index (ASI) to close lower at 25,572.57.
Market analysts said trading would remain tepid in the absence of any positive catalyst and have urged investors to remain cautious.
"In the absence of a positive catalyst, and given the still uninspiring macro story, we guide investors to trade cautiously in the short term. However, we expect the market might benefit over the longer term on compelling valuations and as investors seek alpha-yielding opportunities in the face of negative real returns in the fixed income market," analysts at Cordros Research said.
Meanwhile, a breakdown of the trading activity showed that the financial services industry led the 870.300 million shares valued at N7.863 billion traded in 9,427deals. By this, the sector contributed 76.4 per cent and 61.9 per cent to the total equity turnover volume and value respectively.
The Industrial Goods industry came second with 62.689 million shares worth N1.162 billion in 1,557deals, the third place was occupied by the ICT industry, with a turnover of 50.859 million shares worth N2.552 billion in 619 deals.
Trading in the top three equities namely: FBN Holdings Plc, Guaranty Trust Bank Plc and Access Bank Plc accounted for 353.048 million shares worth N4.018 billion in 3,095deals.
A total of 32 equities appreciated in price last week higher than 23 equities in the previous week, while 31 equities depreciated in price, lower than 38 equities in the previous week.
Wapic Insurance Plc led the price gainers with 12.1 per cent, trailed by Learn Africa Plc and Unity Bank Plc with 9.6 per cent apiece. Neimeth International Pharmaceuticals Plc and Ikeja Hotels Plc garnered 9.5 each. CAP Plc and Berger Paints Nigeria Plc went up by 8.5 per cent and 7.4 per cent respectively.
Other top price gainers included: Union Bank of Nigeria Plc (7.0 per cent); Consolidated Hallmark Insurance Plc (6.9 per cent); and Prestige Assurance Plc (5.7 per cent).
Conversely, Associated Bus Company Plc led the price losers with 16.6 per cent, followed by NEM Insurance Plc with 9.7 per cent. Tripple Gee & Company Plc shed 9.0 per cent ,just as University Press Plc went down by 7.6 per cent.
Union Diagnostic & Clinical Services Plc and FCMB Group Plc shed 7.4 per cent and 6.3 per cent respectively. Cornerstone Insurance Plc and Nigerian Aviation Handling Company Plc depreciated by 6.1 per cent apiece. NPF Microfinance Bank Plc and International Breweries Plc shed 5.8 per cent and 5.7 per cent in that order.