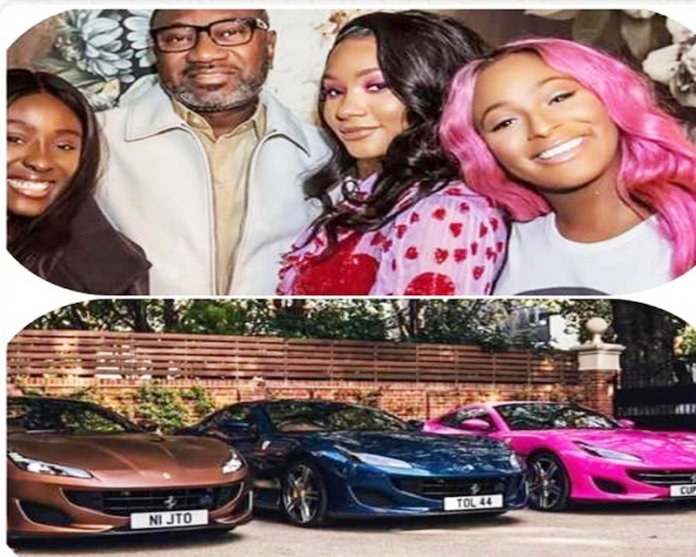 Femi Otedola has built a titanic enterprise and an enviable dynasty to match. He is the shine in his daughters' eyes and the icon in his son's mirror. He fed their hearts compassion and taught their souls to harden with sustenance like metal against all odds. Many dads could learn a thing or two from the billionaire chairman of Geregu Power Plants, about parenting and raising smart, powerful, compassionate children who could make the world a better place, writes LANRE ALFRED
It is often said the worst fortune that could befall an ordinary child is to have an extraordinary father – he or she would always walk in the father's shadow and waddle through life as the inconsequential scion.
For Tolani, Florence (DJ Cuppy), Temi, and Fewa Otedola, however, everyday unfurls with a rare boon because they have Femi Otedola as their father. Perhaps because they are prodigious children of an exceptional father: Tolani is a diva and songwriter; Florence is a maverick disc jockey (DJ); Temi just stepped in bloom as a promising actress, and Fewa, the only son, is being raised to surpass the attainment of their magnate father. Their apples surely didn't fall too far from the filial tree.
The Otedola wards are indeed a lucky bunch. Unlike too many of their peers, they do not suffer the misfortune of watching their father fail and see his failures multiply like an explosion of virulent cells – failure to amass a fortune and the failure to keep it; failure to speak clearly; failure to attain repute; failure to develop the money habit; failure in attitude; failure in ambition and ability; failure indeed in everything.
Otedola spares no expenses at pampering his children even as he sets out to raise them right. The endearing traits of a real man are personified in how he extends and redefines the yards of fatherhood's goals.
Many have persistently wondered how he managed to raise such fine wards; if you ask him, he would tell you that its because he taught their souls to harden with sustenance like metal in the face of challenges. He taught them it's alright to bleed red with a cut but never to cow in pain or get daunted in the thick of odds.
Otedola pampers his wards but he doesn't raise them to be hopeless. He taught them never to dip in the last trickle of champagne lest they get smudged in name and repute, in the yellow pages of sensational print.
Through his ministrations of tough love, Otedola passionately fulfills his role as a doting father.
Recently, the billionaire magnate bought a Ferrari Portofino for each of his daughters: DJ Cuppy, Temi, and Tolani. DJ Cuppy shared photos of the Italian luxury sports cars with customised plate numbers on social media on Wednesday enthusing, "Papa took us shopping and bought one of each!"
Temi, who recently made her Nollywood debut in Kunle Afolayan's latest movie, 'Citation', also shared videos and photos of the new cars on Instagram.
And despite his hectic business schedules, with the attendant global junkets and commitments, the great man of means makes out time for his children. He is one of those rare men who believe that fathers bear a fundamental obligation to do right by their children, and they need to be involved in their lives, not just when it's convenient or easy— but when it's difficult and thankless, and they're struggling.
Otedola is supportive of all their endeavours, including cooking, dancing, and gardening and everything in between. Recently, this hands-on, child-centric parent was a viral sensation when he was videoed in the kitchen helping his son with his cooking.
When 'Citation,' the seventh movie of filmmaker par excellence, Afolayan, is released in cinemas across the world later in the year, one of the new faces that would wow audiences is that of Temi, the winsome fashion and arts-loving daughter of Otedola.
Temi stars in the movie alongside tested thespians like Haitian-born Hollywood actor, Jimmy Jean Louis, Sadiq Daba, and Gabriel Afolayan among others. Otedola was one of the first to post the trailer of the movie a few weeks back. His caption was, 'Citation! My daughter, Temiloluwa, starring as Moremi Oluwa in 'Citation' (about sexual harassment) – Kunle Afolayan's upcoming feature film. This movie is sure to be the best ever that has come out of Nigeria."
During filming in Ife, Osun State, especially, Otedola visited the cast and crew. An impeccable source disclosed that to make her movie debut interesting and stress-free, daddy dearest booked a whole hotel in the ancient city where the billionaire heiress was the only guest with her security guards and domestic aides.
All through the month-long shooting, she was heavily guarded round the clock. A University College, London, graduate of History of Arts, Temi, 23, is a fashion and travel blogger and owns JTO Fashion, a multimedia platform from which she expresses her adventures through the arenas of fashion, beauty, art, and travel. With over a million followers on Instagram, Otedola has just seven followers and Temi's boyfriend, the superstar singer, Mr Eazi, is one of them.
But it is not only Temi that has the backing of her dad, her two older sisters – Tolani and Cuppy – enjoy the same fervent support. He is a major force behind their blooming careers in entertainment. Tolani, the dark-hued singer-songwriter took the Nigerian music industry by storm in 2019 with her hit single, Ba Mi Lo, featuring Reekado Banks. When she released her newest single, Badman, the billionaire posted the teaser on his social media pages, saying, "My daughter, Tolani, beautifully sung and cleverly written latest single is out. Link in my bio." Tolani holds a bachelor's and master's degrees in Psychology from the prestigious St. Andrews University, Scotland; the same university attended by Prince William, the Duke of Cambridge.
It must, however, be DJ Cuppy that has enjoyed her father's support the most, perhaps because she was the first to go into entertainment. Starting out as a deejay, a female in a male-dominated industry where talents abound and the competition is cutthroat.
DJ Cuppy has proven that the sun does not have to go down for her moon to shine. While her stock keeps rising at home, Cuppy has been flown to every part of the world to perform. Those who have seen the business and economics graduate of Kings College, London, at work, say her strength lies in her clinical understanding of her crowd and ability to play the music that suits them at every point in time. One of the first things Otedola did when Cuppy decided to be a DJ was to have her intern at Roc Nation, the foremost American music label owned by billionaire rap royalty, Jay Z.
In 2015, Cuppy set off on her first DJ tour to eight African cities themed, 'Cuppy Takes Africa.' The tour, supported by GTBank and the Dangote Foundation, took her and her team to Senegal, Kenya, Tanzania, Ghana, Rwanda, Uganda and South Africa.
Otedola is always eager to connect with his family. He never misses any of their milestones. Wherever in the world he is, he makes out time to be with them which was why a simple and spontaneous light-hearted father-daughter banter between him and Cuppy spun a social movement, an urban refrain and a song that became a mainstream hit.
While on holiday in July 2019, Otedola and daughters stopped by in Italy for some gelato, the video of which DJ Cuppy excitedly posted online and bang! it went viral, spinning countless rehashes, memes, and skits by established stars and social media influencers and users. Even his billionaire friends like Aliko Dangote, Wale Tinubu, Herbert Wigwe, and Donald Duke among others all had their gelato video remakes.
The viral reviews of gelato made DJ Cuppy to later team up with the rave-of-the-moment street-hop star, Zlatan, of the Zanku fame, on a new song fittingly titled, 'Gelato.' Gelato became a bona fide fans' favourite while enjoying intense streaming and downloads on music-streaming websites like Spotify, Tidal, Boomplay, Soundcloud, and MTN Music, among others. It also went on to become a daily trending topic on social media with many users commending the young lady for constantly re-inventing herself and proving to critics that there is more to her and her artistry than her father's fortunes.
With a slew of hits in her growing repertoire already, especially the monstrous hit, 'Green Light,' featuring Tekno, 'Gelato' threw Cuppy into the cultural conversation and further earmarked her as one of the new generation singers whose songs always find their ways to the top of the chart without an aggressive push, a fairly rare accomplishment in a constantly evolving industry.
Last November, Otedola stunned the world when he donated N5 billion to DJ Cuppy Foundation and Save the Children's, which president is Princess Anne, the second child and only daughter of Queen Elizabeth II and Prince Philip, Duke of Edinburgh. At a gala to launch the foundation in aid of Save the Children's work in Abuja, with Vice President Yemi Osinbajo as the special guest of honour, Otedola donated what is now regarded as one of the largest individual donations to a philanthropic cause in Africa.
Otedola treasures his children and never shirks from supporting or showing them how much he does. Few days ago, he further established the depth of his love for his daughters by gifting each a Ferrari Portofino.
The cars also came with bespoke number plates, which don't come cheap in London. The blogosphere is still heaving and gasping at the news.T
Attachments area