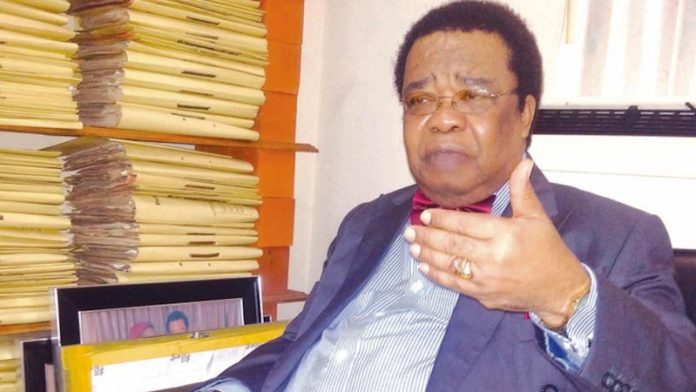 Dike Onwuamaeze
Nigeria's former Minister of Foreign Affairs, Professor Bolaji Akinyemi, has called on President Muhammadu Buhari to heed to comments of prominent Nigerians on the dire state of the nation and also revisit the 2014 National Conference Report and use some of its recommendations to disperse the dark clouds and looming danger hovering over the country.
Akinyemi, in a press release he issued yesterday, said the report of the National Conference would arm President Buhari and enable him to respond appropriately to the concerns raised by eminent Nigerian statesmen on the deteriorating state of the nation as the country approaches its 60th Anniversary as an independent nation.
He said: "For me the way forward is for the President to go to the 2014 National Conference Report. I am making my own contribution by urging him to dust off that report and have his people take a good look at it and see what recommendation they can embrace. He doesn't need to like the whole report because nobody does. And even if he sent the whole report to the National Assembly, the assembly will not embrace the report intoto. But let them take a look at it and see what aspects of the recommendations that can address the issues raised by these eminent Nigerians."
The former Director General of the Nigeria Institute of International Affairs, noted that people of the caliber of ex-President Olusegun Obasanjo, the Nobel Laureate Professor Wole Soyinka, ex-Secretary General of the Commonwealth, Chief Emeka Anyaoku and the former Chief of Defence Staff, Lt. General Alani Akinrinade (rtd) made their comments to draw the attention of President Buhari "to not a coming rain but the coming disaster, the coming hurricane and the impending doom" facing the country.
He observed that inasmuch as he had restrained to comment on the conference's report that he participated in the capacity of deputy chairman, matters had currently come to the point that "I will be making myself look ludicrous if seeing what they are seeing- the dark clouds and the thunder- I will then pretend that it is the sunshine and all is well as we are approaching the 60th anniversary of Nigeria's independence."
Akinyemi stated that it would be too much for President Buhari to ignore the message and the gravitas of the messengers "because they are all saying the same thing. They are all calling on the President's attention to the dangers Nigeria is facing if there is a continuation of the trend of public policies as it is going.
"They cannot all be wrong and they cannot all be driven by ill motives. These are the people that I know to be 'men of timbers and calibers' to use Nigerian phraseology who are experienced whether in governance or as public analysts and to that extent, I can only urge the president to please listen to them because they are not driven by hatred for the President. They are driven by ill will toward the President. What they have seen, believe me; a lot of Nigerians see the same thing. It is just that these people have the platform to say it out loud. Thank God that we are blessed with people who can see things and say it the way they see it for the love of the country."