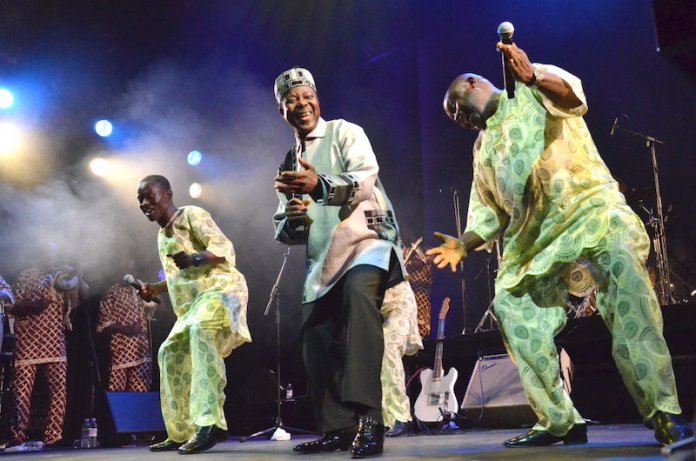 With Femi Akintunde-Johnson
Like the unsolicited ancient revellers who thronged the African rustic palaces as harbingers of goodwill and jollification, in commemoration of one great activity or the other…we have sprung out the dancing mats, from last time here, in celebration of the 74th anniversary of Africa's most colourful and gifted artiste with exquisite showmanship and wondrous catch-phrases – Sunday Adeniyi Adegeye (aka King Sunny Ade). On September 22 (he was born in 1946) the man who left home, aged about 12 years, to hang out with fast-rising icons of Juju music like Ojoge Daniel and Isaiah Kehinde Dairo…will celebrate another year in warm health and luxuriant admiration of his 'country-people'. More than 60 years after venturing into the rough tides of music making, KSA has become a baobab tree with leaves and fruits spurring and nourishing millions of thirsty souls far and near.
It is in his honour, we sought an individual with the best potential to attempt ascending anywhere near the giddying heights attained by the "King of World Beats" in the past 30 years! Let us reiterate: this exercise is not a comparison, by any stretch of imagination, between the pearly attributes of the King and any usurper…but a barometer to suggest that we can identify a young lurking Prince who may be a king, in his own right, in some not too distant time and era.
As stated much earlier, we are invoking six elements in this deconstruction exercise: Vocalisation (dealt with last time), Stagecraft, Innovation, Compositional Skills and Lifestyle. Here we go again…
Stagecraft (or "Wow-ability"):
KSA: It is not for nothing KSA is adjudged the most charismatic stage performer out of Africa – arguably second only to the inimitable Fela Anikulapo-Kuti – on the 'All-time' list.
As far back as the mid 1970's, KSA has adroitly fused his dexterity on the guitar with dance steps (of both male back-ups and female dancers) alongside innovative injections of high-wired instruments that produced 'Syncro System' (1977), Ariya Special (1981), Syncro Feelings (1983), Return of the Juju King (1987). I have had the pleasure of watching KSA in large concerts, private parties and public service ceremonies – detailed remorseless attention to choreographed steps, synchronized movements and elements of drama in his stage performances remain constant. No show, it appears, is too small to warrant indolence or disregard.
It is in pursuit of excellent showmanship that KSA relentlessly searches for injections of melody-enhancers and mood-shakers to take his music to next levels. Several times in his career, he has been reputed as the first Juju artiste to introduce the pedal-steel guitars, synthesizers, tenor guitar and the wa-wa guitar routines to traditional musical compositions.
TUFACE: My first contact with Tuface as a performing artiste was very disappointing. It was at a Kennis Music Concert held in the Motherlan' (Oregun, Lagos) sometime in 2005 or 2006. His debut had thrown him up as a huge promise worth investing one's time and resources – what with his energy-driven intense performance with The Plantation Boiz years earlier.
Hopping around on the stage with a simple T-shirt carelessly draping his lanky body, with a pair of jeans trousers, I think. The young fella with the adorable voice cut a picture of a novice trying to swallow a giant slice of cake. I remember writing an unusually avuncular article based on that uninspiring performance; advising him to work on his stagecraft, and develop a band that could carry all the nuances of his rhythms and lyrics, while devising a stage presence that will command repeater-attendees….
Today, I can report that the young man, seven… eight years down that road, evolved into a substantial entertainer; he has a band and a thriving label company to boot. Though, I doubt he can play any instrument with any level of dexterity, his repertoire of compositions and stage performances, given his lover-boy balladeer image, has drawn young admirers to him; his stage attires have also tipped higher towards the slant of the care-free generation soaked in expensive accessories.
Innovation (turn-around-ability:
KSA: The affable King of World Beats (that funny expression of a white man's lack of understanding of a non-Western music composition) is nothing but a totem of innovation. Note his relentless addition to his performance and recording ensemble. Note his trailblazing duets and collaboration with Onyeka (Let Them Say, '86), great jazz performer, Manu Dibango (Wakafrika); American super soul singer, Stevie Wonder (Aura, 1984). Who can forget his sojourn to world domination in 1982 after Bob Marley's death? KSA took Nigerian music around the world, playing to international audiences across Europe, America, Asia, etc., on the platform provided by world-acclaimed Island Records and Chris Blackwell. KSA's innovations in the re-construction of a great musical ideology produced two Grammy nominations; soundtracks on American movies, Breathless (1983) headlined by Richard Gere (and a couple of others). A patient overview of his huge repertoire reveals a restless spirit burdened with the gnawing desire to outflank himself (always) in the next work; and the next, and then the next.
TUFACE: Blessed with a great voice and a huggable frame, Tuface Idibia commends himself well in the innovative spread of his music. His first two solo productions on the stable of Kenny Ogungbe's Kennis Music (Face 2 Face, 2004 and Grace 2 Grace, 2006) are the best advertisement of the young man's capacity to mesmerize and evoke instinctive romantic connections amongst his listeners. His well-stringed lyrics, the jauntiness of his delivery, and the near impeccable musical accompaniment have set standards of contemporary home-groomed R&B or Afropop or whatever is good, unhurried and meaningful music. In True Love, the rehash of One Love, 4 Instance, and the iconic African Queen; the singer stretches himself beyond personal limitations, and embraces levels close to super-stardom within the frontiers of his own generation.
Compositional Skills:
KSA: This special skill can be found scattered in our earlier thoughts on vocalization and innovation. One of KSA's better known skills is the art of composition. A man for all seasons; he pulls the stuff out of his proverbial sack with the strong support of his reliance on Yoruba folklore, traditions and mores. Every momentous occasion threw up kaleidoscope of imaginations in this creative genie. Every self-satisfying transaction with a notable individual pricks his muse-mojo. Check out the mix-grill: Challenge Cup '67 (his break-through SP in 1968), Col. Benjamin Adekunle, (1968); Akanji Fowope, (1971), Dr. Nkrumah ,'72, Ololu Adenaike, '73; Pa Yohanna Yakubu Gowon, Afai Bawon Ja/Omo Wunmi, Oro Ton'lo, ('75), Late Gen. Murtala Mohammed, (76), FESTAC '77, (1978), Isu Joba Lori Iyan, ('78), Osupa Mi Tole, (1981) – the list is almost inexhaustible.
TUFACE: With three and half albums (as at 2014), Tuface still has a long way to tread….but the signs are clear that this boy is going to turn a great man, if he continues to work at his craft; if he keeps churning out those well-grounded 'lullabies', and refuses to fall into the steps of the current nonsense that gives the impression that less sense makes more money.
One more (lifestyle)…for the road…for a king in his generation, and a lodestar for many generations. Let's clink glasses for KSA…with seventy four dance steps!