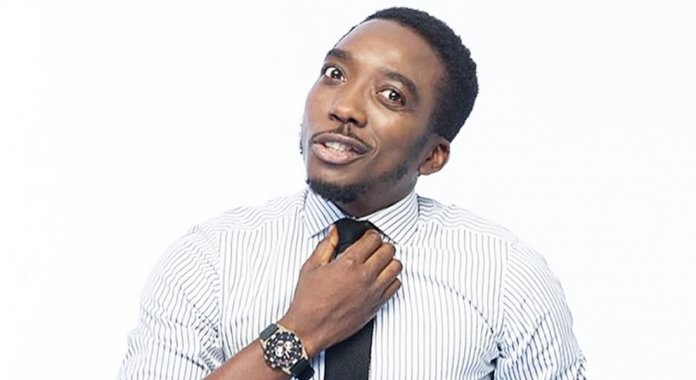 Comedian, Bovi, rolls out an array of rib cracking sitcoms and hilarious skits in a new web series titled "Banana Republic". Ferdinand Ekechukwu reports
Comedian Bovi Ugboma comes through with a new web series titled "Banana Republic". The first episode which is now out is dubbed 'The Inauguration'. Comedy lovers can see the new web series episodes 1 & 2 on his YouTube Channel with an array of rib cracking sitcoms, hilarious skits, funny videos and memorable stand-up performances.
"Banana Republic" captures the hilarious world of Bovi- actor, comedian and scriptwriter. In this episode, the star comedian goes by the character Frank Whyte, a laughable President of the so-called 'Federal Republic of Nigeria, Online'. This episode of "Banana Republic" is set in a prototype executive office and parades fast rising comic actors like Priscellia Ikechukwu, Princess Obuseh, Richard Ayegboyin, Jide Kol, Itohan Jennifer, Sharon Osasu, and Raquel Odion.
On this episode, Bovi gets inaugurated as the President of the Federal Republic of Nigeria… Ordinarily, by the scripting, he could make do without the "Nigeria" but President of the Federal Republic of Banana, since it's just a spoof of the country. The eight minutes, twenty five seconds drama features Bovi's inauguration day as president. His friends from the past were there to celebrate with him, hailing and congratulating him.
"Frank O, Frank O", they hailed him, recounting their journey to which Bovi responds to them as members of his kitchen cabinet. "We go a long way together now," he says as he reminisces and connects with them, adding, "If I'm out of line call me to order." In the midst of the banters with his male friends enters a couple of female friends and his side-chic who appears to lobby for her friend the position of "VP", same way a female character appears and tells Bovi "the national leader says I'm going to be your PA."
Bovi introduces the side-chic as his niece but she had almost teased him "baby" before realising. A look at the scene mirrors what goes behind the corridors of power. It brings to life the high networks and the intricacies of connections that come to play to secure one positions of authority in in government; be it at the federal or at the state levels. As the swearing-in-moment approaches, his wife arrives and they both set for the office for the oath-taking.
At the oath-taking President Frank Whyte (Bovi) repeats after the Chief Judge but it seems to cast back at the justice chief. He would then ask him to personalise the words as he solemnly swears to his oath of office to uphold and abide by the constitution of the Federal Republic of Nigeria. His meddlesome wife is reminded that the oath isn't meant for two. "Please he's the one taking the oath". But she responds "we are one, but its fine."
This scene bears the most hilarious part of the episode. He promises to be fair to truth, not fight on social media, to maintain the peace and do giveaway weekly. Here, the joke isn't lost on Bovi, whose countenance captures his expression regarding the ridiculous promises he swore to. But he feels that is all, but it is not. "This is Africa, we are not leaving anything to chance anymore," the chief judge declares.
He hands him a symbolic metal piece to swear by Ogun, the traditional god of iron that he will die if he steals public money or receive kickback of any money at all. "Ogun will kill you," Bovi says after him. But he interjects, "no you, no you, say you, personalise it, it's you, say ogun will kill me." To which Bovi reluctantly says, but his wife who isn't left out of the scene rebukes the pronouncement for him. One needs to see the scene. If only it could be introduced in the real sense of it preceding any swearing in of government officials.
Soon after the inauguration, Bovi's friends surface to relieve the moment. But it seems the newfound position has got to his head. If you are a fan of Bovi, then you'll be excited about this new comedy series. "Banana Republic" is a Kountry Kulture Network Production and is written by Bovi.