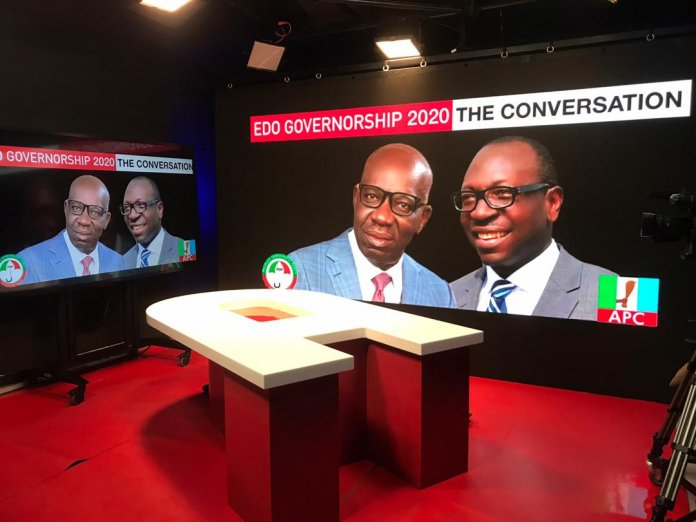 By Adedayo Akinwale and Udora Orizu 
The governorship candidate of the All Progressives Congress (APC) in Edo state, Pastor Osagie Ize-Iyamu, has said that his agenda to develop the state is well thought out, saying the plans to revamp the state economy are already in place.
Ize-Iyamu disclosed this Wednesday while featuring on "The Conversation", a debate programme on The Morning Show of Arise News Channel, the broadcast arm of THISDAY.
Ize-Iyamu said when elected, his administration intends to invest a lot of money on infrastructure, while also empowering local businesses.
He said, "Without serious infrastructure, it is going to be very hard to attract any serious industry or business for our state and then of course, our people too must be trained to make them have the necessary skills to compete. So, the agenda has been well thought out, in terms of implementation we will be looking at funds, the state is blessed, so I just believe that our monies have not been prudently utilized. This time we intend to set up an economic management team that will ensure that the monies of the state are well utilized. We sincerely believe that by the time we begin to implement our programmes, our state will change, by the time people see our sincerity, our focus, we also believe that so many donor agencies will be willing to come to our aid and assist us. We are not too much afraid on how to implement our project, we just want to wait first, get in and then you will see serious implementation of the agenda we have set."
The APC candidate said he believes that the statistics of the unemployment rate in the state according the National Bureau of Statistics (NBS) which it said currently stands at 19 per cent and under-employment rate at 34.9 per cent were worse than that.
According to him, "The statistics are based on the data that they received from Edo state government. But I have told people in other fora that most of those statistics are wrong. The bogus claim that 151,000 thousand jobs are being created is not true. The unemployment rate is a lot higher. We believe that with the SIMPLE agenda a lot of things will change. By the time we make our state more secure, a lot of businesses are going to come, the existing ones are going to expand and increase their scope and that will help a lot in creating more jobs."
On security, Ize-Iyamu noted that he intended to employ the youths and integrate them into community policing programme, while also identifying local vigilante groups, reorganize them and make them more functional, while monthly stipends would be paid to them.
Ize-Iyamu said: "When this governor came in, the security vote was around 4.5 billion annually. He came in and increased it to 7.5 billion, which is like almost 100 percent increase but unfortunately how is he spending it? The little statistics I got is frightening. Before the Edo state police command was getting like N5 million monthly to compliment what they are doing, and you expect that the governor who has increased the security vote by almost hundred per cent to review that and give them something reasonable to make them function better, but in the last four years there has been no change, it has been the same. Edo security trust fund which I support, which is something that will compliment government investment in security sector nobody is interested because they don't see any seriousness on the part of government."
"When I was in government, it was regular to purchase vehicles, brand new ones to support the police so that movement can be easy. What we found in this administration was a joke. Government must invest in security and if they are using security vote for that, complimenting traditional institutions to ensure that the community police are all functioning, I won't be here querying the security votes, but when nothing is happening, the level of insecurity will be at all time high. That is why people are complaining, you can't be collecting over N600 million monthly and what we have been able to calculate that you spend maximum is N20 million. How can you spend only 20 million on security when you collected 600 million, what are you doing with the balance. Even during Covid when the governor had to review the budget, the security vote was not touched, the money for judiciary was cut down by almost 50 percent. The issue is what are u doing with it?"
The APC candidate added that his administration would also invest in the teachers, stressing that a functional education system cannot be achieved without investing in the teachers.
On economy, Ize-Iyamu, said, at the moment, the state was stagnated as the administration of Obaseki concentrated focused only on the traditional areas of revenue generation.
He stated: "The economy must be diversified, we can no longer continue that, putting all our hope on what comes in from the federation account. There are some projects that can bring short term returns, we need to diversify our economy and look at projects that can bring revenue to our state. If I can ask where are the new projects that Obaseki brought to the state there are none.
"The so called industrial park that was started with fanfare nothing happened to it. We intend to stimulate the economy, public private partnership will drive the process and we will see more people coming in, which means that the level of economy activities will increase, more people will be employed and more investors, on taxation we will have increase in corporate taxes and payee."
On Debt management, Ize-Iyamu stressed that the South-south region had the highest debt profile, while revenue generation in the region remains very low; adding, "so, it's a contradiction that we've incurred so much debt and there's nothing to show for it. We need to see how we can manage these debts. Our experts need to sit with us so we will able to see how these debts can be managed."