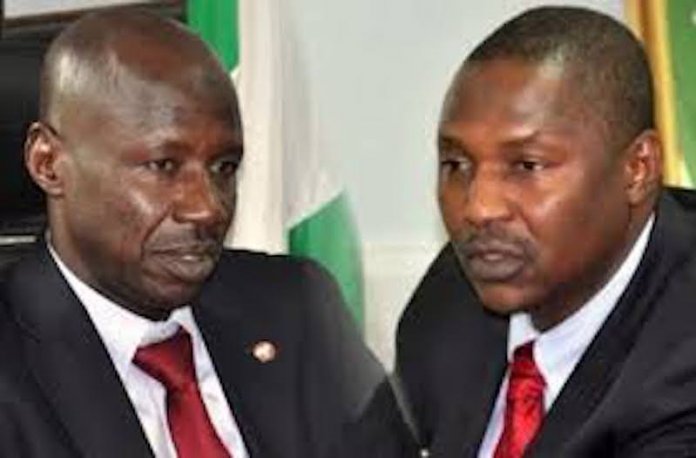 Me I used to like this kind of fight. This one will be more interesting than the type Fela used to call roforofo. This one is not that type that we used to see in Oshodi where the two combatants will be circling themselves and will not touch each other after hours of wetting the appetite.
This one is looking like it will beat the ongoing Big Brother Nigeria in excitement. The two of them are able and willing, they have enough arsenals within them, poach to keep us glued to the ringside should this go the way analysts have predicted. I even just saw a report credited to this Malami that in whatever capacity they summon him, whether as Malami or the Attorney General, he is ready.
Magu's team has also sent a very strong signal that they want him. This promises to be the fight of the century. You see, me I remain very excited and eager. The accusations levelled against this Magu bighead are plenty o. It will really be highly miraculous if he can surmount them all, especially as these allegations could now be used against the administration that had vaunted its anti-corruption stance. Well, na make we dey look before the thing go come go turn to 'na me, na me' because that is how this kind of things used to end.
Salami owes this generation of Nigerians a strong duty to allow this fight go on unedited and live so that we can really take our time and cry for this country. The healing has started and with this Malami vs Magu fight, we will begin to get our redemption. Na wa!