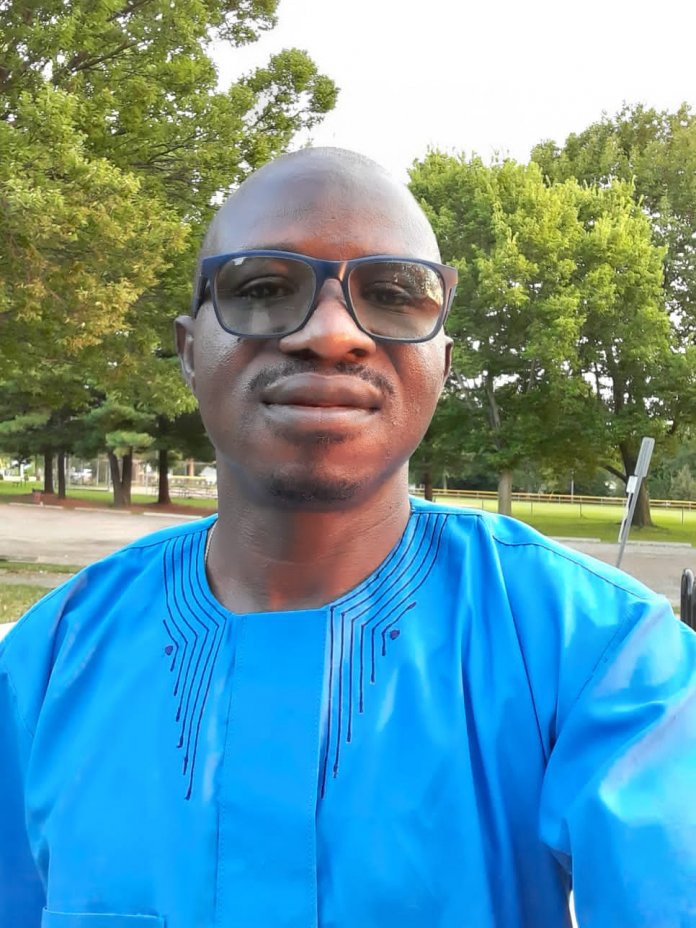 As Nigeria prepares for its 60th Independent Day Celebration, come October 1, Social Commentator, Olusola Bakare shares his thoughts with Sunday Ehigiator on how the country has been fairing since democracy was introduced as a way of governing the people
In May 29, 1991 when providence beckoned on Nigeria an enviable opportunity to return to elective style of government, not many were of the belief that the country would not berth at Eldorado two decades thereafter.
The ecstatic jubilation that greeted the country's return to democracy and forecasts that within a decade, the inherent potentials of the country would have been maximally harnessed to speedily shoot her into the category of great nations, it supposedly belonged to, were beyond what could be measured.
In fact, the return of democratic government, after multiple decades of military rule that began in 1966 and had been interrupted only by a brief period of democracy from 1979 to 1983, sent ripples that were felt throughout the whole world.
All these positive expectations were, certainly, courtesy of the great potentials in both human and material resources embedded in Nigeria – the most populous black nation in the world.
The above were the thoughts of Bakare, as shared with this reporter in a recent interview.
Speaking further, he said, "Governance is the process of decision-making and the process by which decisions are either implemented or not implemented. However, it must be noted that there exist good governance and bad governance. Good governance is a way of measuring how public institutions conduct public affairs and manage public resources to better the lots of the citizenry.
"It means that processes and institutions must produce results that meet the needs of society while making the best use of resources at their disposal. Accountability is a key ingredient of good governance which concept emerges as a model to compare ineffective economies or political bodies with viable economies and political bodies around the world.
"The concept of good governance centers on the responsibility of governments and governing bodies to meet the needs of the masses as opposed to select groups in society. Emphasis on the select groups in society.
"On the other hand, bad governance is the unfavorable relationship between those who govern and those who are governed as a consequence of poor decision-making. This unfavorable relationship is created as a consequence of violation of established norms and formulation of unrealistic and harsh economic policies. Bad governance encompasses a variety of situations from corruption, deceit, formulation of unfair policies, disrespect for the rule of laws etc.
"Bad governance is centralized around the idea of not only corruption within a system but a lack of transparency and accountability, arbitrary policy making and the cheating of those who are governed.
"However, it is not only saddening but also depressing that political actors and their allies who have been elected and opportune to be placed at the corridors of power since the return of democracy to Nigeria, have toyed with hopes of millions of Nigerians. These politicians have not only upended the exploration chances of great opportunities inherent in the country but they have also entrenched the practice of bad governance to the point that an average Nigeria now sees his fundamental right as a rare privilege.
"It is undesirable how they have substituted egalitarian system of governance with self-centeredness and struggle for personal aggrandizement. All the public misbehaviors of successive administrations, peopled by egocentrics, have evidently contributed to relegation of once economically boisterous and politically ambitious country to the unenviable league of poor and developing nations of the world – despite huge deposit of natural resources in the country.
"According to the World Bank's governance indicators, the key causes for bad governance include lack of voice and weak accountability both of which happen when the government refuses to listen to the voice of those they govern and refuse to take accountability for their actions.
"By ignoring the voice of the governed, their opinions are no longer heard or taken into consideration by the government which is sharply contradictory to the dictates of democracy. Every democratic government must focus on accountability as a method to gain public trust and public understanding. Weak accountability, in turn, causes a distrust between the governing and governed and this often leads to instability. This distrust and uncertainty create an unfavorable relationship between the two parties.
"More, bad governance is often considered to come hand in hand with corruption which is actively alive in all sectors of the country, Nigeria. Corruption occurs in all places, in many different ways and forms. The existence of corruption within the government causes bad governance as both the public officials and civil servants place their personal gains far above that of the masses.
"Nigeria is, evidently, sliding into worst recession ever in the history of nations worldwide and this is courtesy of corruption endemic in the system or how does one justify a situation whereby the government has mortgaged the present and the future of the country by incurring huge borrowing to finance projects many of which are of no direct or instant benefit to over 200 million citizens of the country?.
"Nigeria clearly sits atop developing countries of the world with worst and dehumanizing debt profiles. As of first quatre of 2020, Nigeria's total debt profile was put at N33 trillion after the Senate approved another whopping $22.7 billion foreign loan for the federal government.
"The unenviable rising debt profile has also given the Director-General of the Debt Management Office (DMO), Mrs. Patience Oniha, a great concern when she feared that Nigeria may not be able to service the debt. One now wonders what fate befalls average citizens of the country who have no inkling of what directions or what projects the debts incurred are being channeled to.
"Nigeria is a consuming economy that relies solely on borrowing despite huge deposit of beneficial resources at her backyard but the country's irresponsible fad for borrowing has made Nigerians an entrapped slave of IMF, World Bank Group, China, Eurobonds, International Bank for Reconstruction and Development (IBRD) and the International Development Association (IDA) as citizens now wallow in abject poverty while an average Nigerian lives less than $1 per day.
"Consequences of these borrowings are that the sheer magnitude of the nation's annual debt servicing put at about N2.47 trillion for 2020 makes the provision of basic but essential amenities and infrastructure in the country, impossible without further borrowings. And this, no doubt, points to the potential fiscal and financial crisis ahead of the nation because most of the borrowings are only partly project-tied and majorly to support budget deficit.
"In as much that Nigerians yearned for the return of democracy, they didn't call for a return to slavery as they now live from hand to mouth. Their expectations of reaping dividends of democracy as promised, have been shambled by the reckless and thoughtless leadership style we have been provided. Facts are available that Nigeria runs the most expensive democracy in which the government spends 75% of its budget on the political class that has substituted national development to personal pocket development.
"It is killing noting that a country once at the verge of greatness has receded to the point of ascribing no value to comfortable living of its workforce. In all the 36 States as federating units making up the country, only about 5 are economically sound. About 10 States struggle to pay salaries of their workforce while others are begging with caps in their hands as they find it so uneasy to pay civil servants' salaries.
"The reasons for this are not farfetched, corruption at play.
It is unfortunate that corruption-prompted bad governance has rendered all the country's sectors so valueless and the government is only paying lip-service to restoring dignity to the sectors. The educational sector is in total shambles as there is total lack of qualitative education delivery from the elementary school up to the tertiary level.
"The government's lackadaisical attitude to the growth of the sector has left workers' unions in the sector with no option other than the use of strike action as the tool when negotiating with the government. It must also be noted that government only allocates paltry percentage of its yearly budget to education.
"In fact, education is no longer seen as a credible instrument for sustainable development by the government. Presently, the Academic Staff Union of Universities (ASUU) is into the sixth month of its nationwide strike action. And one of their arguments is hinged on the failure of the government to fulfill own part of the 2009 agreement.
"Education in Nigeria is in dire straits, and many Nigerians are acutely aware and concerned. At present, Nigeria has the highest percentage in the world of children not enrolled in school. Overall, the United Nations Human Development (UNHD) Index ranks Nigeria 152nd out of 188 countries.
"Public education is chronically underfunded. For countries seeking to develop rapidly, 25 percent of their national budget should be devoted to education, as they do in other sane climes unlike Nigeria which allocates paltry 7.1 percent to education. Teachers often go for long periods without being paid, and strikes, especially at the university level, are frequent.
"All these are clear offshoots of bad governance prompted by corruption that is ubiquitous. Whereas, a sum of N36milliin belonging to the Joint Admissiins and Matriculation Board (JAMB), an examination Board for admission-seeking secondary school leavers, was reportedly swallowed by snake. What a cockeyed and ludicrous story!
"As with other aspects of Nigerian life, traditional state functions, such as education, are becoming privatized. There is a clear hierarchy. Wealthy Nigerians send their children abroad to Europe, America or elsewhere, less wealthy ones send them to private schools through the university level, while the poor—the overwhelming majority of the population—are dependent on state facilities.
"In hospitals across Europe, America and Asia, Nigerian elite class and their family members are regular patients because our hospitals and medical facilities in them, are nothing compared to what are obtainable in those continents in the 21st century. No wonder our medical personnel find solace in taking their practice and professional skills outside the shores of the country where governments prioritize and devote meaningful allocation to quality health services.
"It is ironical that the governing class elected to ensure provision of world-class hospitals and quality medical services, rather than deliver on the trust reposed in them, travel miles away to seek medical attention in hospitals outside the country leaving hospitals, medical facilities and health workers in dehumanized state. A recent protest by doctors and medical workers defined the sorry state about Nigeria's care for provision of quality medical services to cater for citizens' health.
"Corruption and corrupt practices are the worrying adjectives with which Nigeria is being defined all over the world. In 2012, Nigeria was estimated to have lost over $400 billion to corruption since independence. In 2018, the country ranked 144th in the 180 countries listed in Transparency International's Corruption Index. The rise of public administration and the discovery of oil and natural gas are two major events believed to have led to the sustained increase in the incidence of corrupt practices in Nigeria.
"Corruption in Nigeria is so thick, deep and endemic to the point that it defies enforcement of laws and integrity. Greed, ostentatious lifestyle, customs, and people's attitudes are believed to have led to corruption. Another root cause is tribalism. Friends and kinsmen seeking favor from officials can impose strains on the ethical disposition of the official as these kinsmen see government officials as holding avenues for their personal survival and gain.
"Nigeria's corruption rating worsened in late 2013, when the then Nigeria's Central Bank governor Sanusi Lamido Sanusi informed President Goodluck Jonathan that the state oil company, NNPC, had failed to remit US$20 billion in oil revenues owed to the state. Jonathan, however, dismissed the claim and replaced Sanusi for his mismanagement of the central bank's budget.
"A Senate committee also found Sanusi's account to be lacking in substance. After the conclusion of the NNPC's account audit, it was announced in January 2015 that NNPC's non-remitted revenue is actually US$1.48 billion, which it needs to refund to the government. Upon the release of both the PwC and Deloitte report by the government at the eve of its exit, it was however determined that truly close to $20 billion was indeed missing or misappropriated or spent without appropriation.
"In addition to these, the government of Goodluck Jonathan had several running scandals including the BMW purchase by his Aviation Minister, to the tune of N255 million naira and security contracts to militants in the Niger Delta, massive corruption and kickbacks in the Ministry of Petroleum, the Malabu Oil International scandal, and several scandals involving the Petroleum Ministry.
"In the dying days of Goodluck Jonathan's administration, the Central Bank scandal of cash tripping of mutilated notes also broke out, where it was revealed that in a four-day period, 8 billion naira was stolen directly by low-level workers in the CBN. This revelation excluded a crime that is suspected to have gone on for years and went undetected until revealed by a whistle-blower. The Central Bank claims the heist undermined its monetary policy.
"Other corruption allegations that trailed the exit of President Jonathan on May 29, 2015, were summed up to over $150 billion, a whopping sum that could have been constructively used to benefit the citizenry in key areas to ginger national development.
Since assumption of office of President Muhammadu Buhari in 2015, his administration has also been deeply sunken in corruption and corrupt practices.
"Just a year after coming of PMB presidency, the Senate ad-hoc Committee on "mounting humanitarian crisis in the North East" led by Senator Shehu Sani indicted the then Secretary to the Government of the Federation appointed by President Muhammadu Buhari, Mr. Babachir Lawal in a N200 million contract scandal for the clearing of "invasive plant species" in Yobe State by Rholavision Nigeria Limited; a company he owns. On October 30, 2017, President Buhari sacked Lawal based on the report of a three-man panel led by Vice-President Yemi Osinbajo that investigated him and one other.
"In 2016 also, Buhari was reportedly presented with evidence that his late Chief of Staff, Abba Kyari, took N500 million-naira bribe from MTN to help it slash the $5 Billion dollar fine slammed against it for violation of Nigeria telecommunications regulations bothering on national security. MTN fired the staff involved in the bribery scandal. But late Abba Kyari was left intact in his position as Chief of Staff to national outrage forcing Buhari to announce the probe of Kyari. The findings of the investigation are yet to be made public.
"Abdulrasheed Maina was the head of the task force on pension reforms during the President Goodluck Jonathan led administration but fled Nigeria in 2015 after claims that he embezzled two billion naira ($5.6 million, 4.8 million euros). Despite the fact that an Interpol arrest warrant was issued, he escaped and still managed to return to Nigeria, where he enjoyed protection from the Buhari government. Maina had been fired from his position by Goodluck Jonathan's administration and was put under investigation for corrupt practices but was reinstated and given double promotion by Buhari administration.
"According to the senate through its committee on public accounts, 85 government parastatals under the present government under the leadership of Muhammadu Buhari are yet to submit their audit reports since the inception of this government in 2015.
"Under the present government, bad governance has been so permeated to the extent that all sectors of our national lifehave been deeply affected. In a recent cesspool of corruption involving the Management of the Niger Delta Development Commission (NDDC), huge sums of money running into N15 trillion (over $31 billion) were revealed to have been looted since establishment of the Commission in year 2000.
"One of the revelations said that the sum of N81.5 billion (over $173 million) was spent within seven months of the COVID-19 pandemic. It would be recalled that investigation of the Commission was at the instance of N40 billion (over $85 million) mismanaged within 3 months. Worse, in the bid to investigation the ridiculous sum spent within seven months, another sum in the whopping region of N722million was approved to probe the scandal ravaging the Commission.
"This was despite the sum of N318million approved earlier for same purpose. The most unfortunate development remains that the Niger Delta, despite these huge sums in possession of the Commission, is one of the backward and underdeveloped regions in the country.
"Nigerians were recently astonished when the government approved N27 billion (about $70 million) for renovation of National Assembly at the time the nation's 2020 budget was reviewed downward due to the effect of COVID-19 pandemic which literally affected cutting down of all sectors' budgets including that of Health Ministry.
"This insensitive act to the citizens' health care by the government also points to the rising case of bad governance under President Mohammadu Buhari as Health budget was cut from N44.4 billion to N25.5 billion. Which serious government would embark on such hara-kiri in this pandemic period.
"Nigeria has not experienced the darkest and worse division among the people and various tribes/ethic groups especially in post-civil war, like what are being experienced under this present administration. Nigeria has recorded increased cases of communal clashes and inter-tribe wars that have claimed hundreds of lives and property running into billions of naira.
"The crescendo at which this has reached, forced the former President, Chief Olusegun Obasanjo to speak publicly that under President Buhari, Nigeria may tip over and disintegrate.
"There also exists Budgeting Corruption which is a form of corruption where management of a public organization in connivance with governing council or board minister/commissioner bribes some members of the legislature to approve inflated estimate for the institution during budgeting.
"In a situation where the budget is already approved, the management is expected to give tips or gratifications to the government functionaries whose duty it is to release money to the institutions. At the early life of President Mohammadu Buhari's administration, Nigerians were, one day, woken up to another malfeasance by the National Assembly under the leadership of Dr. Bukola Saraki, the erstwhile Senate President, when it was revealed that budget for year 2016 was heavily padded by the lawmakers to selfishly take care of their financial need rather than the need of their constituencies.
"Effects of Corruption in Nigeria are so damning and outrageous and they range from under development of human capacity, absence of basic infrastructure such as potable water, good road networks, misappropriation of national resources leading to massive poverty, mediocrity in leadership and cluelessness in professionalism, deficient leadership outputs, human trafficking, high unemployment and youth hopelessness, continuous widening gap between the rich and poor, and falling standard of education leading to production of poorly-baked graduates.
"Corruption has made students and products of the tertiary institutions suffer from loss of self-confidence, hopelessness, and loss of confidence in handwork and societal value. It has lowered the image of academic and non-academic members, as well as governing councils of most public tertiary institutions in Nigeria.
"Corruption denies access to basic education and health services, fuels political violence, generates popular anger that threatens to further destabilize societies, and exacerbates violent conflict. It distorts public expenditure, increases cost of running businesses as well as cost of governance, and diverts resources from poor to rich nations. It has frustrated research efforts, derailed administrative goals, instigated organizational goals displacement, and it has also drastically reduced the image of Nigeria in the international communities to mention just a few.
"The failure by the present governing class to fulfill its social responsibilities by providing visionary leadership has no doubt promoted bad governance leading to continued collapse in all sectors of the country. In fact, Nigeria has become an unsafe place for human development.
"The general and concluded perception now is that Nigeria is heavily indebted and that the future of the country and that of generations yet unborn is bleak and dreary thus getting out of indebtedness would be difficult due to the degree of corruption permissible in the country," he said.