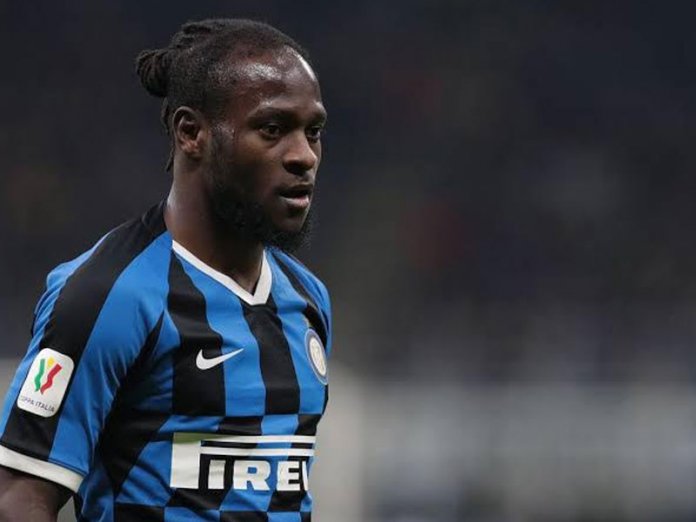 On the field of play sometimes he could be brutal in his tackles, aggressive in his offensive play and even controversial when he leads the charge against the men at the centre when some decisions did not go his way. However, off the field, Victor Moses had proven that he has a heart of gold as he tries to save former club- Wigan Atlectic from distress by anonymously donating £20,000 the club
Not many footballers have fond memories of their former clubs, but former Super Eagles midfielder, Victor Moses not only remembers his days at Atletic with nostalgia but was also there for them in times of need.
Fans are raising funds to keep the Latics up and running in League One after they entered administration in July.
The cash-strapped Wigan Athletic is in dire straits after administrators were summoned in July, resulting in a 12-point penalty and relegation from the Championship to League One and Moses remembered with fond memories his two years at the club and donated £20,000 to his former club.
Moses made a significant donation to support his former club Wigan Athletic amid their financial struggles, the club's supporter's body confirmed.
The chairperson of Wigan Athletic Supporters' Club, Caroline Molyneux, confirmed the gesture made by the ex-Nigerian international who played at the DW Stadium between 2010 and 2012.
The supporters are aiming to raise £750,000 to support the club this season, and they are now within £100,000 of the target after Moses sent some money.
"Wow – what can we say? When Victor got in touch to say he wanted to help by donating such a substantial amount, I just couldn't believe what I was hearing – it's such an incredible gesture," Molyneux said.
"Victor wanted to make the donation and remain anonymous but we simply had to make sure he gets the recognition he deserves.
"Victor's contribution has taken us past £650,000 and to within £100,000 of our next target of £750,000.
"We are so thankful to Victor for his support. He is an excellent footballer, a true role model and someone we always enjoyed watching at the DW Stadium – he will always be welcome back here, even more so now!"
Wigan were deducted 12 points after going into administration towards the end of the 2019-20 season, which forced them into relegation alongside Hull City and Charlton Athletic.
Moses played for the Latics before joining Chelsea in 2012 and he has called for more support to save the future of the 2013 FA Cup winners.
"Wigan Athletic will always have a special place in my heart," Moses tweeted.
"I have so many incredible memories from my time there and the people of Wigan and everyone associated with the club have always been so good to me and my family. We must do all we can to protect the future of this great club."
Wigan tweeted their thanks as they look for a buyer to save them from administrationCredit: Twitter @WiganAthSC.
They are desperately looking for new owners to reverse their fortunes.
In the meantime, a Supporters' Club Crowdfunder page has been set up to raise cash and save Wigan from going under.
Former Lactics favourites including Roberto Martinez, Reece James and James McClean have all stepped forward with donations.
SunSport exclusively revealed last month that American financiers Randy Frankel and Michael Kalt are ready to rescue Wigan with a £5million-plus offer to take them out of administration.
We told you that the pair are even willing to move ground to play at Leigh's Rugby League Stadium.
And SunSport brought you news today that Simon Grayson is being lined up as Wigan's next manager.
Wigan administrator Paul Stanley says there are a dozen investors showing interest in the football club
The former Super Eagles midfielder has returned to Stamford Bridge after spending the second half of last season on loan at Inter Milan.
His future in Frank Lampard's side is still in doubt having spent the last one-and-a-half years on loan.