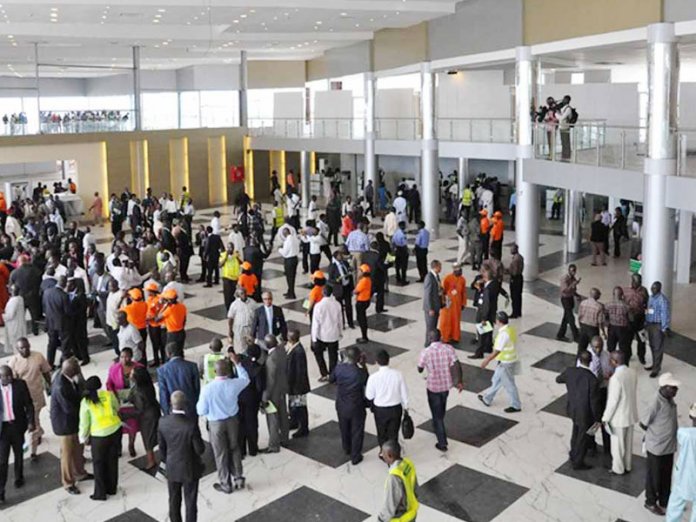 Chinedu Eze
Inbound and outbound travellers are facing increasing difficulty in meeting the safety protocol introduced by the Presidential Task Force on COVID-19 in collaboration with the Nigerian Civil Aviation Authority (NCAA).
Since international fights started last week, passengers have faced exertion trying to make payments through the portal provided by government and they are also made to pay outrageous fees as cost for COVID-19 tests.
Airline operators, travellers and travel agencies have decried the unsavoury situation, which has made international travel in Nigeria frustrating, prompting some people who wanted to travel to defer their travel "until things get better."
Part of the conditions that must be met by travellers to Nigeria include the rule that prior to boarding, passengers are requested to upload their COVID-19 PCR NEGATIVE results on to the national payment portal and bring along an electronic or hard copy of the result for presentation at the airport.
They are also required to go through the routine of Port Health screening and present electronic or print-out evidence of pre-boarding PCR test results and evidence of payment/appointment for a repeat PCR test, in-country.
Laboratories and hospitals that conduct COVID-19 tests charge outrageous fees for the tests, while it is difficult for government hospitals that offer such tests free to provide such service to passengers, as reports have indicated.
But airlines, passengers and others involved in air travel have complained that the portals are not working, so it is extremely difficult to meet the conditions given to the passengers.
It was this hiccup that prompted the Director General of the Nigeria Centre for Disease Control (NCDC), Dr Chikwe Ihekweazu to issue an apology on his verified twitter handle on Wednesday saying, "Our deep apologies to everyone that has had challenges with the platform for travellers. We are working across several ministries and agencies, with banks and laboratories, across federal and state governments to make this system work for all. We will communicate further soon."
The Nigerian Civil Aviation Authority (NCAA) on Wednesday also issued a waiver to passengers, advising airlines to allow passengers without QR codes to board flights following difficulties several intending passengers are having with the use of the online platform for uploading information.
This, the agency said, should be a temporary measure until additional on-going work to the payment platform is completed.
NCAA said airlines would be informed in the coming days of any changes in this requirement.
QR codes are popularly known as 2D barcodes; by scanning them via a smartphone, travellers can access the information encoded.
Reacting to these problems, travel expert and organiser of Akwaaba African Travel Market, Ikechi Uko, urged concerned authorities to allow passengers to for the tests on arrival.
"They can pay with their cards on arrival. They will do the registration online and then pay on arrival. This is not the first time the payment system has failed.
"It happened when the Nigerian Immigration Service introduced visa on arrival. People are desperate so they should be helped.
"We should make available all payment platforms to enable them make successful payment. Electronics payment system in Nigeria is easy but there should be alternatives to the payment portal.
"The passengers should be allowed to make payment through POS. What is happening is not good for anybody. All other issues could be managed but passengers should be made to pay on arrival," he said.
The immediate past President of the National Association of Nigeria Travel Agencies (NANTA) and the Group Managing Director of Finchglow Group Limited, Bankole Bernard expressed disappointment with the turn of events, saying that the protocols and the payment system were not well conceived before they were introduced.
He noted that there was no defined measures or processes that led to the passengers COVID-19 protection system, but a knee-jerk decision that were made to see whether they would work
"This shows how disorganised we are. It is high time they allowed professionals to do government work. I recall an official of PTF saying that we are not ready with the payment platform.
"They are just trying to make things difficult. They do not have any laid down procedure. This is why many people have declined from travelling. They said they would not travel till the third week so that by that time they would have corrected the problems," Bernard said.