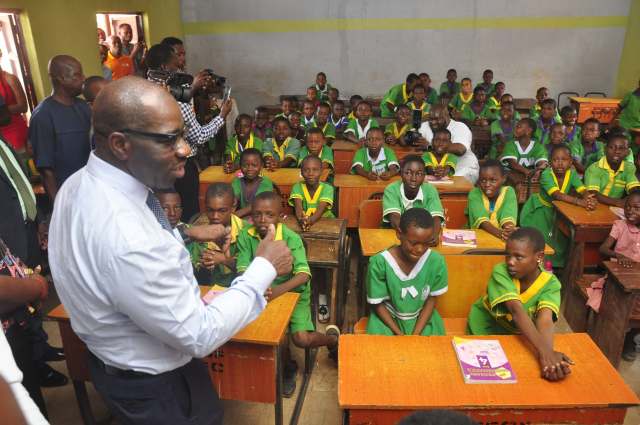 Education stakeholders in Edo State have commended the administration of Governor Godwin Obaseki for creating the Edo Basic Education Sector Transformation programme (EdoBEST), saying that the rate of school vandalism has significantly reduced.
EdoBEST, which is one of Obaseki's flagship programmes, has driven this change through its community engagement initiatives which form one of its five pillars.
The initiative involves the reconstitution of the School-Based Management Committees (SBMCs) and deployment of a large team of social mobilization officers (SMOs). As a result of these engagement initiatives, community members now have a stronger sense of responsibility to the schools in their communities.
The SBMC Chairman, Obe Primary School, Chief Adeboye Amu, who has also been saddled with ensuring that pupils can safely cross the busy Afuze-Auchi Road said, "EdoBEST has trained and empowered me, thereby making me more involved in the activities of the school."
He said even after getting all the necessary permissions from the board and LGEA, contractors are working on the planned interventions for the school." I am the main focal person they meet as I am directly in charge of the school. I oversee the planned intervention, and work with them in a supervisory role to ensure that the stated aim of the intervention is achieved."
He said there has also been an increased community engagement at the school, adding that this has led to an improvement in school maintenance.
"The grass has already been cut by community youths and all of the school's facilities and offices are intact and in good condition."
To boost a sense of community ownership, the government mandated that all school construction and renovation projects be contracted to indigenous contractors to encourage and strengthen local businesses.
At the construction site of a brand new toilet and water borehole facility in Igarra, the Chief Executive Officer of M-Fat Resources Enterprises, an indigenous construction company, Mr. Maliki Fatai, shared his experience.
According to him, "I am delighted by the local content development and patronage of local contractors by Governor Obaseki. I now inspect school renovations done by other contractors to ensure that they are completing the work properly.
He said the Obaseki-led administration has invested in ensuring that all school renovations in the community are done well, irrespective of who is doing the job. He stressed the need for the government to continue to patronise local businesses.
The Education Secretary of Owan West, Mr. Peter Ilegar said the synergy between him, other education secretaries and members of their respective communities has improved. "The disharmony, tribal issues and theft experienced in the past in my LGEA have been reduced to the barest minimum, due to the cordial working relationship with community members."