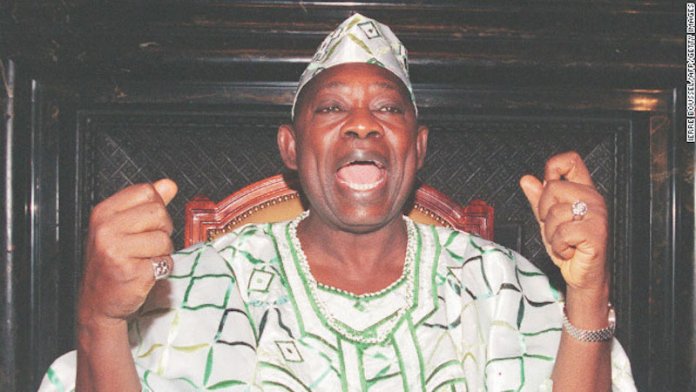 Raheem Akingbolu
Twenty-two years after the death of the winner of June 12, 1993 presidential election, the late Chief Moshood Abiola, a group has condemned the government and top politicians in the country who are daily using the name of the businessman for political mileage,.
The group described these politicians as a bunch of hypocritical elements who are not sincere in the accolades being heaped on the politician.
In a statement issued yesterday on the heels of the recent invasion of the Ikeja, Lagos home of the late Abiola, by hoodlums, the group 'June 12 Pro-Democracy Movement of Nigeria,' an umbrella platform of champions of the June 12 struggles for popular democracy in Nigeria, decried the development, especially as there was no record of any security or police alert or response to halt the traumatic ordeal of the family.
The statement which quoted the Convener of the movement, Olawale Okunniyi, as stating that the group and other political allies ofAbiola, considered the development absurd and baffling, considering the huge price he paid to entrench democratic government in Nigeria.
"It is sad that before and throughout the dastardly and ignoble operations of these armed bandits, there was no single security or police intelligence, alert or response to halt this traumatic ordeal of the family. This, to say the least, calls to question the quality and efficiency of Nigeria's security intelligence and policing as this sort of desecrating crime could occur in the sacred home of MKO Abiola, which today doubles as the Democracy Centre of the June 12 Movement of Nigeria.
"We are therefore at this point compelled to frown at what we have come to perceive as lip honour, obvious negligence and abandonment of the family and legacies left behind by MKO Abiola by government; as it is our informed view that, if those in power today, who are direct beneficiaries of the present democracy, for which MKO Abiola sacrificed his life and died, have done the needful by showing sincere concern and care for MKO legacies and blood relations, this ugly situation would have been averted and prevented," the statement stated.
To this end, the group said it was indeed disturbed by a situation, where government could award the highest honour in the land, 'GCFR,' to MKO Abiola being the martyr of the Nigeria's democracy, and still neglected his legacies and family and allowed them to go through all manner of avoidable suffering and ignominy at the same time.
To this end, the group has however called on the government to quickly take steps to honour the late politician beyond paying lip service to his legacy, by formally taking up some of the key responsibilities he left behind