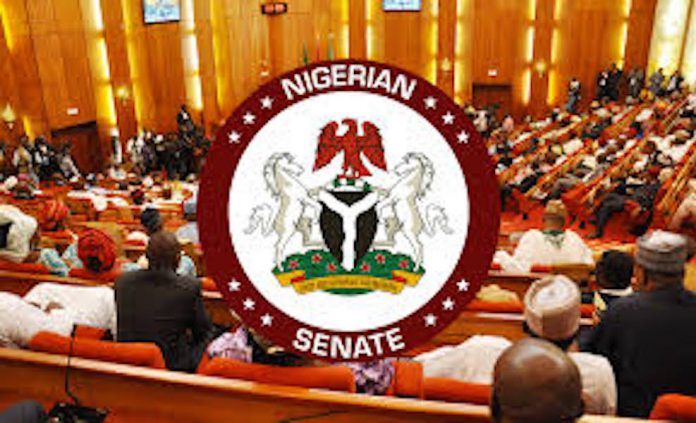 •Middle Belt proposes 12 federating units, 18 more states
Deji Elumoye and Udora Orizu in Abuja
No fewer than 50 memoranda have been submitted by individuals and groups to the Senate Committee on Constitutional Review headed by the Deputy President of the Senate, Senator Ovie Omo-Agege, THISDAY has learnt.
The committee, which was inaugurated in February, had a fortnight ago requested for memoranda from the public to enable it to amend the 1999 Constitution, latest by yesterday.
The Middle Belt Congress, on its part, is canvassing the creation of 12 federating units under which the states would operate.
The groups and individuals that submitted their memoranda included the pan Yoruba socio-cultural group, Afenifere and its Niger Delta counterpart, Pan Niger Delta Forum (PANDEF); Coalition of Federalists for Good Governance (CFGG); former Minister of Information and Culture, Prince Tony Momoh, and presidential candidate of the Abundant Nigeria Renewal Party (ANRP) in 2019 general election, Mr. Tope Fasua.
The Middle Belt Congress in a 19-page memo to the committee dated September 4, 2020, a copy of which was sighted by THISDAY, listed some sections of the constitution, which it wants to be amended.
According to the memo, the group is seeking the creation of 12 federating units as well as 18 additional states, devolution of police, change in form of government, federal structure, judicial and electoral reforms, and removal of the immunity clause, among others.
The memo proposed amendments to sections 2 and 3 of the federal structure to identify and name the geographical units that would federate as 12 provinces.
The group canvassed only two tiers of government – the federal government and sub-national governments (provinces) – while the local governments would now be administrative units of the sub-national governments.
The proposed 12 provinces are: "North-west Province, comprising Sokoto, Kebbi and the Zamfara states; North-central Province shall comprise Kaduna and Katsina states; North-north Province shall comprise Kano, Jigawa and Ghari states; while the North-east Province shall comprise Borno, Yobe, Gombe, Bauchi, Amana, Savannah and Katagum states.
"Middle-Belt West Province shall comprise Niger, Kwara, Kogi, Edu and Kainji states.
"Middle-Belt East Province shall comprise Plateau, Benue, Nasarawa, Adamawa, Taraba, Gurara and Apa states.
"Western Province shall comprise Oyo, Osun, Ondo, Ekiti, Ose, Okun and New Oyo states. South-west Province shall comprise Lagos, Ogun, and Ijebu states.
"Mid-West Province shall comprise Delta, Edo and Anioma states. Niger Delta Province shall comprise Rivers, Bayelsa and Oil River states. South-East Province shall comprise Anambra, Abia, Enugu, Ebonyi, Imo, Aba, Adada, Njaba and Etiti states. South-South Province shall comprise Akwa Ibom, Cross River and Ogoja states."
On state creation, it said the 61 requests received by the Seventh National Assembly in 2012, proved that majority of Nigerians are not satisfied with the groupings that the various military governments did and they want a democratic correction of the anomalies.
According to the group, the creation of 18 states would address many political, religious and ethnic problems bedeviling the country.
The 18 states were recommended by the 2014 National Conference, to be shared three to each of the six geopolitical zones. They include: Aba State from Abia State; Adada State from Enugu State; Amana State from Adamawa State; Anioma State from Delta State; Apa State from Benue State; Edu State from Niger State; Etiti State from South-east geopolitical zone; Ghari State from Kano State and Gurara State from Kaduna State.
Others are: Ijebu State from Ogun State; Kainji State from Kebbi and Niger States; Katagum State from Jigawa State; New Oyo State from Oyo State; Njaba-Anim State from Anambra and Imo States; Ogoja State from Cross River State; Oil River State from Rivers State; Okun State from Ekiti, Ondo, Kwara and Kogi states and Ose State from Edo State.
The group also described the presidential system as prone to corruption, while creating huge bureaucracies that slow down work.
It advocated a switch to a parliamentary system as the presidential system is expensive due to the huge number of political appointees, votes cast for losing candidates are counted but do not count because they receive no representation.
It urged lawmakers to make provision in the constitution to enable Nigerians in the Diaspora to vote.
On state police, the congress suggested that amendments should be done to sections 214 & 215 to allow for federal police and provincial police forces, all with their inspector-generals and operating independently of each other.
It also proposed a removal of Section 308 of the 1999 Constitution, which provides that no civil or criminal proceedings shall be instituted against the president, vice president, governors and their deputies while in office.
It added that the immunity clause places the beneficiaries above the laws while in office.
The group proposed power devolution in the amendments, saying the federal government is overburdened and has not been able to cope with its responsibilities, hence some items in the exclusive list should be transferred to the concurrent list.
It said: "For a federation, too little power has been left for the states. The following 31 items are recommended for transfer to the concurrent list: aviation, including airports; bankruptcy and insolvency; banks, banking, bills of exchange; borrowing of monies within or outside Nigeria; census; commercial & industrial monopolies, combines and trusts; construction, alteration and maintenance of roads; control of capital issues; copyright; creation of states; drugs and poisons.
"Fingerprints, identification and criminal records; fishing and fisheries; incorporations, regulations of winding up of bodies corporate; insurance; labour; meteorology; mines and minerals; national parks; pensions, gratuities and the such; police & other government security; prisons; professional occupations; public holidays; quarantine; railways; stamp duties; the formation, annulment & dissolution of marriages; trade and commerce; traffic on federal trunk roads; and water."
One of the groups that also submitted a memorandum to the committee is the Coalition of Federalists for Good Governance in Nigeria (CFGG).
CFGG in a memo jointly signed by its National Coordinator, Mr. Taiye Odewale, and Secretary, Ms. Aisha Jibrin, canvassed the transfer of mining and policing from the exclusive list to the concurrent list in paving the way for the creation of state police.
It also called for the collapse of the entire 35,000 kilometers-long Trunk A roads across the country with the exception of those linking Nigeria to another country, into Trunk B roads to be managed by affected state governments.
It advocated a review of revenue sharing formula from 52.68 per cent being taken by the federal government to 40 per cent, to free funds for the 36 states to carry out the new constitutional responsibilities proposed for them.
The 36 states in the present revenue sharing formula collect 26.72 per cent, while the 774 local government councils share the remaining 20.60 per cent.