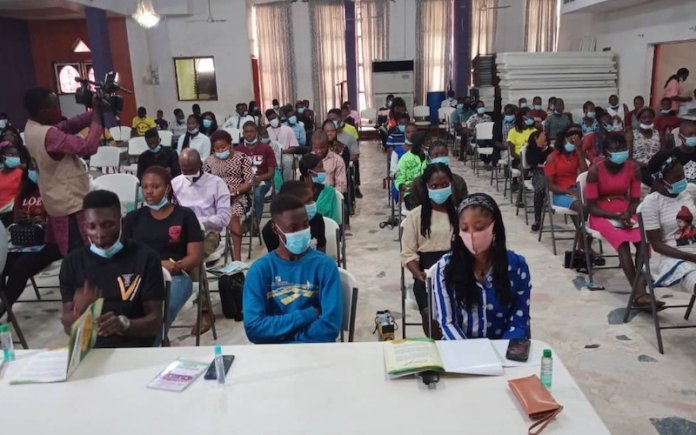 Adibe Emenyonu writes on the youth empowerment, environmental education and energy transition camp meeting for 120 youths, organised by Environmental Rights Action Friends of the Earth Nigeria for four Niger Delta States
Whenever fossil fuel such as natural gas, oil and coal are burnt to produce energy, they emit heat trapping gases such as carbondioxide. This heat-trapping gases according to environmental experts is what drives recent day climate change.
The failure to address this, they maintained, catalysed the current climate crisis being experienced. This is because when emissions continue unrestrained, same environmental experts continued, "the atmosphere can warm up to 2.7° Fehrenheit which can be dangerous to human existence".
The above became the major reasons why a shift from natural energy to renewable energy is recommended because of its clean nature devoid of greenhouse emissions.
Not only that, the use of renewable energy is becoming an innovation in terms of usage because of its cost effectiveness.
Renewable energy is derived from renewable sources as the name suggest which naturally replenished itself on human time scale like sunlight, wind, rain, tides, waves and geothermal heat. Renewable energy never depletes because their sources are different from and fossil fuels such as crude oil, natural gas and coal. Because fossil fuels can run out and dangerous for the environment, it has become imperative to begin a switch to other energy sources, like renewable energy which according to experts, that are usually much more environmentally friendly than fossil fuels. Overall, they release very few chemicals, like carbon dioxide, that can harm the environment.
All this and more, became the motivation behind Environmental Rights Action, Friends of the Earth Nigeria (ERA/FoEN) to begin the training of youths on renewable energy in the Niger Delta, a region that has suffered environmental degradation because of the exploration and exploitation activities going on there since the discovery of crude since 1958.
The training christened "Youth Environmental Camp Meeting" which began three years ago was also held in August this year providing a solid platform for youth networking and empowerment.
It was also aimed at equipping the youths and and other participants on topical environment issues relating to environmental protection, extractivism and post extractivism, energy transition and sustainable development at the local, national and international levels.
Aspects of the environmental education also featured a local youth organising in the communities and the formation of schools renewable clubs, in the selected secondary schools from the four states.
It also featured practical demonstrations on divers range of solar products and energy saving stoves, solar energy installations and repair.
Beneficiaries of the training which began about three years ago were derived from the Niger Delta States of Edo, Rivers, Bayelsa and Rivers.
"This programme aim is to catch them young for promotion of alternatives in renewable energy access for all in line with the United Nations (UN) Sustainable Development Goals 7 and the need to enhance national energy transition from fossil fuels to renewable energy sources", Anthony Azubuike, Director/Clerk, Senate Committee on Ecology and Climate Change, National Assembly, Abuja.
Speaking on the theme of the event, "Extraction to Education" focuses on how to move from the present carbonised economy to a decarbonised one, Dr. Godwin Uyo Ojo, Executive Director, ERA/FoEN) said, that as leaders of tomorrow, the youths need to be properly equipped for the energy transition that government and politicians are currently grappling with and quite unable to resolve.
He said: "The programme has been specifically designed to reachout to over 10,000 youths across a four year period from four states in the Niger Delta, namely, Edo, Delta, Bayelsa and Rivers States."
Ojo noted that the third Youth Environmental Camp Meeting has the theme: "From Extraction to Education".
According to him, since 2018, they have successfully trained over 6,000 youths on developing their business model, renewable energy entrepreneurship, repair and installation of solar gadgets and the fabrication of clean energy saving cook stoves.
Ojo added that ERA/FoEN had also trained over 300 secondary school teachers and produced Environmental Education and Renewable Energy Manual that is being deployed for training in the over 60 renewable energy school clubs set up across the four states.
He said the youths must stand in the gap and see that the climate change phenomenon as an opportunity to address a national and global problem, just as he charged them not to allow Nigeria to be a dumping ground for substandard renewable energy gadgets.
The ERA/FoEN boss also admonished the youth to resist the temptations of all forms of energy colonialism playing out in Nigeria and Africa because the nation stands the risk of energy colonialism if renewable technologies remain the exclusive preserve for industrialise nations.
The Executive Director who lamented that youths are mostly impacted by environmental degradation especially those from fence-line communities where extraction activities are frequent, however charged them to stand in the gap and see climate change phenomenon as an opportunity to address a national and global problem.
"As youths, I charge you to stand in the gap and see the climate change phenomenon as an opportunity to address a national and global problem. I challenge you to see environmental protection as your responsibility.
"Young people should have a problem solving mentality towards poverty, environmental degradation and climate change and see them as opportunities for campaign and advocacy, generation of ideas, creation of jobs, provision of renewable energy solutions in mini-grids and off-grids system for rural electrification. The youths should be in the forefront in championing energy transition from fossil fuels to renewable energy sources", he declared.
In his goodwill message, Director General, National Power Training Institute of Nigeria, (NAPTIN), Ahmed Bolaji Nagode, said the institution is currently collaborating with ERA/FoEN in training some youths in the Niger Delta to be equipped with the requisite competence for their empowerment and contribution to social responsibilities.
Nagode said in 2019, 32 participants were trained on Solar PV and in 2020, they are expecting another 20 participants.
The empowerment programme/ youth camp meeting featured topics such as Renewable Energy and Climate Militating Measures, A Post-petroleum Economy: How Feasible? Nigerian Youth and the Actualisation of SGDs 2030 in relation to climate change and access to Justice, what can we do? The impact of climate change in Nigeria among others.
Speaking on their experiences, Gender Inugula, Emmanuel, Umukoro Ojakpvo, Amakree James, and Amadin Godwin from Bayelsa, Delta, Rivers and Edo States, said they are quite excited to be part of training programme offered by ERA/FoEN, adding that their lives have never remained the same.
Inugula from Edo State who spoke on behalf of others thanked the non-profit body to keep up the good work while at the same time, urging the federal government to partner with them especially in the area of renewable energy so that more youths can be trained and be self employed.