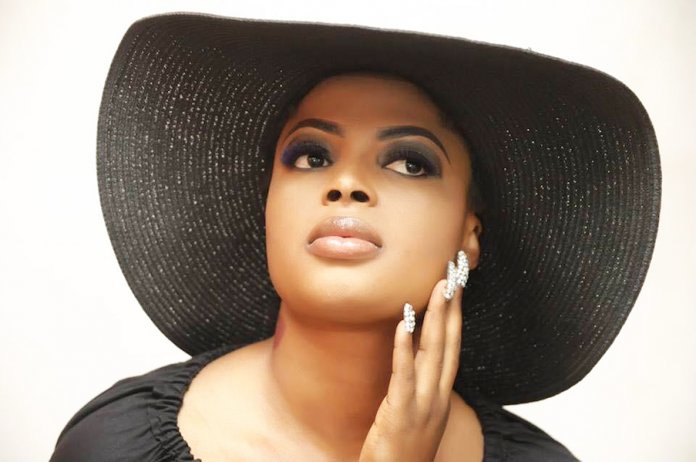 Creative entrepreneur Sharon Okpamen is one of your new breed Nollywood personalities. Sharon for quite some time now maintains low profile while conquering her turf. When she's not on set shooting or acting, Sharon could be seeing shuttling far away Europe shopping for business. The talented beauty enthusiast who hails from the great kingdom of Benin shares quite some interesting time chatting with Ferdinand Ekechukwu. She talks about the impact of her acting and filmmaking, her side hustles and future plans in the industry
You recently released a movie called Night Hustlers. How was the reception and is it the kind of movie you would want to make again?
Yes of course, the reception was good; I will like to make that kind of movie again because I am keen on lecturing the girl child that prostitution is not a way to success.
Several reports put your movie credits at over a 100. At what point in your career did you start producing your own movies and how many movies have you produced so far?
I started producing when I realised that I have so many lectures to give to the society through movie making. Being an actress will not make me achieve such dreams because I will only be acting according to the mindset of others. Hence I came into the Benin movie industry as a producer in 2013. So far I have produced 15 movies on my platform, Sharonny Production Enterprise.
In relation to your movie credits, how many movies have you featured in?
To be frank I can't say exactly how many movies I have featured in because I have worked with so many producers starting since 2010 in Asaba to date, and am still working.
Can you give a catalogue of some of your movies so far?
The Great Servant, Touch Not My Grown, Take A Fall, Eshikito, Enibokun nollose, Ovbieze Odehiomwan, Olighi, Night hustlers, Ighosusu, Uvbi nollose, Efosa, The Housewife, Avbakaosa Omomebo. Just to mention but a few…
What was your Nollywood journey like in the beginning?
I started my Nollywood journey in 2010, through the help of John Okafor popularly known as Mr. Ibu. I started my acting career in Asaba where I realised there was much work to do in the Benin movie industry. One of which to let the girl child know women have responsibilities just like the men, and cub the excesses in the society.
Have you got any awards recognition from acting and movie making?
The award I have received has made me to understand that my career as an actor and a singer is highly respected. So far I have got Best Producer of The Year, Best Actress in Lead Role; just two recognition awards.
What do you keep up with when you are not on set?
When am not on set, am always busy with my businesses.
Aside filmmaking, what other businesses are you engaged in?
I am the CEO of Sharonnyglamorworld where I deal on human hair, clothes and all kinds of beauty accessories. So, aside film making, I frequently make shopping abroad to fill my beauty home. Denmark is my best country to always visit. It's good I add that my mum and family live in Europe.
It was reported recently that you quietly joined the league of homeowners in Europe. Tell us about this and how you feel being a property owner in Europe?
It's a dream come through for me, and I thank almighty God for making it possible and for the opportunity too. I feel great and fulfilled, though I still want more. But for now I am satisfied and happy to be secured in Europe having a house in my name in Europe is a great plus for my hustle.
What's the most difficult thing that has ever happened to you and how did you overcome it?
I have had so many difficulties in life that I can't really point out one particular one that was more difficult, both the challenge in the industry and in my personal life, most especially in relationships with men. So many difficulties have come my way but I am one person that takes life easy. So, no matter what comes my way, I try to think it out of my head and plan for a way out because I wouldn't want to suffer BP in my early or old age. I'm a very strong woman who can't be broken by anything. Instead of any situation to bring me down then I learn from it to be stronger.
What are your low and high moments in life?
My high moment in life is when am acting or making movies and receiving awards get me fulfill. And my low moments in life is when am not acting or working or when am around people that are not helping my life, that gets me so down and unhappy because I like being busy one way or the other.
There's this notion that majority of the girls from the south-south, especially from Benin who enter Europe end up prostituting. What do you have to say of this being that you shuttle Europe and must have heard and seen a lot of girls there?
My opinion in respect to this question is that girls from south-south (Benin) that are tagged as prostitutes do not mean that every girl from Benin are prostitute. Am not saying this to defend Benin or because am from Benin. Please note: this prostitution that we are looking at from one side to Benin, does that mean that it is only the Benin girls that do prostitution outside Nigeria? I don't want to mention tribes. Do a research on your own to go round the entire countries. If it is only the Benin's that are into prostitution then you can tag the Benin girls as prostitutes. There are all kinds of tribes prostituting around the world, so I will say it is a thing of choice.
What are your plans moving forward as a filmmaker and who in the industry are you looking forward to working with?
My plan as a thespian and a singer is to use my career as a medium to correct the ills in the society, and to stand out to the up comers as a part way to success in this industry. Thus in respect to an icon in the industry that I look up to (Omotola Jalade) I will love to work with with her, either as an antagonist or protagonist, because her acting skills is so spiffy and her reactions and body gestures to every lines she deliver why acting is so natural.
Now we know Sharon as a filmmaker and all that. But on the other side who is Sharon? Tell us your likes and dislikes; your hobbies; turn on, turn offs; your favourite food, favourite colour, and things like that…
Sharon is team player; someone anybody can accommodate and can also accommodate anybody, a lady that loves entrainment. In as much as I love doing my domestic work, I enjoy being quite because I love to listen and learn and I love traveling. I do love to think back of what I went through and also plan ahead of what to do for the day. I love looking good and expensively to be precise, and love being with friends that inspire. I am a vegetarian, and my favorite colour is red.