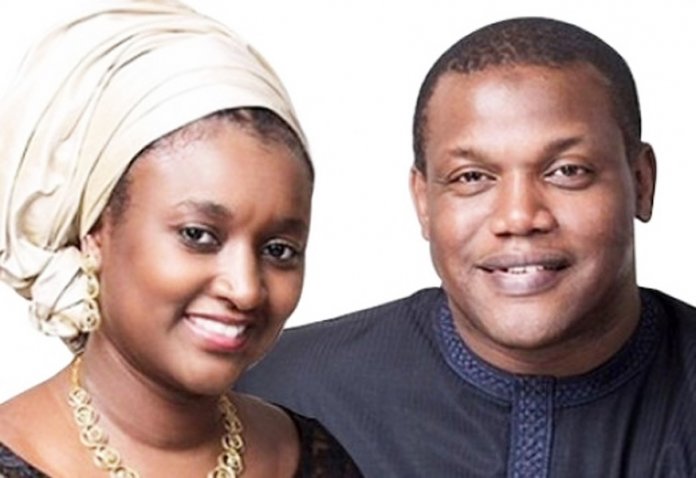 It seems Mohammed Babangida and his estranged wife, Rahma Indimi, are back as husband and wife, after many years of feuding. Ferdinand Ekechukwu reports
The lingering marital faceoff between one of Nigeria's influential couples Mohammed Babangida and his estranged wife, Rahma Indimi has possibly been put to rest going by a statement credited to Rahma. For the chronicles, Rahma Indimi is the daughter of Maiduguri based billionaire and oil magnate, Mohammed Indimi, while Mohammed is the first son of former Nigeria's military head of state, Ibrahim Babangida. It all began last Monday following a particular picture which surfaced online.
The picture which Rahma had earlier posted on her Instagram page had elicited report from a news site which insinuated that part of the images was cropped off. Throwback during the Sallah celebration in July 2020, Rahma was at the home of Ibrahim Babangida (her father in-law) where her kids and the kids of Mohammed's 2nd wife, Umma, posed for a photo with their grandfather. The news site shared a report claiming she cut Umma's children out of the photo in a way that only her own children with her ex-husband, Mohammed Babagangida, featured in the photo with the former Military ruler.
Reacting to the story, Rahama said that the story was false, that she and her ex-husband have reconciled. "How is this even news? Kaiiii, anything to make money abi? Well, first of all, there are three of my children in the picture not two; secondly I do not have my co-wife's permission to post her children and Muhammed specifically told me no social media. Muhammad and I have reconciled and we are in a good place so please stop sh**t stirring," her post in part read.
At the height of their face-off, the duo had gone to court over who should have custody of their four children. There are speculations that both of them are exploring the chances of coming back. But the custody battle for their kids is still ongoing. The next hearing comes up in two weeks' time. Recall that the 14-year old marriage between Mohammed, scion of the Babangida dynasty and his first wife/mother of his four children, Rahama, had crashed in 2016 as a result of myriads of problems according to multiple sources.
Back in November 2018, Rahama had taken to social media to accuse Mohammad of using money to secure full custody of their children. The billionaire's daughter, who had her kids taken from her since separating from husband, said she would continue to fight till her last breath. She proceeded with a petition against Mohammed and sent it to President Muhammadu Buhari, the National Assembly Inspector General of Police (IGP), Director DSS, the Sultan of Sokoto, Supreme Council of Sharia in Nigeria, National Human Rights Commission and the President, Nigerian Bar Association, alleging numerous acts of arbitrary abuse of power and privileges by Mohammed.
Growing up, Mohammed's first love was actually Umma, the daughter of Ambassador Aminu Wali. Like it is in aristocratic families, where matchmaking their children is the norm, Rahama was married to Mohammed with a view to cementing the relationship between the two influential families. But Umma was the woman who made his heart to flutter. His heart and thoughts remained with her. Thus when Mohammed announced, four years into his marriage with Rahma, that he would be taking a second wife, it was hardly surprising to his family and friends who knew he still held a torch for his first love, Umma.
Mohammed's decision was duly supported by his super rich family whose wealth and contacts had earned them a pride of place among the world's privileged aristocrats. Being the heir apparent to the Babangida dynasty, the family left no stone unturned to ensure that the marriage was a grand affair. Consequently upon his second marriage in 2008, Rahama, the CEO of Deva Petals and Fashion Cafe, a luxury fashion platform in Abuja, moved out of her matrimonial home. Reason prevailed in 2010 after some months of initial grandstanding with Rahama returning after pleas from family members.
In 2016, however, the marriage broke down irretrievably, leaving Mohammed to concentrate all his energy on his childhood love, the result of which became manifest with the birth of a baby boy in 2017. Mohammed and Rahma got married in an epic wedding ceremony in the wake of an enviable and surreal courtship. As an expression of his love for her, Mohammed and his friends secretly flew ace American R&B artiste, Joe, to perform at their high octane celebrity wedding. Joe was her favourite artiste thus her groom's action meant everything to her. That love gesture left Rahma speechless, overwhelmed by Mohammed's expensive display of love; she never imagined that he would invite Joe to perform at their star-studded wedding ceremony.