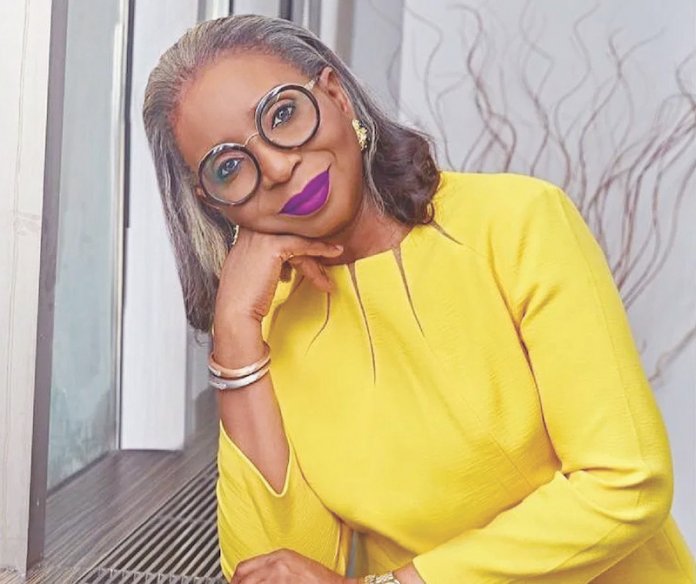 Banker, author and motivational speaker, Ibukun Awosika as the surprise cast of Kunle Afolayan's new movie 'Citation', is special as she bears her real name while playing the role of a university faculty dean, writes Ferdinand Ekechukwu
At the commencement of filming for his forthcoming movie – Citation – sometime in January this year, famed filmmaker, Kunle Afolayan had left not a few people wondering as he held under wraps the identity of a top personality as part of the cast which he promised to reveal later. Afolayan who then disclosed that his crew would film "Citation" with the new Canon EOS C500 MarK II camera, being the first time anyone will use the high-tech device (recently launched) in Africa, further fueled the buzz around the movie.
Well, the multiple-award winning filmmaker kept true to his promise last Monday. He unveiled Dr. Ibukun Awosika as the surprise cast during an exclusive screening of the movie. Interestingly, Awosika who makes her debut with 'Citation' is special as she bears her real name while playing the role of the dean of a university faculty, overseeing the senate panel hearing a case of alleged sexual harassment. "Citation special appearance – meet Prof. Ibukun Awosika, played by Dr. Mrs. Ibukun Awosika," Afolayan revealed in one of his Instagram posts.
Afolayan added: "While observing the COVID-19 preventive measures at the exclusive screening, it was an honour to welcome both the principal authorities of Obafemi Awolowo University and friends of the institution. This was the moment we unveiled our surprise cast. Playing the role of the university faculty dean, heading the senate panel hearing of Moremi (Temi Otedola) and Lucien (Jimmy-Jean Louis), we present Dr. Mrs. Ibukun Awosika!" Already, the 'sex for grade' 'Citation' is packed with a sterling cast of veterans and practitioners in Africa movie industry.
Some of the cast include Joke Silvia; Haitian-French actor and model, Jimmy Jean-Louis; Ini Edo; UK-based Nigerian fashion and lifestyle blogger, Temi Otedola; Yomi Fash-Lanso; Ghanaian actor, Adjetey Anang; Gabriel Afolayan; man of Ivorian theater, Bienvenu Neba; veteran broadcaster and actor, Sadiq Daba; upcoming Nollywood actress, Bukunmi Oluwashina; French-Ivorian actor and screenwriter, Raymond Reboul; theatre educator, Toyin Bifarin; amongst others.
Unveiling Ibukun Awosika, who is the Chairman of First Bank, as the surprise cast, Afolayan explained that decision to star Awosika, an author, motivational speaker and entrepreneur, dates back 2018. "It all began in 2018 with the pre-production of Citation, then the production in January 2020, and now the 30th of August, we officially had the first private screening of Citation at Obafemi Awolowo University (OAU)…
"Why OAU? Well, not only was Citation shot at the University, but our surprise cast is an alumnus of the school." Afolayan also added that the choice of Dr. Awosika was due to her leading impact in women's leadership and advocacy.
"You may know her as the chairman of First Bank Nigeria, an entrepreneur, an author, or a motivational speaker, but we know her for what she represents – women's leadership, which is the sole objective of Citation. Her actions and initiatives for change in Africa and women empowerment is one to be desired."
To Awosika, "the physical and psychological effects of sexual harassment have a considerable toll on individuals and institutions in terms of cost. The effects can hamper growth and the potentials and can stop the victims from engaging fully in life. We must, therefore, (as stakeholders, governments, institutions of learning; parents; media, etc.), collectively rise against this menace and never let the deplorable behavior of sexual harassment to fester."
Expressing her delight in the movie, she said: "I remain upbeat about this project – being part of a collective goal to continually keep dreams and hope alive; sacrificing and holding strong to our commitment to reignite the lost values. The casting experience has been very enriching and impactful to me. I am delighted to be amongst the very amazing cast in such an intriguing and brilliantly scripted movie."
Exploring a subject of social decadence in the educational sector, the new movie 'Citation' is a university drama about a female postgraduate student who has to find a way of dealing with the awkward situation of sexual harassment from a lecturer. Citation is not just about the act of sexual harassment; rather it's centred on how to address such situation in the University. It aims to empower women to become successful and stand up for themselves at every point.
Written by Afolayan's long-standing business partner, Tunde Babalola, 'Citation' tells the story of Moremi Oluwa, a fun-loving 21-year-old student on campus in Nigeria. Incensed at being ill-treated by a trendy university don, Lucien N'Dyare, she drags him before the University Senate. The ensuing intrigues define Moremi's words against that of the respected academic, in a male-dominated terrain.
In partnering with Ford Foundation and other support group, the 'Citation', apart from its thematic premise, will attempt to project Cape Verde, being one of the movie locations, to Nigerians and the rest of the world while also establishing film and cultural affinity between the two countries. 'Citation' will be available for private screenings in September and October, 2020.