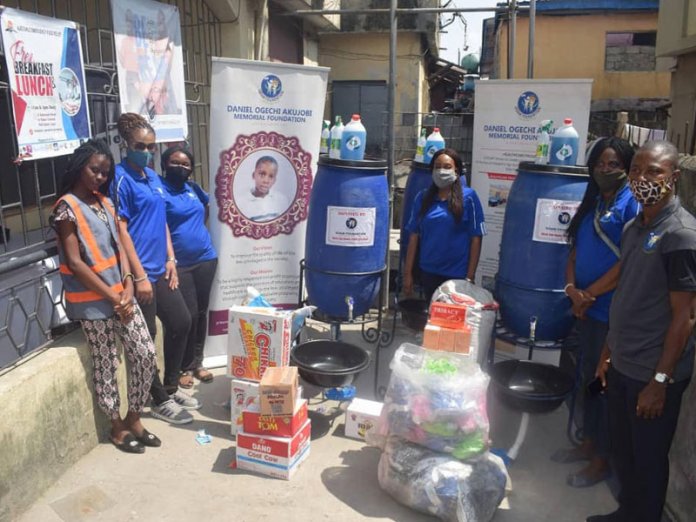 Funmi Ogundare
The Daniel Ogechi Memorial Foundation (DOAM) recently put smiles on the faces of vulnerable children from less privileged backgrounds in Ajegunle area of Lagos, through the donation of food items, pairs of slippers, hand wash materials, as well as water tanks for regular washing of hands against the spread of COVID-19.
The children were drawn from Dreams from the Slum and Love On The Streets (LOTS) Charity Foundation, non governmental organisations based in Ajegunle that empower such children through education.
Speaking at the brief ceremony, the Operations Officer, DOAM Foundation, Mrs. Omoyemi Olumodile said it was leveraging on the area because it is impoverished, adding that the items would go a long way in supporting the children.
Since the foundation's establishment 10 years ago, she said it has impacted over 83,000 lives in the country and supported the less privileged in the society.
"Overall, we are going to have a lot of children benefiting from this donation. We are looking at over 200 children that are going to be impacted. We are leveraging on this area because its impoverished, some children don't have roofs over their heads, so they are forced on the streets. With all of these, it will give them the needed support," she said.
The Programme Officer (Education), Ms Fatima Akinsode said the provision of water system tanks and regular washing of hands with soap will help prevent Coronavirus.
"We all know the health challenges we are facing in Nigeria. In a bid to support the government to curb the virus, we realised that most of these impoverished areas don't have good water, not to talk of washing their hands with soap. Moreso, hand washing regularly will help prevent the spread of coronavirus. That is our main reason for the donations."
Founders of the beneficiary organisations thanked the foundation for its support, saying that through partnerships, they have been able to impact several lives.
Mr. Isaac Success Omoyele is the founder of Dreams from the Slum. He said, "we have been existing since 2013, we make the dreams of people to become a reality through education empowerment. We help out-of-school children to go back to school and ensure that they are actually learning. "As it is, a lot of children go to school without learning which really affects their performance. So we try to provide daily meal, this actually has been followed through. We help the children by providing scholarship and basic school materials. We also run a low cost school. We have organisation sponsoring them."
Asked what motivated him to establish the organisation, the graduate of Human Kinetics and Health Education, University of Lagos, said, "I started Dreams from the Slum based on a personal experience growing up in Ajegunle. As a child, I dropped out of school severally, not until when someone gave me a full academic scholarship. I observed that I was very intelligent, but what affected me was that I went to school without breakfast and basic educational materials. Someone I didn't know gave me a full academic scholarship so I said to myself that I will play it forward. Since we started in 2013, we have reached about 5,000 children and provided scholarship and educational materials for them so that they can be in school."
Mr. Solomon Are is the Founder of LOTS Charity Foundation. His organisation got water system, hand washing kits and pairs of slippers for the children. He said since 2009, it has been taking care of street kids and vulnerable children in Dustbin Estate, by providing them with clothing and education materials, as well as run free literacy classes everyday.
"They partnered with us to install water system that the children can use to wash and sanitise their hands to prevent the spread of the virus. This will go a long way because, we don't have much running water in the community. It will help them to stay clean," he said.