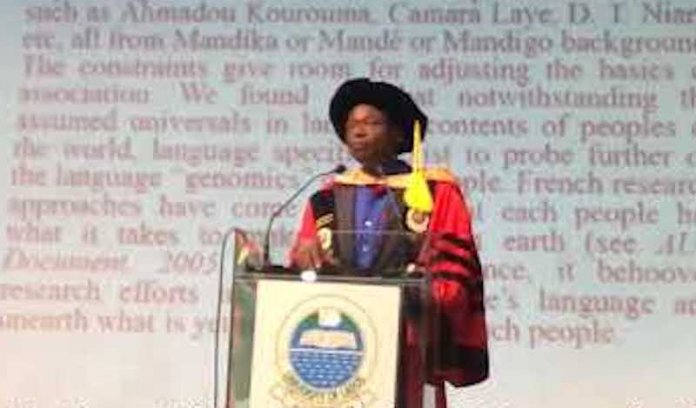 Victor C. Ariole argues that many institutions are suffering from lack of leadership
Keep your integrity and the integrity of the institution safe… we are dealing with institutions that will outlive all of us. Prof. C. Agomo
There is an Igbo adage that says: "When you keep a big elephant, you attach a great personality to it; when one attempts misbehaving the other will bring it to order". Until my mature age, I had found it difficult to understand it because it was communicated so compactly.
While the West believes so much in creating great institutions that could not be easily mismanaged or destroyed by human beings, Africa believes that it is a wholistic set-up. Both human beings and the law establishing the institution matter. The other interpretation people attach to it could not easily be seen as philosophically tenable; that is, when a great personality dies, you use big elephant to send him off to the great beyond. In effect, it can only happen if that person kept his integrity safe while alive.
University of Lagos just experienced similar occurrence; and providence, whether in personalities or in inherent institutional law, seems to have responded in trying to steady it to avoid great damage. One prays that it gets well steadied, and that other institutions could learn from it. However, like French philosophers would say, if you neglect the spirit of the letters that are presented in drafting any law, then chaos is expected to follow. Nigerians could be wondering as they listen or read what some people, often assumed to be well educated or learned, say about the problems, or processes of due process, tearing the duo that are attached to the great institution.
Suffice it to say that most of Nigerian institutions are embroiled in such misrepresentation of their duties towards the institutions they man or are supposed to guard to avoid misunderstanding.
Nigeria as a great country is in dire need of great handlers of its institutions to get it steadied in the pursuance of its mission of "promptly intervening on behalf of the African people whether in the continent or in the Diaspora". Like someone said on Channels TV, USA has used its population of about 340 million to prove its leadership in North America, Brazil with about 230 million to prove it in South America, China with over one billion to prove it among the Asian tigers, Egypt with about 90 million to prove it among the Arabs, so how could Nigeria with 200 million do it for Africans in the sub-Sahara?
Like Matthew Ozah stated in her column trying to adulate the Speaker of the House, for calling for a review of jumbo pay and perks draining Nigeria's fiscal space, with no commensurate performance of the beneficiaries, hence leading to abuse of power; it seems to be pervasive in most of Nigerian institutions.
Institutions must be made to operate optimally, and the measuring tools are there to upbraid or rebuke them if they are not doing so, as long as they are given free hand and are made to be transparent in their operations. I have always opposed over-centralised management of Nigeria's great assets.
The trichotomy in the universities is uncalled for. Whether expressed or implied, the abuse of power and demand for more perks are the pains the institutions are suffering. The people who ought to protect the institutions from further stress and pains are not as great as the institutions they are asked to handle.
Those who represent the government on the boards of governing councils want their own perks. They could say otherwise but if the ICPC intervenes in knowing their worth before and after such tenure, Nigerians would marvel at their great abuse of power. I am yet to see any chairman of any board of federal government institution that is not thinking of what to give back to his/her political party or his/her personal aggrandisement. Compare Unimaid and Unilag for a start and see for yourself.
The ASUU that barks like a dog with no teeth, so as to help the ocean to remain clean and transparent in order to keep providing for the livelihood of its members always claims that its members are starved of pay as their salary can never take them home, compared to their counterparts elsewhere. The poor students who cannot pay even N1million a session, as the current charges of less that N100,000 is overwhelming to them, remain helpless in the whole chessboard of power.
In all that, the government quickly worked out a process of distancing the vice chancellor from among the other academics by giving him or her perks that show that he or she is a slave master and must ignore the pursuit of knowledge that respects no master till the expected Omniscience responds to the knowledge search of the academic (Quite paradoxical but real). True pursuit of knowledge allows arguments and independence of minds, till the minds reach a consensus that helps in the advancement of humanity and the greater well-being of human beings; like the current debates and dissensions on the best vaccine to be made available for human beings so as to defeat Corona Virus (Covid-19).
The structure of the university governance is such that when politics is made to take the shine, its purposes are defeated. This, in effect, is what some non-academic in the system are not aligning themselves well, with.
Politics of non-academic content should be made to lie low in an academic environment. The set-up of the council of federal universities admits that. Nine government appointees including chairman and ministry representatives, six or seven from the university senate depending on how many DVCs are there, two or three from the university congregation which must include a professor, and one from the convocation who is also university mission minded person. In all, they ought to be people who are very much aware of what universities stand for. Universities are not local institutions. They are more of international institutions in a local setting to project local, national and international knowledge contents for greater impact in a global dispensation that craves for the survival of the human race, currently threatened by climate change and dwindling bio-diversity. Hence, the knowledge search, for solution of human and environmental survival, must not be thwarted by politics or legalese.
When they say the law is an ass, it also means that the rider must be sane to know that the ass could misbehave if handled in a way that negates some basic principles, like not using it for what it is meant for. That is also what French philosophers assume to be the Spirit of the Letters. A weak person cannot easily understand that spirit except by employing abusive means, seen in tyrants' behaviour; and the ass could refuse to move further and so, turn against the rider. So, in effect, to keep a great institution in a sustainable track, there must always be a great personality to match the mission of the institution with the vision such personality is bringing into it for sustainability purposes; and such vision must make safe the integrity of both the institution's mission and the visioner's self-esteem.
Ariole is Professor of French and Francophone Studies
University of Lagos