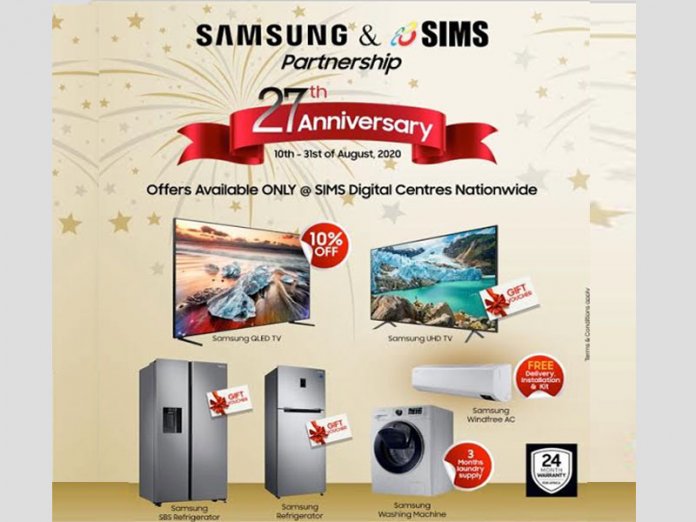 Emma Okonji
Samsung Electronics, West Africa, in partnership with one of its major sales and distribution partners, SIMS Nigeria, has announced the commencement of a loyalty promotion aimed at rewarding its consumers in commemoration of their 27 years of partnership.
The nationwide promo will see consumers enjoy discounts, free delivery and installation, gift vouchers and other goodies on select Samsung electronics, purchased from SIMS Digital Centres. The offer runs from August 10 to August 31, 2020.
Managing Director, Samsung Electronics Nigeria, Mr. Caden Chiyeon Yu, who announced the special rewards, said the success story of the strategic partnership and the achievements recorded over the last two decades, especially in fostering availability and access to the brand's wide array of quality products, would not be complete without the support and loyalty of its customers.
"The patronage received over the years has kept the partnership with SIMS Nigeria waxing stronger and the company is thrilled to celebrate this milestone by rewarding consumers for their loyalty to the brand as well as to SIMS Nigeria," Yu said.
According to him, "Nigeria is a very important market with high potential and it is very rewarding to know that our consumers trust the brand and support our business. The longevity of the partnership with SIMS Nigeria is a testament to the strength and premium quality that Samsung represents as a brand in the country and the overwhelming trust and loyalty built over the years. "We are honoured and elated to be celebrating this very important milestone of our journey here in Nigeria with our esteemed customers.
"In line with our commitment to continually avail consumers with ultramodern home and office appliances, Samsung is set to launch a range of exciting products into the Nigerian market.
"From new 2020 models of T-Series TVs that come packed with thrilling features, new sleek designs, exceptional picture quality and sound to Air Conditioners with Wind-free Technology, Refrigerators and Washing Machines with improved functionality. This is clearly an exciting period for our consumers."
Executive Director, Operations at SIMS Nigeria, Ike Eyisi, said: "Customers are at the heart of our partnership with Samsung. This commemoration is really about our customers who have made it possible for us to remain in business.
"So we implore our customers nationwide to avail themselves of this opportunity to purchase quality electronics between now and August 31 at discounted prices, receive gift vouchers and obtain free delivery and installation of the appliances purchased. This is our way of saying thank you to our loyal customers for their unflinching support over the years."