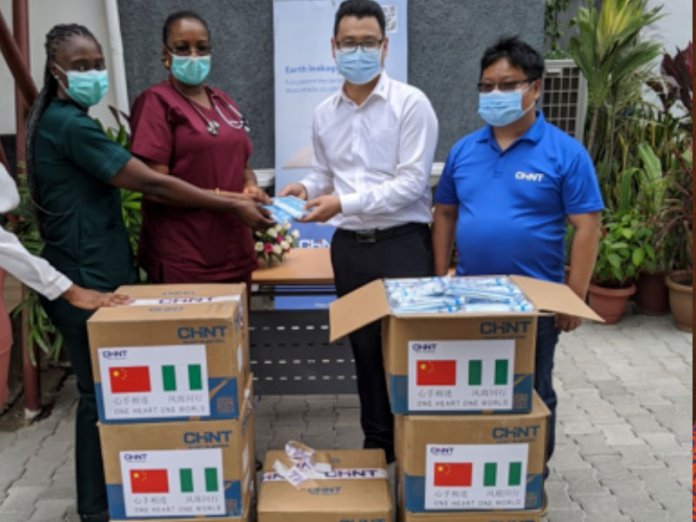 Martins Ifijeh
CHINT Group, a leading global provider of energy solutions, has donated 10,000 face masks to Paelon Memorial Hospital as part of efforts to support the fight against COVID-19 in Nigeria.
Paelon Memorial Hospital is among the four private health facilities accredited by the Lagos State Goverment to manage COVID-19 patients.
Announcing this during the presentation of the personal protective equipment in Lagos recently, the Nigeria Country Manager, CHINT Group, Michael Chen said with the rising cases of the virus in the country, it was important that Nigerians wear face masks to help slow down rate of the infection.
He said: "2020 is a tough year. COVID-19 has spread to almost every corner of the world and killed hundreds of thousands of lives. Till today, there are more than 53,000 cases of COVID-19 infections in Nigeria, and the number keeps increasing. We all know that the medical workers, especially doctors and nurses are fighting this virus directly and facing the risk every day
"With the recommendation from Chinse general consulate in Lagos, we finally chose Paelon Memorial Hospital to accept those face masks. This hospital is one of the very few private hospitals accredited by the Lagos State Ministry of Health to provide care to people with COVID-19. Since the outbreak, Paelon Memorial has been fighting professionally and bravely.
"We will donate another 10,000 face masks to two other companies in Lagos soon," he added.
He said CHINT, founded in 1984, was a leading global provider of smart energy solutions, adding that it is actively deploying "4+1" industrial sectors including smart electrics, green energy, industrial control and automation, smart home and incubator, forming an integrated whole industry chain of "power generation, storage, transmission, substation, distribution, sales and consumption".
Sharing her thoughts on the gesture, the Medical Director, Paelon Memorial Hospital, Dr. Ngozi Onyia said the PPE will help in fighting COVID-19.
She said: "We were the first private hospital in Lagos to be accredited to manage COVID-19 because they had seen the standard and quality of care here. We have treated more than 300 patients."
The paediatric doctor also used the opportunity to advice people with obesity to loose weight, stressing that obesity and COVID-19 do not go together.