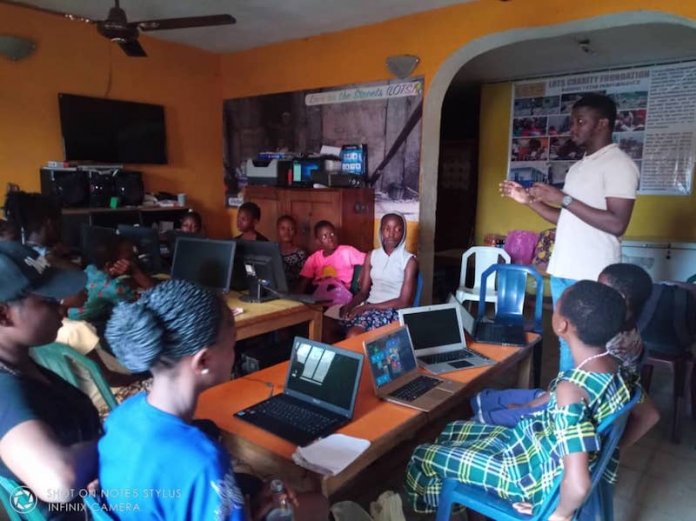 Philanthropic support is growing in significance as founders of non-governmental organisations and foundations explained to Funmi Ogundare their efforts to help vulnerable children, primarily from less privileged backgrounds, to find their feet in education
"Most of the children that we reached have never been to school all their lives. Imagine children who are 13 or 14 years old and have never been to school! We also observed that most of them miss school because of a book and a pen, so we consistently provide these materials for them so that they don't miss school.
"The result and impact have been fantastic because a child that could not read or express himself or herself can now do all of that. The results are part of the encouragement that we get to continue reaching out to the children to create a brighter future for them using education as a tool."
Dreams from the Slum is an Ajegunle-based NGO that takes children off the streets and into schools. It has done so for 5,000 children since 2013 according to the founder, Mr. Isaac Omoyele.
Dreams from the Slums is one of many NGOs working to enhance the lives of children from disadvantaged backgrounds. Education is their focus.
Their services have included ensuring that out-of-school children go back to school and learn, giving them daily meals to improve their performance in school, provision of boreholes and sanitary facilities, offering free literacy classes, mentorship and training, renovating and equipping toilets and sickbays to acceptable standards in public schools.
According to Omoyele, "we make the dreams of people to become a reality through education empowerment. We help out-of-school children to go back to school and ensure that they are learning. As it is, many children go to school without learning which affects their performance, so we try to provide daily meals and follow through."
He said it also runs a low-cost school, provides the children with scholarship, primary education materials, adding that some corporate bodies have been supporting the NGO.
On what motivated him to establish the organisation, the graduate of Human Kinetics and Health Education, University of Lagos said: "I started Dreams from the Slum based on a personal experience growing up in Ajegunle. As a child, I dropped out of school severally, not until when someone gave me a full academic scholarship. I observed that I was brilliant, but what affected me was that I went to school without breakfast and basic educational materials.
"Someone I didn't know gave me a full academic scholarship, so I said to myself that I would pay it forward. Since we started in 2013, our impact has been amazing. We have provided scholarship and educational material to the children so that they can be in school."
The Founder of Love on The Street (LOTS) Charity Foundation, Mr. Are Solomon said since 2009, the foundation has provided literacy classes and supported street and vulnerable children through feeding, provision of clothing and education materials.
"Since 2009, we have been working in a community called Dustbin Estate, Ajegunle. We run free literacy classes every day and also feed the children. Currently, because of COVID-19, we only have classes for those writing exams."
On its impact since inception, he said, "we have been providing academic support for them. For those that attend public schools, we do extra classes for them. We have awarded scholarship to those that are brilliant in primary and secondary schools to tertiary level."
The foundation currently assists 12 students through university and polytechnic and checks on them to ensure that they achieve success.
Love on The Street Foundation (LOTS) embarked on community projects. It provided boreholes and sanitary facilities as houses of their wards lacked these facilities. Other organisations collaborated with LOTS to install water systems.
"This will go a long way because we don't have adequate running water in the community. It will help them to stay clean," Solomon stated.
Asked his motivating factor for establishing LOTS Charity Foundation, he said: "Many children in Nigeria have issues with education before we decided to add the clothing and feeding initiative to it. Education is one of the things that children do not have access to in Nigeria. A lot of them are not going to school, and those who are going do not have educational materials.
"We have kids who because they don't get feeding allowances from home, don't want to go to school. A hungry child can never learn. These are some of the things that moved us to do what we are doing. We feel if we meet some of these basic needs, some of them will find it easy to study rather than roaming about or hawking when their mates are in school."
Mr. Daniel Akujobi established Daniel Ogechi Akujobi Memorial (DOAM) Foundation 13 years ago, in memory of his son who died in a car accident.
"DOAM Foundation has catered for, mentored and counselled over 26,000 children and youths in Nigeria through programmes capable of contributing and supporting the Sustainable Development Goals (SDGs) of providing and ensuring inclusive and equitable quality education. We also refurbish/construct and equip lavatories and sickbays to acceptable standards in public schools."
Akujobi said the foundation also supports the provision of timely intervention to victims of road accidents by establishing/equipping existing trauma response centres, with support from corporate organisations, to reduce mortality rate, adding that its impact so far has been tremendous.
This reporter met some of the parents of children who are beneficiaries of Dreams from the Slum, based in Ajegunle. They told THISDAY how the non goverment organisation had impacted their children positively and now educationally empowered.
Mrs. Ochulor Margaret is a widow. Since she lost her husband, she has been managing to make ends meet with her trading. Sending her children, Precious and her niece Precious Agbogidi who she had been saddled with, became a challenge until the organisation came to her rescue.
Precious Agbogidi is now in Primary five while her cousin years Precious Ochulor is in Primary two. They were attending the free literacy class when THISDAY visited.
Mrs. Ochulor who was full of praises for the organisation said, "Before the NGO came, we were just managing, but now, they have been able to lift off some burden off me.
Mr. Charles Olenloa's daughter, Favour, 12, is in JS two. She has been a beneficiary of the scholarship since she was in JSS one.
According to Olenloa, "Favour has benefitted imensely and she has been doing well. The opportunity has been great. I thank God for such a wonderful project. Nobody will want to shy away from what is good. I pray that the organisation should continue to grow from strength to strength and become more bigger. It is a welcome gesture."