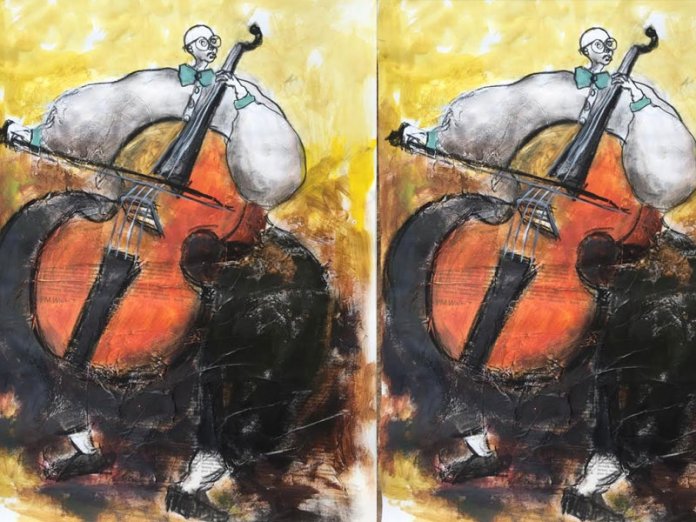 The current online show at Jadé Art is Lasisi Babatunde Damilare's plethora of 12 paintings beaming light on self-love and shutting down body-slamming. The Chronicles is his first solo exhibition since he was picked up by the art consulting firm two years ago on his strength as an unconventional artist exploring the social and cultural morals of the society. Rebecca Ejifoma writes
It is gradually becoming a norm as the world has quickly advanced, and breaths life into imaginations, no thanks, to an extent, to science and technology. People no longer drool over their skin tone, boobs-size, heights, curves, belly size and body features. This has, however, sparked worries that natural and flawless beauty may instinctively go into extinct.
Lasisi Babatunde Damilare's works invariably set out to change the narrative and champion pride in one's body type, which societal standard may berate. He unclenched his thoughts through his 12 pieces, which used compatible colours to pass the message.
Indeed, the painter's works is a direct response and a tool for social commentary in addressing issues like body criticism in his environment and society at large as well as his reality. His paintings express his creativity and individuality to depict reality with exaggerated figures that mimic the looks of plus size individuals as the perfect models for his gospel.
The Chronicles, as interpreted, is a reality exhibition that emphasises the essence of life and time, the very headwinds we all pass through in life.
His work is a replica of the situation of Nigeria – what people are facing; not just about the pandemic but about the regular lifestyle. It fits into the present and past globally.
For this brilliant artist, his exhibition has a penchant for people to appreciate and cherish every individual the way they are. The figures may seem distorted to view people but in the hope that they will begin to accept other body types rather than nitpicking them.
Lasisi stated his influences are closer historically; his drawing and paintings are his means of representation in a magnified proportion. His art varies, as he loves to explore varieties of materials and play with ideas as they come clustering in through compositions of different imageries.
He sees poetry and beauty in everyday life that allows him to create paintings that speak to him and connects with his audience.
Lasisi, a graduate of the Yaba College of Technology 2019, is a sojourner documenting the visual experiences and struggles of the average man within this current time and metaphorically addressing various issues of moral and political statements.
With a repertoire of 12 mix media on canvas – a blend of charcoal on canvas and acrylic – Lasisi draws attention to the fact that shapes, heights, curves, skin tones can never be same. Still, we can each love our body regardless.
Among the recent works are: "The Confession I & II", "Survival", "Inheritance", "Support System", "Choice", "Soulmates", "African Time", "After Party Gists", "Owambe", "Survival IV", "I am a Learner", and "Painting Sounds on Silence".
Originally planned as a live show, the pandemic disrupted everything. "However, after speaking with the creative director, we realised it was dragging due to social-distancing and the lockdown, we went ahead to make the most of what we have and move it to become a virtual or online exhibition", he expressed.
His words, "Painting Sounds on Silence is an inspiration I got before the pandemic. I could be an introverted person and be much away from my family for a while. I have known what it means to be alone. I had to do something that depicts what I was going through. When you see the detail of the painting, you can almost feel strings to the music."
The creative director, Ronke Akinyele-Bolanle, who has delved into multiple facets of art as an independent curator and art connoisseur, paid rapt attention to his works.
Lasisi has evolved in the last two years, it may seem to be a greater complexity and way out of how we perceived him during the scout 2018, there is a certain ambiguity in his growth and in some of the painterly and narrative detail of his work this year that brings an awkward and pleasing additional layer to snag the eye and the imagination, she expressed enthusiastically.
These recent paintings may seem distorted but will pull the viewer in to explore the juxtaposition of the use of media and references, as well as the exuberant materiality of their making.
Truly, this different direction of the painter serves a timely cocktail with lashings of emotions in The Chronicles.
Part of regrets of body-shaming is that while it has coerced many to go under the knife countless times, it has sent many to an untimely death. Hence, Lasisi's lesson-packed show calls all to relish their natural body size – brief or lanky, plus or minus, figure eight or seven – then promote self-love.