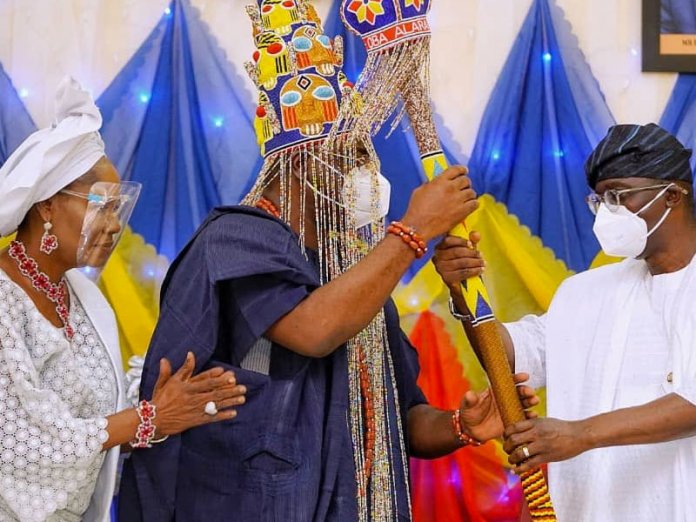 If a horse, as the Yoruba would say, could walk in the belly of His Royal Majesty, Oba Olufolarin Kayode Ogunsanwo, it would not tumble.
This feeling of excitement was even visible to the blind last Sunday, August 16, 2020 when he received the Staff of Office and Instrument of Appointment from Governor Babajide Sanwo-Olu of Lagos State at his palace in Ilara.
In his remarks during the ceremony, Sanwo-Olu urged the new monarch to use his wealth of experience for the development of his town, Ilara, Epe Division and Lagos as a whole.
According to him, "On behalf of myself, the Government and people of Lagos State, I rejoice with Your Royal Majesty as you ascend the stool of your ancestors. Your choice by the Kingmakers and wide acceptance by your people to lead them and be the custodian of the culture and tradition of this Kingdom is a reflection of their trust and confidence in your ability to positively impact the fortune of this landscape and its people.
"Kabiyesi, your position as the Alara of Ilara confers on you great responsibility which you are expected to discharge with a high sense of responsibility guided by the overall interest of our dear State.
"You have a responsibility to provide leadership, promote cooperation, friendship and the spirit of togetherness among the comity of Royal fathers and Chiefs within your domain and at the State level.
"It gives me great joy to note that Your Royal Majesty is bringing to this highly revered stool a rich background of decades of experience and accomplishments in your professional calling and an astute administrator. Part of these accomplishments was recorded during your tenure as Executive Chairman of the State Internal Revenue Service."
It will be recalled that Ogunsanwo began his journey on the boulevard of fame in October 2019 when he was named the Alara-Elect of Ilara Kingdom of Epe area of Lagos by the five-man kingmakers, amidst orchestrated opposition by other contenders.
Interestingly, there were wild jubilations from across the ancient town by his supporters and those who saw his selection as a blessing to the town.
Ogunsanwo, who may be described as a child of destiny, had a turbulent period as the head honcho of the LIRS. At the height of the trumped-up charges levelled against him, his supporters had made efforts to save his job.
But in the face of the unrelenting crisis, some of his supporters were said to have later prevailed on him to throw in the towel. He did listen to wise counsel.
As fate would have it, he had the last laugh, as the house of mischief literally built by his adversaries on a sandy soil collapsed on them and he was vindicated.
Described as a man of integrity, he enjoys a healthy relationship with top personalities in the state as well as the powers that be.