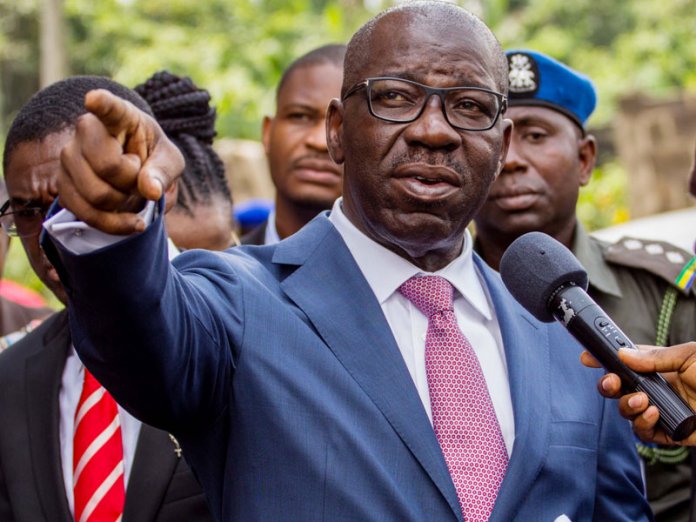 Lucky Isibor
Availability of energy is an indispensable component of the development of modern economies. A non-disruptive and functional economy requires energy for agriculture, manufacturing processes, transportation and other services that drive the knowledge value revolution which has become a sine-qua-non in employment generation, poverty alleviation and all-inclusive empowerment in the emerging economies in the global arena.
The availability of energy for economic development are mainly determined by the manner the economic entity addresses issues of energy production, distribution and consumption. The qualities of energy policy may include legislations, reliability of arbitration, the degree of incentivisation of investments to attract foreign direct investments FDI, taxation and other public issue mechanics.
It is against the foregoing backdrop the interrogation of the Governor Godwin Obaseki's reforms in Edo state has become imperative with a view to arriving at what the state stands to gain or lose from the reforms he has embarked on in the energy sector of the economy.
It is an indisputable fact that as soon as Governor Godwin Obaseki came into office, he immediately identified the paucity of energy as one of the major impediments to the state's industrial growth and the realisation that availability of small and medium enterprises is now the most effective way of creating employment.
This led to the search for investors who came in, first to work out modalities for engagement and ensure that appropriate mechanics are emplaced to protect their investments in line with global best practice. This led to the signing of various memorandum of understanding, MOU in the energy sector.
A segment of the political class who are ignorant of global best practices in international investments criticised this because in their warped and convoluted thinking, it is time consuming and closed all illegal routes the state's resources were hitherto diverted to private pockets.
However, it is a given that no international investor worth his salt will put his money in a venture where there is no memorandum of understanding (MOU), which is simply an agreement between two or more parties indicating an intended common line of action outlined in a formal or written document.
These MOU's Haven brought to fruition the establishment of the Ossiomo electricity generating plant which has been completed with a capacity of 55 megawatts. The most interesting part of this project is that the Edo state government has entered into a power purchase agreement with the generating company to distribute the electricity derived therefrom to government offices in the Sapele road and Government Reservation Area corridor, including the High Court, Hospitals and the House of Assembly.
As test running of the project is ongoing, work will soon start on the expansion of the generating plant to increase its capacity to 250 megawatts.
A lot of job opportunities were created during the construction of the plant and more jobs will be created when it becomes fully operational.
Another product of the Governor Obaseki energy reform is the ongoing construction of the Edo Refinery and Petrochemical Limited sited at Ologbo.
This project which is 70 per cent completed will be refining 6,000 barrels of crude oil daily and delivering 500,000 litres of Automated Gas Oil AGO, 300,000 litres of Naphta and 200,000 litres of Premium Motor Spirit, PMS.
The modular refinery will be sourcing crude oil from the Nigeria Petroleum Development Company NPDC which is also in Benin City.
When these two key energy projects become operational, which is going to be very soon; in fact in a matter of weeks, a lot of jobs will be created especially the small and medium enterprises which play very key roles in economic development, job creation and poverty alleviation.
These energy reforms will also attract investments in social enterprises. Several countries like Indian, Malaysia and other Asian emerging economies are using social enterprises to alleviate poverty and create jobs. One of such social enterprises has already birthed in Edo state as a result of Governor Obaseki's reforms in the collection of internally generated revenue, IGR and the banishment of Motor Park touts popularly known in local palance as "Agberos".
The Edo Civil Societies Organisations (EDOSCO) took advantage of this to establish the EDOCSO transport that operates several routes in the Benin metropolis and charge less than 50 per cent of fares charged by commercial drivers.
These reforms in the energy sector by the Governor Godwin Obaseki administration will no doubt attract him votes in the 19 September Edo governorship election, not only to enable him see these projects to fruition, but to initiate others that are in the pipeline.
Edo people are rational in their thought processes and will distance themselves from the political party and candidate that are spinning controversies around the establishment of these laudable projects.
Conjuring lies around these projects that are already creating employment opportunities for Edo people with high capacity to conserve the nation's foreign reserve is a proof that those opposed to the re-election of Governor Godwin Obaseki do not mean well for Edo State just as they have ran out of ideas and have no alternative narratives to offer the people.
Being a people who are not led by the nose and far from being cringing idiots, come 19 September, Edo people will queue behind Governor Goodwin Obaseki and his party, the PDP, to enable him continue to stamp his developmental imprint in all the nooks and crannies of the state.
Lucky Isibor, a journalist wrote in from Benin