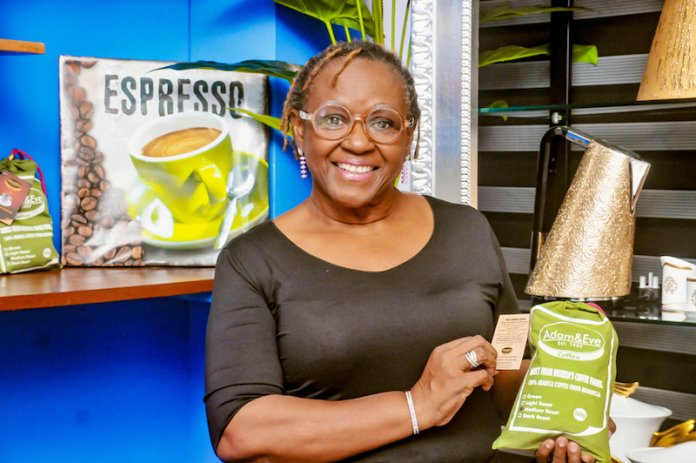 The hot steam spirals out of the cup as her fingers caress its edge. As she sits across the white table, the atmosphere is replete with a flowery scent of coffee. Momentarily, she takes a sip, with the fingers gently wrapped round the cup as her lips move with delightful satisfaction as the drink slithers down her throat. Yes, she can spoil herself with some of the finest beans, freshly brewed and served. In this moment of bliss, the Chief Executive Officer of Adam & Eve, Mrs. Modupe Ogunlesi, in a chat with Bayo Akinloye, brings to the fore the comfort, luxury, and goodness of coffee
"You have to look at what's best for you," Mrs. Modupe Ogunlesi, the Chief Executive Officer of Adam & Eve, advises in an empathetic tone, "and what you can afford."
Dressed in a simple black top and a floral skirt, Ogunlesi embodies the youthfulness of a sexagenarian filled with all the bloomy flush of life, as she walks with a cup in her hand into a spick-and-span coffee-themed spot of Ikeja-GRA Adam & Eve homeware store.
The hot steam spirals out of the cup as her fingers caress its edge. Her fluorescent countenance enlivens the spot. As she sits across the white table, the atmosphere is replete with the aromatic scent of coffee.
Momentarily, she takes a sip, with the drink slithering down her throat. For a woman who understands the premium placed on life, she doesn't hesitate to get the best out of life. Yes, she can spoil herself with some of the finest beans, freshly brewed and served.
Enthused, she points out, "So, to flow with a good lifestyle, I looked at coffee. I've always loved coffee. I like the full-bodied feel of the coffee. But for some time people have been telling me that 'you're getting older; it's time to stop (drinking) coffee, move on to tea.' And I tried (to follow their suggestion) but the taste wasn't just the same."
It's true. Nothing compares to the range of flavours that a well-brewed coffee gives with its titillating, multi-sensory experience.
Adam and Eve is a luxury homeware company. Why is Ogunlesi talking about coffee?
"What's luxury?" she asks rhetorically as her eyes beam with affection.
"Luxury is superb comfort. And what's comfort? Comfort is about yourself; the good for you."
There's goodness in coffee, she reveals.
"Generally, people focus on the caffeine they get from coffee rather than the oxidation properties that are also part of coffee. So, I looked at it: Dr. Sanjiv Chopra (a liver disease expert and professor of medicine) recommends two cups of coffee and from your two cups of coffee per day, you get better protection for your liver," she explains.
"Your body's chronic inflammation is reduced, which means that you're protected from cancer and you get a few other goodies when you look at the health benefits of coffee."
Over the years, Ogunlesi, through Adam & Eve, has always sought the best. That's not just for herself but also for millions of Nigerians desirous of superb comfort. A new stairway up to that luxury with health perks is Adam & Eve Coffee.
"Now if you allow two cups of coffee per day, it's your duty to go for the best. If you have a lifestyle that can afford it, you go for the best," she simply says.
With an average elevation of about 1,600 metres above sea level, the Mambilla Plateau (in Taraba State) is the highest plateau in Nigeria; a continuation of the Bamenda Highlands of Cameroon. In its lush greens, you see coffee farmers and roasters blending with nature to bring coffee to Nigeria's homes and offices.
Ogunlesi has been there.
"We're picking coffee from Mambilla Plateau, which means you're as near nature as you can get. It's not coming all the way from anywhere. It's not even coming from Ethiopia. It's coming from your doorstep," she assures.
What really makes Adam & Eve Coffee different?
"The farmers use manure instead of fertilizers. And, instead of insecticides, they use a mix of garlic, pepper, ginger mixed with water to spray the plants. So, you can imagine the level of ecological farming that goes into it," says Ogunlesi.
The coffee aficionado adds, "Harvesting is done by hand. When it's done by hand, hands are accompanied by eyes. So, they'll only pick the cherries that are ripe. When the machine does the picking, you can get some unripe cherries going with the ripe ones which make the coffee a bit acidic."
Adam & Eve Coffee beans are always hand-picked. The store is doing more than that. It's also introducing a coffee club to help millions of Nigerians get the best out of coffee. The club will also open the eyes of non-coffee drinkers to what they'll likely not want to miss.
"We run tasting sessions. People can come into Adam & Eve stores. But, first, they have to book an appointment. They'll have the opportunity to taste and see the different ways of brewing their coffee.
"They can do a stove top, which means you're actually putting your coffee machine on the fire and get a nice brew. You can do the easy way which is put the ground beans in and you pour in water, then, push the machine down. That's it. You get your nice cup of coffee," she explains.
Then, she talks about the slow brew.
"Very easy to make. You pour your coffee, water and it goes through a very tiny sieve. These are things we've put together. But the bottom line is for you that can afford a lifestyle of comfort, you need to get the best you can for yourself," Ogunlesi states.
Adam & Eve is no more expensive than any other coffee. It's N8,400 for half a kilo. Yet, she advises that you don't go out there and buy a coffee that's travelled the world when you can buy the local one, fresh and of better quality.
"It's organic. And, you see, I think that always, one must be particular about what goes into one's mouth," says Adam & Eve CEO.
"That's why I'm giving everybody a chance to be able to lay their hands on this coffee because, in the long run, you can't be upwardly mobile if you're hurting your body every day."
Here's why you won't hold back in following her lead. Coffee is considered one of the most protectors of health as its drinkers have low levels of liver enzymes in the blood. Test for two liver enzymes, ALT and AST, and people who drank coffee had lower levels (of ALT and AST). When somebody has elevated levels of (ALT/AST), it's almost always indicative of liver disease.
In fact, a study in the New England of Medicine ago, said 'Men and women who drink coffee have lower total and cause-specific mortality.' Another study showed that people who drink coffee have longer telomeres.
The leading medical practitioner, Dr. Chopra, says, "Coffee drinkers also have a lower risk of four other common cancers: metastatic prostate cancer, colon cancer, skin cancer, including malignant melanoma -very deadly skin cancer, and endometrial cancer.
"Low risk of Parkinson's disease, low risk of cognitive decline and early dementia, lower risk of Type 2 diabetes. And for Type 2 diabetes, one has to drink six cups of coffee, regular or decaf, and then there's a 40 to 54 percent reduction in risk of developing Type 2 diabetes.
"If somebody already has type 2 diabetes and they drink two cups of coffee a day, regular or decaf, there is a 30 percent reduction in cardiovascular mortality."
He encourages two cups a day.
Driving the point home, Ogunlesi encourages: "Please, make it as good a coffee as you can."
Drinking coffee can be a delight experienced in varieties.
"Now, on matters of taste: there are different ways of brewing your coffee," the Adam & Eve matriarch discloses.
"The ultimate machine at the moment is the beans to cup. You put your beans in and the cup, you get your coffee. So, you do not pre-grind the beans because when you grind, gradually with the days, the quality drops a bit.
"You keep it vacuum-packed. You keep it in an air-tight container but even then the quality drops, just a bit."
Speaking further about Adam & Eve Coffee, she explains, "If you ground your coffee, you have to drink it within a month. Really for the freshness. Of course, it could be two months, three months, but at its best, one month. What we put out now is near-nature.
"It's brought from next door. And, you have a choice: it's either light roast, medium roast or dark roast. It all depends on the taste. It's your taste bud; what you like."
Reiterating the health benefits, Ogunlesi states if you have prostate cancer, drinking coffee helps to keep it within the prostate. "Once the cancer is within the prostate, it can be managed."
She adds, "So, you have something that works for the men – older men. It's also good for endometrial cancer. This is a cancer of the womb. But with just two cups a day, it's OK. There's a lot of talks about eating this and that for oxidation. But this is just a simple way. The fact that it decreases inflammation means that you don't have loose cannons running around inside you."
The Nigerian coffee, she says, is lighter and may not require adding sugar.
"I drink my coffee plain. But if you still want sugar, it's OK. Put sugar in your coffee but try it without the milk."
Drink regular coffee if you can, experts advise. It has more benefits than decaf. They also say "don't add cream or sugar substitutes." If you want to sweeten it, add sugar. Don't use artificial substitutes because artificial sugars "are turning out to produce worse glucose intolerance.
She explains further, "The taste of coffee is far better without milk. When I wake up, I drink a dark roast. At 11:30 am, I drink either light roast or medium roast. It's a matter of taste. That's why we're inviting people because most people are used to drinking one type of coffee."
The best thing is to buy all three, she says. Today, you have the dark roast. Tomorrow you have the medium roast. The day after tomorrow, you have the light roast. Don't settle for less.
"What we do now is to have a coffee club that's primarily for our customers. We love to get feedback and talk to the farmers to be sure of what people really want. Tasting sessions so far have been good and encouraging," Ogunlesi discloses.
Whether she accepts it or not, the homeware matriarch is gradually starting the coffee revolution in Nigeria. She has the right blend of conviction and ingenuity.
"I learnt that the Nigerian Senate has a bill in front of them about helping coffee farmers. So, if we're all drinking Nigerian coffee, then, that's a starting point.
"And therefore, knowing the goodness that's in coffee, and that it's available here I think more people should try our coffee," she urges.
What about the machines to brew the coffee? With Adam & Eve, you can get the best money can buy.
"But I'll say buy a machine according to your taste and according to your pocket," she notes.
"If you can afford a bean-to-cup, that's best. If you want the stove-top, and oh! Even if you have other machines, I think on Sundays, it's just nice when you have that time to do a stove-top.
"But I like it when it bubbles. Of course, there are so many alternatives that are not expensive."
Who says coffee drinkers are up to no good? Please, wake up and smell the coffee.