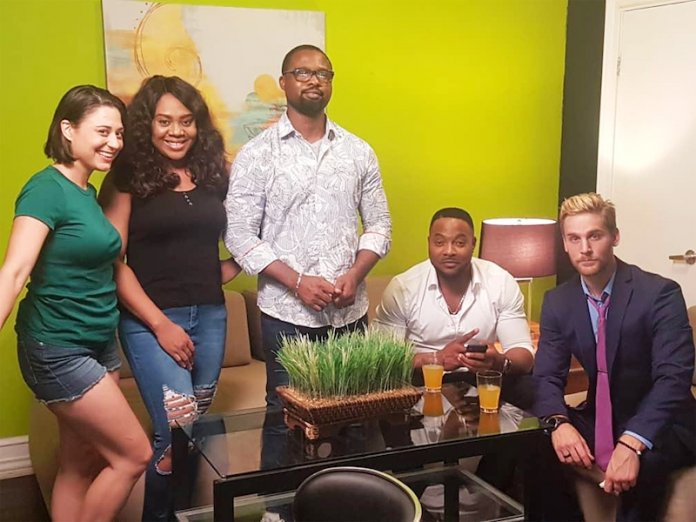 In upcoming movie titled "Excuse My African", seasoned producer Kayode Peters plays up culture, love and adventure. Ferdinand Ekechukwu reports
Ace television and Nollywood movie producer, Kayode Peters has released trailer for his upcoming movie "Excuse My African". Starring Bolanle Ninalowo and Stella Damasus, the one minute forty four seconds trailer gives a peek into the life of an American lady who meets her 'Nigerian prince' and she isn't ready to let him go. But his flustered mother wouldn't want a white lady from him, saying… "I said we don't want a white woman. You can't get married to a white woman. Do you want to kill me?"
Shot in New York City, the movie was directed by Daniel Ademinokan. 'Excuse My African' follows the story of a successful Nigerian man Tunde who meets a beautiful boogie white woman Shirley. They get talking and she tells him she has a Nigerian roommate. After a few dates, she invites him over to her house and he eventually meets her roommate Ijeoma. Tunde who is a high flyer has not been in touch with his Nigerian roots so meeting Ijeoma brought back his interest and love for Nigeria.
Even though she was a local Nigerian girl, not of the same class as him at all, they still seemed to get along very well. They spoke Pidgin English together, talked about things only a true Nigerian will be able to relate with, and when she cooked, he would always want to eat her food because it reminded him of the good old days back home. Along the line Shirley started to notice that Ijeoma and Tunde were beginning to get very familiar, out of jealousy she starts to act differently towards her roommate.
Then she decided that in order for her to keep her man, she would have to learn to be a 'local Nigerian girl'; she dressed differently, tried to speak Pidgin English and even tried to make some Nigerian foods but it was a disaster! After a while, even Tunde started to feel a little cozy with Ijeoma and would want to get intimate but she turns him down. He was not her type. At this point, he was at a crossroad because when he was around her he felt a certain warmth and familiarity that made him happy.
On the flipside, while Tunde was trying to figure out what his heart wants; Ijeoma was falling in love with Tunde's white friend Brian who is very adventurous and intrigued by the African culture and lifestyle. Their unlikely love is brewing behind the scenes. Eventually, Shirley and Tunde end up together while Ijeoma ends up with Tunde's friend, Brian.
Talking about his experience on set of the movie in an interview, Kayode Peters said: "It was a whole new experience shooting 'Excuse My African'. I was going on holidays with my family.
"I didn't write it. But we fine-tuned it. I found myself in New York City. We shot everywhere, outside, at train stations, which was a mind-blowing experience for me. Though, I've shot in London before, to shoot in the US, you need a permit. I had a director that had that, Daniel Ademinokan. So, it was easy for us to shoot anywhere in the city. We were able to get the best unhindered in whatever we wanted to do. We had an audition. Lots of Americans came for it. We picked the ones we wanted and some Nigerians too. I can say it's one of the best movie projects I've done so far. I'll do something of that nature again."
Fondly called KP, Kayode Peters is famous for his long running television comedy series, "Flatmates" now "My Flatmates" where he plays the character Koko, alongside top Nigerian actors and comedian such as Basketmouth, Yaw, and Okey Bakassi. "Excuse My African" packs dose of humour and brings to bare the Kayode Peters element. The movie is expected to premiere soon.