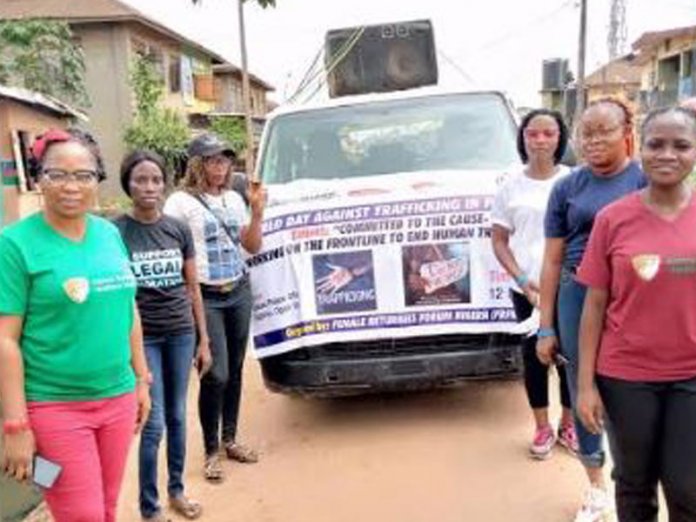 Rebecca Ejifoma
Female Returnees Forum Nigeria in collaboration with Denny Social Welfare Hub and Our Nation for Justice Initiative (ONAJI) rallied across some communities to sensitise indigenes of  Ogun on the negative effect of human trafficking.
The walk, which kicked off from Latawa Palace, Shagamu Lagos, aimed at reaching residents staying far off the palace on the theme, 'Effects and Solutions of Human Trafficking' by Lebanese returnees to Nigeria.
The Executive Director, Denny Social Welfare Hub, Abosede Mary Otukpe, noted that they reached over 150 men, women, youths, teenagers and children.
"We sensitised the women on the dangers of human trafficking as it concerns them as a community," the ED added.
The collaborations took the message to the community "because we understand they won't be able to come to us. It involved one on one reach out and the use of a Public Address System to reach more people", Otukpe expressed.
Other topics addressed are: Dangers of Human Trafficking by Niyi Sodiya of ONAJI; Effects Of Human Trafficking on Victims by Denny social welfare Hub Public Relations Officer, Mrs. Idehen Busayo; and Solutions on the Fight Age against Human Trafficking by the Founder of Female Returnees Forum Nigeria, Azuh Chylian.
For the victims of human trafficking, Otukpe said they could experience a psychological effects during their trafficking experience.
The speakers also argued that survivors may end up experiencing traumatic stress, difficulties in breathing depression, memory loss anxiety, fear, guilt, shame and other severe form of mental trauma.
On physical trauma, the speakers further noted that many victims also experience physical injuries, adding that some can be raped beaten and subjected to abuse over a long period of time.
"There is also a higher risk of sexually transmitted disease and all the infection despite a lack of medical care which allows this condition to spread and worsen and often affect individual health permanently," Sodiya said.
Residents were sensitised on ostracism. "Individuals who have been trafficked can quickly become isolated from friends and family and other social circles excluding themselves from social groups due to stigmatization they face," she added.
The organisers, however, submitted that many who escaped from traffic in situations like advanced education and resources needed to live independently with some skills.