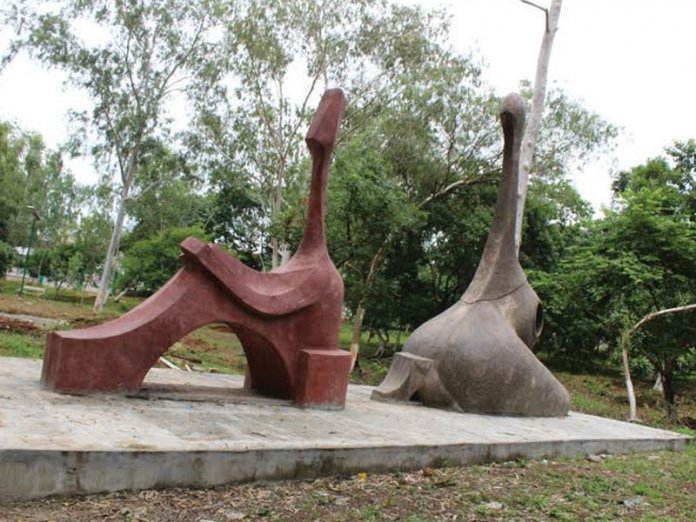 As part of his current urban renewal project, conceived to restore Enugu to its original masterplan, Enugu State Governor Ifeanyichukwu Ugwuanyi's administration is adorning the capital city with a new set of public sculptures, Laurence Ani writes
VISUAL ARTS
As the global statistics of COVID-19 continue to worsen, it has been a particularly harrowing experience for the art sector, with several galleries and museums desperately soliciting support from governments and the public to stave off outright closure. But even at the best of times, patronage for the arts has never quite been at an optimal level, not least for younger artists who have long had to contend with shrinking platforms to showcase their works.
It's a challenge no less experienced by practitioners in the Nigerian art scene. But in Enugu, an ongoing urban renewal project launched by the state government has offered a rare window of opportunity to student-artists. Part of the urban renewal scheme involves the mounting of sculptures designed by students of the Institute of Management Technology's Fine and Applied Arts Department at major roundabouts and the Unity Park, the wooded area in the middle of the state's three-arm zone. Apart from the veritable platform it offers, participating artists also get paid for their works at going commercial rate.
Public art has always been one of the defining landmarks of Enugu, from the unvarnished artwork at the Milliken Hill – Iva Valley intersection depicting the 1949 massacre of protesting coal miners at the Iva Mines, to the sculpture of a drummer at a roundabout in downtown Enugu that lends its name to the surrounding Otigba neighbourhood. These works and several other such post-independence commissioned works were sculpted mostly by accomplished artists of the Ben Enwonwu generation. But the new project has further enlivened public spaces, enabling works by younger contemporary artists and those by preceding generation to enjoy a common platform.
"Public art celebrates heroism and is often therapeutic," Dr. Okey Ikenegbu, former director of School of Art, Design and Print Technology at the Institute of Management and Technology, Enugu, explained. "In the Western world, there is always provision for artworks in every public buildings. But we hardly do so in Nigeria. It always seems like an afterthought," he lamented. He praised Governor Ifeanyi Ugwuanyi for the paradigm shift which the current project represents, adding that the latter had long demonstrated his love for art as evident in his sustained support for Life in My City Art Festival, an art competition organised annually since 2007 to give a broader platform to younger artist and create awareness about cultural and environmental issues.
Ikenegbu, who is coordinator of the public space art project, describes it as a learning period for participating artists. "Some of the works you see adorning the streets are students' projects," he said. But the entire project's crowning glory is a huge lion sculpture sitting at the Unity Park. The structure which is over 40 feet high and 70 feet long, with a width of about 20 feet, is being put together by a workforce comprising 12 sculptors and several artisans. Ikenegbu has also had to depend on the expertise of diverse professionals at various stages of work. "When we were at the architectural framework, we worked with builders, architects and engineers. It's a collaboration because the final work must stand the test of time," he said, pointing out that he was inspired by how enduring the Statue of Liberty in New York has been. "It's about 150 years old and over 300 feet, but has only been repaired once and it's still standing strong."
But the lion sculpture wasn't conceived simply as an artistic object; its purpose is also utilitarian. The design includes a cavernous interior meant to serve like a hall which, according to Ikenegbu, "can accommodate over 30 people comfortably". Its left frontal limb has a spiral stairway that visitors could use to descend from the hall. There is as well an emergency exit ladder and a void on the right frontal limb for possible installation of an elevator for the physically-challenged and the elderly.
The Unity Park has always been a popular picnic spots for families and young couples seeking an idyllic backdrop for their pre- and post-wedding pictures. So when complete, the massive sculpture and other sundry rehabilitation, including landscaping, are expected to boost visits to the park where an artificial pond has been dug. "We initially considered making it a fish pond, but decided against it," Ikenegbu further explained, noting that they eventually settled on the idea of introducing ducks and two gondola-style boats that visitors could paddle.
A major goal of the project is the planting of more trees at the park, a plan which addresses concern that the project's aesthetic makeover may affect the decades old trees in the park. "The woods were conceived as an eco-protection for the Okpara Square area. But they probably did not consider the nature of the trees, because eucalyptus doesn't have deep tap roots. It falls easily. Strong winds can always pull them down," he said.
The current urban renewal – of which the public sculptures are a part – in Enugu metropolis was conceived to restore the city's original masterplan, lost to many years of physical planning laws' abuse that saw once serene residential neighbourhoods overrun by the chaotic bustle of commerce. As in most cities, Enugu's masterplan was blighted by years of migration to the city in search of better economic opportunities and living conditions. This influx led to crowded tenements which, naturally, resulted in overstretched utilities and emergence of unplanned suburban communities.
However, in committing substantial resources to upgrade suburban communities, rehabilitation of inner city roads and construction of additional market stalls, the Ugwuanyi administration has gone beyond treating the symptoms of this modern day socio-economic reality by addressing the problem at its roots. There is, as a result, a gradual walk towards reclaiming the serenity, orderliness and art-friendliness that made Enugu a city that endears itself to residents and visitors alike. That resilient quest reflects in Ikenegbu's optimism. "We want to be sure that even when we're no longer alive, this work will still be a reference point. It's going to outlive all of us. This structure will remain strong in the next one hundred years," he said of the lion sculpture.
––Ani, formerly editor of THISDAY – The Saturday Newspaper and Saturday Telegraph, is senior communications aide to the governor of Enugu State.