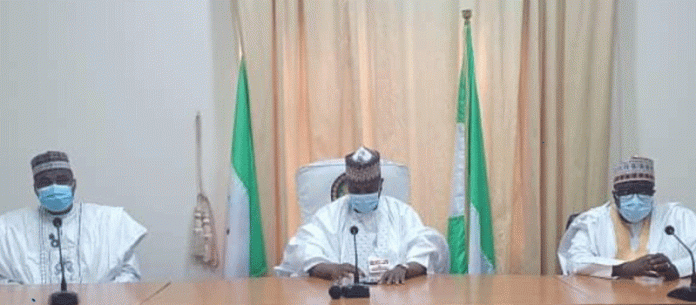 Says state is behind in terms of federal presence, infrastructure devt
By Onuminya Innocent
Governor Aminu Waziri Tambuwal of Sokoto State has lamented that the state was not properly given the chances it deserved in the federal scheme of things as stipulated by the Constitution of the country.
Tambuwal made the observation yesterday when the Federal Commissioner representing the state in the Federal Character Commission (FCC), Alhaji Abdullahi Aminu Tafida and his team paid him a courtesy visit at Government House, Sokoto.
The Governor said Part I, Section 5 (1) 8 E, CAP F7 (2004) of the laws of the Federal Republic of Nigeria mandated the FCC to provide guidelines for monitoring and distributing infrastructural facilities, social amenities and other projects; and programmes executed by federal ministries, departments and agencies (MDAs).
But, "in Sokoto State, we have been left far behind, especially in federal appointments, infrastructural development and federal presence.
"That is why when I came in a few years ago, I decided to create a Ministry of Careers and Security Services. What we use to have before was a department.
"Now, the commissioner is saddled with the responsibility of collaborating with the federal government to see how we can ensure that what belongs to Sokoto belongs to Sokoto," Tambuwal emphasised.
While commending the framers of the Constitution for deeming it fit to establish the FCC, the governor also appreciated the gesture of President Muhammadu Buhari for accepting his nominee and appointing him to represent the state in the Commission.
He assured Tafida and his team of his administration's cooperation and support in the discharge of their duties.
Briefing the governor on why they visited him, Tafida who also pointed out that Sokoto State was "inadvertently shortchanged" in federal representations and location of developmental programmes, said: "since the establishment of the FCC some 20 years ago, public perception of it had remained at the lowest.
The challenges, therefore, Tafida stressed "are not only limited to federal posts and political appointments but that of the overall development of state government and its 23 local government areas."
"This underscores the need for us to work together and ensure equity and fairness in the distribution of posts and infrastructural development in the country."