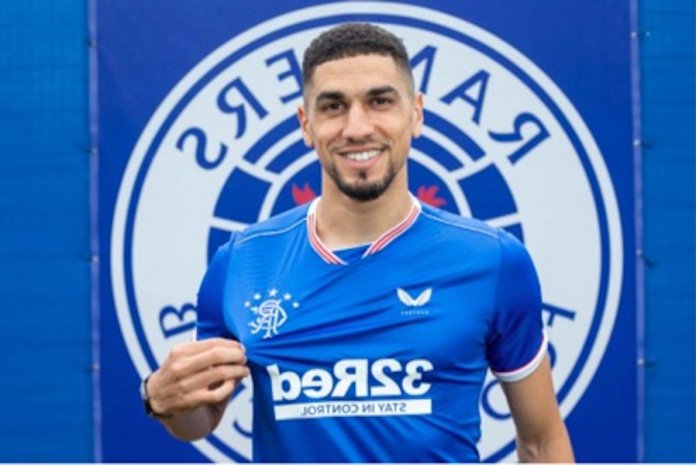 In the summer of 2018, he moved to England to sign for Brighton after nine years of playing in the German League, but it didn't prove to be a pleasant move as he spent the better part of his time warming the bench and losing his place as the choice central defender in the national team. A loan move to Wigan Athletic did little to help Leon Balogun's cause. However, another loan move to Scotland giants, Rangers has not only earned him praise from his manager but a Team of the Week place
Nigerian international, Leon Balogun may have found a new lease of life at the Ibrox Stadium with his debut for his new club, Glasgow Rangers and it would not be surprising if Manager Steven Gerrard extract the option of extending his contract to years if he can maintain his consistency.
Rangers signed Balogun on a one-year deal following his departure from Wigan. Rangers boss, Gerrard, who has the option of extending Balogun's contract for another 12 months – told the club's website: "I am pleased to secure the signature of Leon.
"He is an experienced centre half who will add strength and depth to our squad. His experience in the Premier League as well as his international pedigree strengthens our squad and will assist in the development of our young defenders.
"Leon has just finished a round of competitive fixtures with Wigan, so will hit the ground running. He's a positive and bright character and we are looking forward to his influence around the group."
True to Gerrard's words, the Super Eagles centre-back hit the ground running. He produced a solid defensive performance as Steven Gerrard's men started their league campaign with a clean sheet and a win Balogun was named in the Scottish Premiership Team of the Week after his impressive debut last Saturday.
The Nigerian international, who moved to Scotland at the end of the Championship season with Wigan Athletic, helped the Gers defeat Aberdeen 1-0 in their maiden game in the 2020-21 season.
Balogun was handed his first start at the Pittodrie Stadium as Ryan Kent's 21st-minute goal separated both teams to get the visitors off to a flying start.
The 32-year-old defender was in action from start to finish in the fixture and made the most clearances for the Gers and also completed one tackle.
Gerrard has heaped praises on Balogun following his outstanding performance in the match-day one of the new season. He was the star player last Saturday as Rangers secured a 0-1 away win over Aberdeen at Pittoride following Ryan Kent only goal of the match.
"He's been in the door six days; this is probably one of the toughest away games on your debut. You're only getting used to knowing the players.
"But we'd seen and what we'd seen prior, we had trust in him. But he went out and put out a performance. He deserves all the plaudits that come his way. I thought he was outstanding," he said.
However, there was also the ugly side of the debut for Balogun after a nasty challenge and he admitted, he was unhappy with a nasty challenge from Aberdeen defender Scott McKenna.
That challenge left Balogun requiring medical attention on a head knock and he told heraldscotland.com that he failed to get up after being shoved into the goal post at a Matt Kennedy corner kick in the second half.
The 32-year-old only continued after receiving treatment.
"I wanted to get up, but I couldn't, he said. "It wasn't quite lights out but a little bit tough for me. I carried on playing and it wasn't too bad. Maybe I'll get some dizziness and a headache but I have tablets for that so it's okay.
"I think it was McKenna who pushed me into the goal post. Was I unhappy with the challenge? Obviously, because it shouldn't happen. But then again I didn't die so it's okay. It's part of the game so I think about it like a message 'welcome to Scottish football'. If that's what it is then I just need to get used to it and make sure I don't get caught out next time."
Balogun was deservedly lauded by his fellow Rangers players in the dressing room following the final whistle after helping them keep a clean sheet.
"It was special for me to get a round of applause from my teammates," he said. "They told me this is a tough place to make your debut so I'm happy.
"I am just happy I was able to perform in the way I performed. That said, you are only as good as your last match so I need to rest up ahead of the next game. I want to help the group be successful.
The former Brighton and Hove Albion defender will be hoping to help Steven Gerrard's side build on their fine start to the season when they host St.
Mirren at Ibrox Stadium for their next Premiership match on Sunday.
The 32-year-old moved to England in 2018 from Bundesliga side, Mainz 05 before teaming up with the Latics after finding game-time difficult to come by with the Seagulls.
The defender, who arrived Wigan initially on loan in January, was signed permanently until the end of the 2019-20 season.
The Super Eagles centre-back featured in 11 league games for the Latics but his effort was not enough to help the side avoid relegation after they were handed a 12-point deduction.
"I am pleased to secure the signature of Leon. He is an experienced centre half who will add strength and depth to our squad," Rangers manager Steven Gerrard told the club website.
"Leon has just finished a round of competitive fixtures with Wigan so will hit the ground running. He's a positive and bright character and we are looking forward to his influence around the group"
Sporting Director Ross Wilson added: "We quickly targeted Leon after adapting our transfer plan when Niko Katic suffered an injury a few weeks ago.
"Leon impressed Steven and me with his enthusiasm and excitement to join Rangers from the moment we first spoke whilst the staff at Brighton and Wigan couldn't have spoken any higher about his personality and abilities."
Balogun has spent most of his career in Germany playing for Turkiyemspor Berlin, Hannover 96, Werder Bremen, Fortuna Dusseldorf, Darmstadt 98 and Mainz.
The centre-back played 52 league games for the 05ers before joining Premier League club Brighton in 2018.
Balogun, who was born to a Nigerian father and German mother, has 32 caps for the Super Eagles and was part of the side that finished third at the 2019 Africa Cup of Nations in Egypt.
Balogun has an imposing physical presence, standing at 6ft 3. He is fearless in tackles and brave in the air. He provides additional threat during set pieces and could occasionally provide that odd goal to win games, though he isn't gifted in terms of pace.
It however remains to be seen if Balogun would revive his career with Rangers.