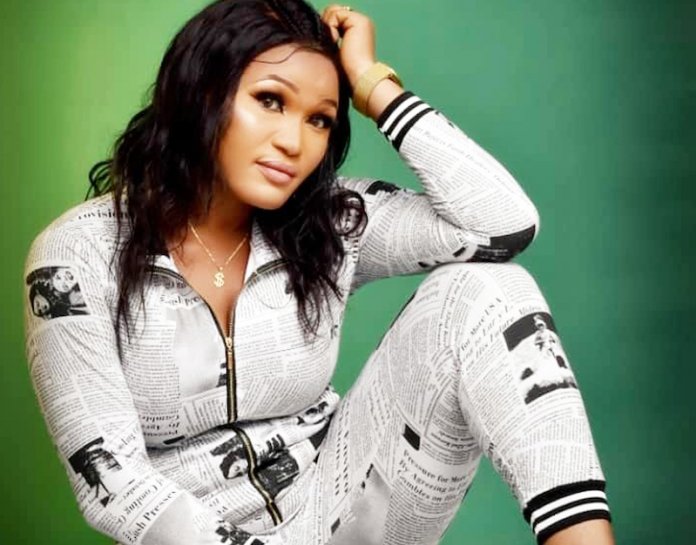 Nollywood movies with classical village or socio-cultural settings, popularly referred to epics, delight many Nigerian homes. Many actors have carved a niche for themselves in this fragment. One of such is fast-rising diva, Joy Oluchi (Ugwueke) Anamasonye. Joy, a Mass Communication product of IMT Enugu and the second in the family of six, was opportune to be featured in several acting gigs in her teenage age, but nearly lost her passion to societal pressure. In this interview with Chinedu Ibeabuchi, she shares her joy and pain in the industry
When did your sojourn into Nollywood begin?
I joined the Nollywood industry in the year 2003 and I featured in several films like Last Kobo, where I acted as the wife of Hanks Anuku. Other actors that featured in that movie were Chidi Mokeme, Ngozi Ezeonu, Queen Nwokoye, among others.
With the growth of cinemas, buying of movie DVDs has been greatly affected. How's that affecting the Asaba axis of movie productions?
Yes. It has greatly affected most movie makers especially epic movies. They are now forced to step-up to meet with the market demand. Cinema movies are high budget movies, not like what is widely done in Asaba which is on a low budget. However, Asaba axis movie producers have found a new market online, with several video-on-demand platforms. YouTube is another platform where producers make money by making their content available for free but earn money from Youtube based on the number of viewers. Good content sells itself. Most people no longer buy DVDs because they prefer watching movies online or on pay-Television.
Tell us about your love life?
My love life is my personal life and I like keeping it personal. All I can say for now is that Joy is out of the market. I am happily married to the man of my dream.
Certain movies demand you play a romantic role. Can you kiss on set?
When I was single, it wasn't an issue because I kept my work highly professional. People who know me will testify to that. Now that I am married, I don't think I can kiss a man on set. The sanctity of my marriage matters to me.
Did you face any obstacle in acting as a result of marriage?
I stopped acting after my marriage for personal reasons. But I am gradually having a comeback into the field with the consent of my husband.
As a married woman, how do you combine home front with acting?
All you need is the perfect partner who will support and encourage you to follow your career by giving you the needed space. I don't take that for granted as my family comes first before any other thing.
Many actresses have been accused of living above their means, what's your view about this?
The challenge most actors face is that sometimes they tend to live beyond their means to keep that image. As an upcoming actor, you face even more challenges, because the production might not have enough provision for you in terms of costumes and welfare, etc. They pay more attention to the big stars but it depends on your level of desire and how far you want to grow in the industry. As a lady who wants to see herself grow, you are likely going to face the challenge of investing in new clothes shoes, accessories, to keep up. The road to success is not easy but it is best to be yourself be real and original.
How should we describe Oluchi Joy?
I am ambitious and driven. I thrive on challenges and constantly set goals for myself, so I have something to strive for. I'm always looking for an opportunity to do better and achieve greatness and my greatest enemy is failure.
How do you relax when not acting?
Meditation, yoga and breathwork; I enjoy the company of myself as it helps me think, reflect and reminiscence.
Nollywood movies, especially Igbo epics movies have been criticised for same storylines and painting pictures that exaggerate customs. What's your view about this?
My view is that everybody has a choice in this life. Mr. A should not be judged by the decision of what Mr. B chooses to watch. Not all epic movies are criticised. As a matter of fact, epics have a huge following, especially among average Nigerian homes.
As a person, what's your biggest fear?
My biggest fear is a failure or not living up to expectations. When I see my friends that we started same time in the industry and how much growth they have achieved today, it makes me realise how much I failed myself. I joined the movie industry in the year 2003 and left in 2005 because I needed to focus on school. And because at that time, people had a mentality of girls in the industry are irresponsible. I had d passion, but same time I wasn't proud of what I was doing because of how people would perceive me, even to the extent that I won't admit to claims of any movie I featured in. That was the beginning of my failure. I allowed the imagination of how people would perceive me to drive me away from my big dreams. Many potential talents have been perpetually buried just because of societal pressures.
It took me 14 years to realise I was cheating myself. I should have put myself first.