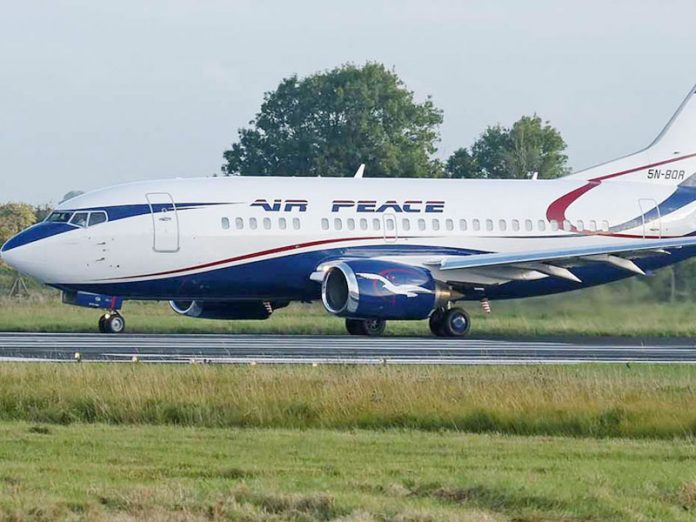 Chidiebere Nwobodo
Recently, the Western oligopolistic interests bared its fangs and displayed its vicious economic bullying at Air Peace, Nigeria's biggest and fastest growing indigenous airline. An Air Peace aircraft that was scheduled to leave for evacuation mission in United Kingdom, was denied Diplomatic Landing Clearance by British authorities, on flimsy excuses.
The Air Peace flight, was meant to airlift some Nigerians, who are also British citizens, on Saturday 11th July, from Lagos to Heathrow, London. And to evacuate stranded Nigerians in United Kingdom in return on the earlier scheduled date of 13th of July, 2020. Flight tickets had already been purchased for both trips by prospective passengers.
I know of a friend who had traveled from Abuja to Lagos to join this flight, only for it to be canceled at the eleventh hour—simply because United Kingdom authorities are scared of competition being provided by Air Peace to British Airways and other western airlines.
On declining to grant the landing permit, British authorities advised Air Peace to contract another airline, Air Partner—a British airline, to airlift Nigerians that were awaiting evacuation in United Kingdom; at a more higher cost. Air Peace had to take the additional cost to ensure Nigerians were evacuated, instead of refunding them their ticket fare. Those that should have been airlifted from Lagos to London by the same Air Peace, made alternative arrangements which enabled them travel back to United Kingdom.
Now, let us dissect the main issues. Towards the end of March, 2020, amid global lockdown orchestrated by Covid-19 pandemic, British Government announced a £75 million pounds evacuation intervention, to evacuate stranded British citizens around the world. It is instructive to note that the air service contract was awarded to British Airways (BA), EasyJet, Virgin, etcetera—all British airlines. British Government chose indigenous airlines, to avoid capital flights. I did not read or hear that any country, especially Nigeria, denied these airlines Diplomatic Landing Clearance.
In fact, on April 20, 2020, UK deployed Boeing B747 BA flight to evacuate 213 Britons from Nigeria. Nigerian government granted the aircraft landing permit, not minding that UK was one of the epicenters of the Covid-19 at that period. Within 6th and 8th of May, 2020, a BA Boeing 747 belonging evacuated 304 Britons, and 253 Britons, respectively. As usual, Diplomatic Landing Clearance was gifted them by "magnanimous" Nigerian government.
When the first batch of Nigerians were evacuated from UK to Nigeria amid Covid-19 in April, 2020, it was via BA. No story was heard. Fast forward to July, 2020. Nigerian government had contracted Air Peace – an indigenous airline, to evacuate Nigerians stranded in the UK. Then just from the blues, the same British authorities that enjoyed unfettered evacuation of her citizens in Nigeria, using BA, decided that Nigeria's biggest indigenous airline was not fit to land on its soil. This economic bullying of Nigerian airline. Period.
British authorities want BA and other UK airlines to maintain their age-longed monopoly over these lucrative routes. So, as long as it is British airline doing the evacuation, no problem. Once Nigerian government contracts indigenous airline for the same purpose, the issue of Diplomatic Landing Clearance will come up. The West has always seen their economic interests as superior to ours despite resource stripping visited on us in the name of colonialism. This is very unfortunate.
We have to resist this strangulation of our business interests. It is high time we let it sink in the psyche of these imperialists that Nigeria is no longer an annexure of western powers. Nigerian government has to stand up to this nauseating economic bullying of our indigenous airlines and businesses by Western interests. This is an insult on our collective intelligence as politically and economically independent nation. The most populous black nation on earth should not be treated with this utter disdain and disrespect.
A British government that has consistently evacuated its citizens from Nigeria using its own airline, will not only deny Nigerian airline the same privilege, but will have the audacity to arrogantly recommend to Nigerian government one of its airlines for the same purpose- even at a higher rate.
This impunity should be brought to an end. Air Peace should be given the needed and necessary diplomatic backing to compete with the likes of British Airways, Lufthansa, Emirates, etcetera, in the international routes.
No matter what President Donald Trump means to some people, one attribute even his critics will acknowledge, is that he is passionately dedicated to putting America and her business interests first. Maltreat an American company like this, Trump administration will ensure a swift and more consequential retaliation. He will unilaterally place a ban on all the hostile countries' airlines till further notice. Trump has been at trade war with China, and other developed economies, just to protect America's economic interests.
Any time developed economies feel threatened by the rising profile of Air Peace in the international routes, they will hurriedly deploy politics of Landing Rights to frustrate the African fastest growing indigenous airline.
This ugly development has to be curtailed. It is not about Air Peace as an airline, alone, but Nigeria as a sovereign nation. The assault on our promising indigenous airline—Air Peace, by foreign interests, is becoming overbearing.
In May, 2020, Canadian authorities blocked Air Peace from coming to evacuate 319 Nigerians stranded in Canada, citing fallacious and nebulous excuses.
Another airline was given the contract. No retaliation whatsoever from Nigerian government. It is a pity that this deliberate and desperate business strangulation has been happening, albeit unchallenged by Nigerian government.
Leaving Nigerian airlines at the mercy of western idiosyncratic and oppressive tendencies, is one of the surest ways to stifle the desired growth of the nation's aviation industry.
Western powers in aviation industry see the rising profile of Air Peace as an emerging threat to them, especially in the international air routes.
Juxtapose this scenario with recent allegations by American Justice Department, against Chief Executive Officer and Managing Director of Air Peace, Allen Onyema, you will get the clearer picture of the international conspiracy against emerging aviation giant like Air Peace.
The Nigerian government must rise in support of Air Peace to withstand this unprovoked bullying. We cannot continue to play the ostrich when we are being muscled out of the competition for global resources. Allen Onyema, the chief executive officer of Air Peace, is positioning the country on the world aviation map, using his leadership dexterity at Air Peace. He should be supported by the government to withstand these unnecessary bullying by foreign interests in the world aviation industry. Any country that refuse to grant Diplomatic Landing Clearance to our indigenous airlines to land on their soil, should expect the same ill treatment from us. It is that simple and it is the language our competitors understand. If Air Peace is supported to be a global player in the international routes of the industry, Nigerian economy stands to benefit more because most of the potential jobs and business opportunities will be created for Nigerians.
Ethiopian Airline has done it for Ethiopia. It has created cumulatively over 400,000 jobs and added $I.9 billion dollars to Ethiopian economy. Nigerian airlines, starting with Air Peace, should be able to replicate this feat for Nigeria and Nigerians. But this might never happen unless the Federal Government braces up to the responsibility of protecting them from leviathans and buccaneers in the international aviation market.
–––Nwobodo writes from Abuja.