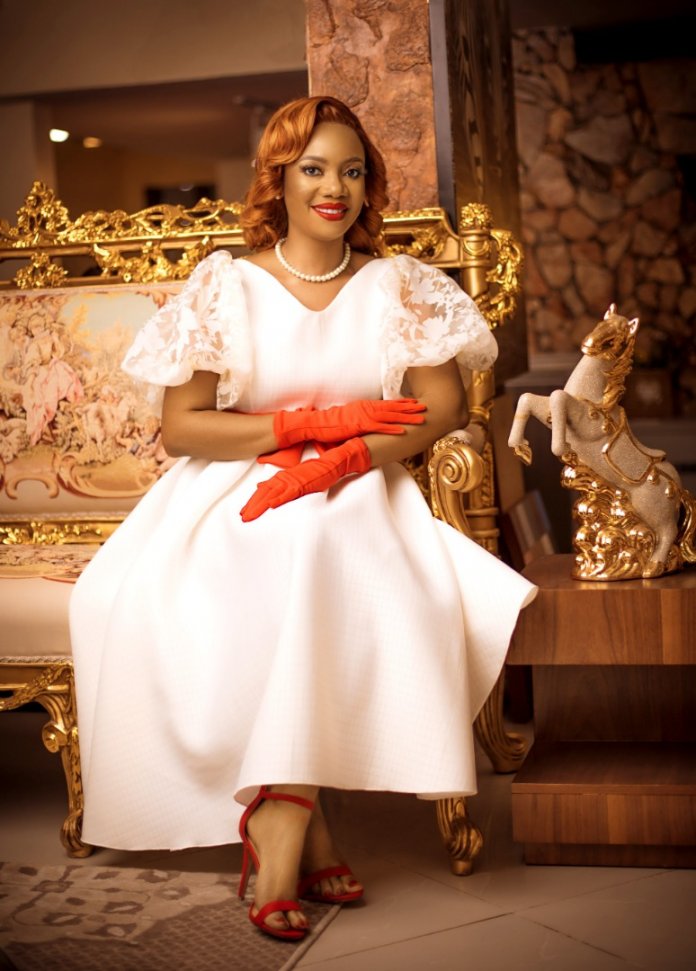 For CEO, La Mode Magazine, Sandra Odige, whom has since grown to become a dab-hand at fashion and humanitarian services, it was all about gratitude, and reflection as she clocks 36-years-old on this same day, August 6. Sunday Ehigiator writes
For many youth of same dispensation, having a career path has proven to be one life-changing decision they have to make, whereby, not all had the fortune of the right choice.
For Sandra, she didn't only chose a rare part in fashion and humanitarianism, but had to quit a good paying banking job to get started.
"For me my turning point started when I took the plunge to resign from my banking job to face what I have always wanted, which was to be an entrepreneur.
"It was not an easy decision for me to resign as at that time but I was too confident that I will do better as an entrepreneur than  a banker.
"It took determination, zeal, courage to succeed and get to the level I am today as an entrepreneur. And as one who is focused and giving up for me is never a solution no matter the challenge(s ) I am faced and still facing."
Sandra didn't also undermine the power of consistency in her journey as a fashion entrepreneur who today boast of several fashion shows organised both locally and internationally.
"I will also not take consistency away from this discussion. I have been consistent from day one. I mean from the really rough and tough times of building my brand to this moment. And today, I can proudly repeat, that the turning point for me was when I left my banking job to face entrepreneurship head-on."
With her foundation, La Mode Magazine Disability Foundation, not only has Odige directly and indirectly touched several less privileged in the society, she has also being on the front line in providing needed awareness to the plight of the disabled in the society, especially with her annual 'Green October Event's, which holds every October, yearly.
"La Mode Magazine Disability Foundation has touched so many lives positively and also my other social projects but let me start with the Foundation.
"The disability foundation is my own humanitarian gesture to the society. It empowers persons with disabilities by providing job opportunities, skills acquisition training and support.
"The foundation also advocates and creates awareness for persons living with disabilities. It is an advocacy awareness foundation, where persons with disability are given a voice.
"The signed Nigeria Disability bill emphasizes the right to life, equality, and non-discrimination for persons with disabilities. Hence, the foundation is creating more awareness on the need for people to show love and support for persons with disabilities.
"Apart from providing adequate training skills to improve the lives of persons living with disabilities, also is the problem of low confidence among persons with disabilities not being able to show their disability. This is another area we are functioning.
"To solve this problem, we constantly celebrate persons with disabilities through the foundation and the magazine platforms which will help in achieving an inclusive society.
"There are about 25 million Nigerians living with disability. The signed 'Nigeria Disability Bill' if properly implemented, will provide for the right to free education, free healthcare, prohibition from segregation, right to work and employment.
"This bill also provides for the right to participate in politics. Persons living with disabilities are also human beings who did not choose their paths for themselves.
"The foundation had impacted many lives and still impacting as it has given free training on customer service, graphics and web designing, digital marketing, photography, skincare, decor, makeup, fashion designing, dry cleaning services and lots more.
"Furthermore, most of the projects have touched lives positively through empowerment such as the FashMode Reality TV Show and La Mode competition where winners are more financially empowered to become successful and self reliant."
Despite the widely applaudable achievements which she had highlighted, Sandra remain optimistic that they are little if compared to what's to come
"As always, my life mantra is that, 'it's achievable and you are unstoppable if you put your mind to it',
"Achievements comes with challenges, but see those challenges as propelling factors to motivate you to succeed.
"Hence my goal for the next two decade is to have a global brand, remain healthy, happy and retire very successful and active."