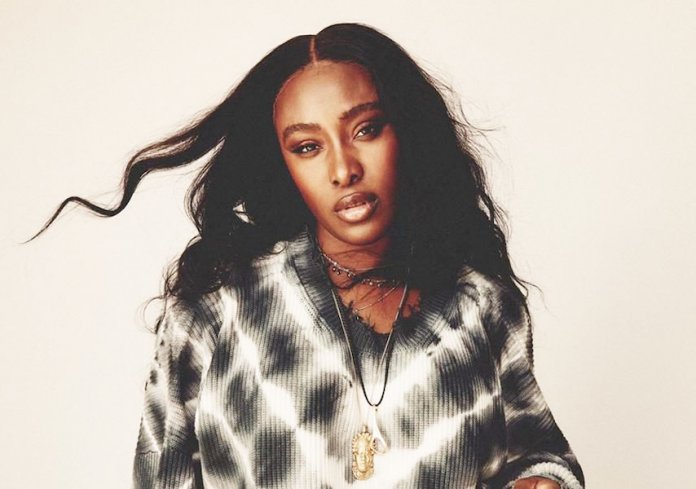 By Ferdinand Ekechukwu
Following the success of 'Maybe Baby', her last single in 2019, Tolani Otedola (Tolani) is here with a new record titled 'Badman'. It is a song that explores the habit of getting entangled with the 'bad boys' stereotype. In "Badman", the fast rising UK-based Nigerian recording artiste, and daughter of billionaire businessman, Femi Otedola, gives summer vibes with her effervescent afro-pop single. Released last Thursday, Tolani looks set to bring her enriching afro-pop offering to the UK and beyond with this single.
Tolani's new song, her first in 2020 highlights her distinctive, honeyed vocal that effortlessly flows on the mellow R&B, afrobeat production – a sound that's also distinguished as altè amongst Nigerian natives. The three minutes fifteen seconds Big Fish-produced song consists of smooth RnB chord progressions with afro-pop percussions that give the song a groovy rhythm. The self-written track highlights the talented artiste's almost flawless vocals.
She sings smoothly weaving through the verses and chorus with her nice intonation and cultivated RnB style. Speaking on the inspiration behind the song, Tolani said: "I wrote this song exploring the habit of getting caught up with the 'bad boys' so to speak. I feel like it's been ingrained in us that love isn't love unless it's turbulent in some way… and so you get caught up in a cycle of looking for the wrong things in potential lovers. This song is an observation of that and hopefully a step in awareness of breaking that cycle."
In "Badman", Tolani openly presents her vulnerable side on the song and encourages women to know their worth: "That entire experience was so possessing; it leaked into every day and every thought". The track's conceptual video, which finds the young artiste entering and exiting a series of doors and relationships, only to be locked into another situation with a disrespectful man.
"I feel like there's this subliminal message that love isn't love unless it's turbulent in some way… and so you get caught up in a cycle of looking for the wrong things in potential lovers. The video mirrors the story of that cycle, it's one-take style and shows me walking into and out of bad relationships and still giving the next bad guy the benefit of the doubt."
After a number of years honing her skills via a variety of projects, from providing vocals on Afrobeats tracks to fronting a soft rock band, Tolani has found a sound that truly complements her voice. Tracks like last year's 'Ba Mi Lo' and the brilliant 'Liar' see her drawing on her many influences – including 90s R&B, Afrobeat, perhaps even a little of that soft rock – to create a diverse pop sound that instantly stands out. While building her musical profile, Tolani has earned great remarks with her craft. Her music is different and she's solemn with it. She's not an everyday artiste; she's very intentional with her art.
Meanwhile, fans of Nigerian female disc jockey and sister to Tolani, DJ Cuppy are buzzing with the "Jollof On The Jet" social media challenge following the release of her latest single which goes with the same title. DJ Cuppy created the 'Jollof' inspired challenge to go with the song which the winner will get a prize of N1 million cash. The two minutes fifty four seconds 'Jollof On The Jet' track, which is available for streaming on all platforms, has hit over two million streams and still trending.
The Apple music radio host had announced the new single as the lead song to her much anticipated debut album tagged 'Original Copy'. The 'Original Copy' project is said to feature 14 artistes among which is Nigerian music sensation, Rema and Tanzanian recording artiste, Rayvanny who were featured in the single. Since she released her first single back in 2017, she's been building her catalogue as an Afropop curator with singles featuring artists like Zlatan, Tekno and many more.
Now, starting the rollout for her upcoming EP, 'Original Copy', Cuppy, born Florence Ifeoluwa Otedola has started on a strong note, taps Nigerian and Tanzanian artistes, Rema and Rayvanny for a celebration of the African partying experience; great music, dance floor romance and the delicious Jollof dish. "Jollof On The Jet" pairs Rema's endearing Afropop vocals with Rayvanny's bongo vibe while Cuppy produced the lightweight beat with catchy percussions that move listeners to dance.
While Rema and Rayvanny's lyrics are addressed to their love interests, Cuppy is more concerned with getting the Jollof meal as she drops a line in the song. "Oya pass the Jollof, I can't get enough", she says, blurring the lines between the undeniable appeal of romance, music and Jollof. Cuppy had earlier asked her fans and followers via her social media platforms to guess the artistes on the new song. Many of the fans guessed the Rema's part right after listening to the earlier released snippet; many couldn't name the other artiste on the song.
Rayvanny was popular with his 2019 hit 'Tetema' and has also delivered on this one alongside Rema. This is Rema's first major collaboration with a Nigerian artiste and it is the first single of DJ Cuppy's forthcoming album 'Original Cuppy'. The 'Jollof On The Jet' afro-pop tune followed weeks after Cuppy signed recording deal to release 'Original Copy' through UK-based music company, Platoon. This project has been teased by Cuppy in the past months on her social media platforms, and the Cupcakes are definitely ready!