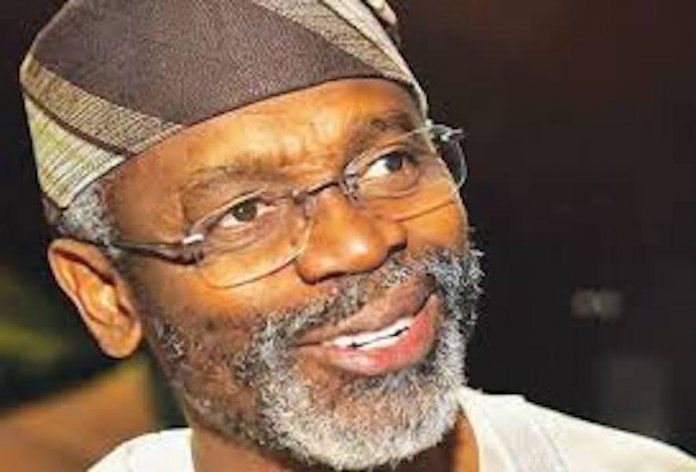 Anthony Kila questions the practice of naming public buildings and institutions after politicians and military administrators Rt. Hon.Femi Gbajabiamila
I have no doubt that you know by now, but for the benefit of the few distracted, let us remind ourselves that after rumours in country clubs and anticipations in news rooms across the country, just a few days ago we all finally got the official news through the Minister of Transportation that President Muhammadu Buhari has approved the naming of some railway stations along the Lagos-Ibadan and Itakpe/Ajaokuta/ Aladja/Warri corridors after some Nigerian leaders. The list we are told is made up of deserving citizens that have contributed to the progress and development of their respective communities and the nation at large.
A cursory look at the names of these deserving citizens gave a stale taste and a rancid smell that made me spit out what was said over a hundred and seventy years ago: Plus ça change, plus c'est la même chose: the more things change, the more they continue to be the same thing.
Of the twenty-three names that will henceforth be known as people and stations only three have never held political positions in Nigeria.
They are Funmilayo Ransome-Kuti, Wole Soyinka and Michael Ibru. Mrs Ransome-Kuti was an educationist, activist and suffragist that personally pioneered various female emancipation projects and initiatives. We must add here that she did all not as wife of a public office holder or with government money.
Prof. Wole Soyinka is a …, please finish that yourself.
Chief Michael Ibru was a businessman, industrialist and philanthropist that popularised and endeared to many the Urhrobo nation's royal title, Olorogun, and by so doing, fulfilled the appellation of being "the knighted one that makes knighthood attractive."
In the list of the immortalised by rail, Segun Osoba stands out as the only one that has held political office and also excelled in a known profession where he has served and influenced others. Aremo Segun Osoba is a renowned journalist that has trained and mentored many other influential reporters.
The rest of the eternalised by rail are all politicians and military administrators. That is the way we have always done it in Nigeria: Our major roads, monuments, schools and government houses are named after politicians and military administrators. Successive governments and various administrations have done the same of the same in the same way.
Today's epistle is to offer some immoral proposals on immortalisation to save us all from the monotony of same. They are immoral proposals because they do not conform to the accepted standards and practice of immortalisation of politicians and military administrators. Naming assets of the commonwealth after politicians and military administrators is done by politicians and military administrators, but is that good for the country?
Today, we suggest that we need a new mindset and laws that guide public immortalisation.
I am addressing this epistle to you dear Speaker, not only because you are the chief legislator of the land but also because you preside over a chamber that is truly the most representative of the people. I have no doubt that most of your colleagues will not like my suggestions but I am willing to argue that reasonable people do and through you I make the case to the people that it is time we stop prioritising politicians and military administrators in the naming of the assets of the commonwealth.
In a sane society of truly civil free citizens, streets, buildings and monuments are named after those who have accomplished outstanding feats for the benefit of humanity. Their names are placed on plaques to immortalize them as a sign of recognition and a source of inspiration for the rest of us, so we can aspire to greatness borne out of vision and sacrifice.
Looking at the events and personalities that make up the history of Nigeria and comparing our achievements with our potentials, I submit that it will be very difficult to argue that politicians and military administrators deserve the amount of immortalisation they get.
Amongst truly civil and free citizens, the honour of being immortalised with resources of the common wealth should be reserved to martyrs of the republic, innovators, inventors, and people of outstanding talents like artists, artistes and athletes.
We can even use dates of significant events. Everyone should be able to aspire to such immortality based purely on measurable merits. Elected and nominated public office holders should be excluded from such honours because regardless of their performance, they will always have a place in history. If we exclude the influence of greed and an exorbitant ego and a desire to self-applaud, a place in history is enough for any human being.
Where we must immortalise politicians, let us calmly wait till they depart this world full of temptation where they can still fall and err. The rush to immortalising those in power is embarrassing and demeaning for the profile of the nation.
If politicians and other public office holders do not have the decency and discipline to curb their appetite for ridiculous behaviours, then we, the people, need to find the courage and voice to say enough of this Banana republic style of governance. We, the people, owe such courage to our children, if we want science and arts to thrive, thinking and diversity to flourish, we owe it to ourselves as a nation if we want to be taken seriously.
Prof. Kila is Centre Director at CIAPS Lagos and can be reached at @anthonykila