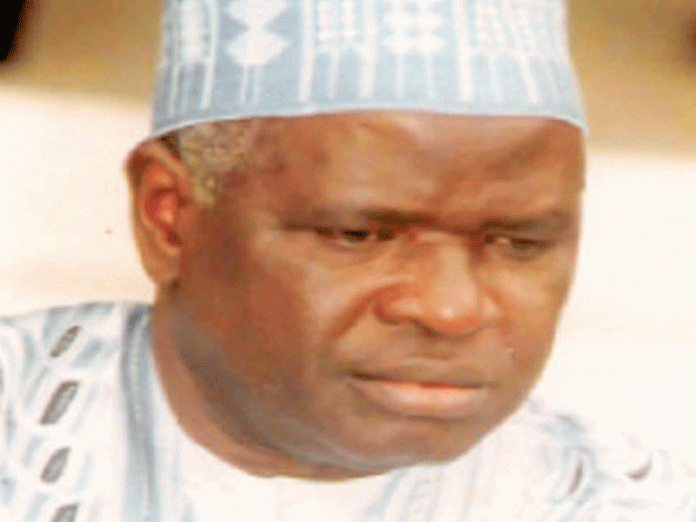 The Maiden Shinkafi Intelligence and Security Summit (USISS) held last Thursday. The summit which was held via Webinar had as its theme: 'Insurgency, Banditry and Kidnapping: A Multifaceted Approach'.
Convened by the Umaru Shinkafi Legacy Foundation, established in honour of late nationalist, former cop and pioneer head of National Security Organisation (NSO – which transformed into Department of State Services), Alhaji Umaru Shikafi, the summit had a virtual audience comprising political, traditional and religious leaders from the North, and representatives of relevant security agencies.
Among participants at the summit were former Governor of Zamfara State, Mahmud Aliyu Shinkafi; incumbent Governor of Zamfara, Bello Mohammed Mutawalle; Governor of Sokoto State, Aminu Waziri Tambuwal; Governor of Kebbi State, Abubakar Atiku Bagudu; former Governor of Zamfara State, Abdulaziz Abubakar Yari; former Kano State Governor Rabiu Musa Kwankwaso; former House of Representatives Speaker Dimeji Bankole; Sultan of Sokoto, Muhammad Sa'ad Abubakar, represented by the Etsu Nupe, Alhaji Yahaya Abubakar; British Deputy High Commissioner, Ms Gill Atkinson; UNODC County Head, Oliver Stope; and Commissioner for Internal Affairs Kaduna State, Mr Samuel Aruwan, who represented Governor El Rufai.
Others were former Chief of Army Staff, Gen Abdulrahman Dambazau; former executive chairperson EFCC, Mrs. Farida Waziri; Catholic Bishop of Sokoto Diocese, Bishop Mathew Hassan Kukah; Commandant of the National Institute for Security Studies (NISS), Mr. A. S. Adeleke; representative of Director General of the Department of State Services (DSS), Mr. Hakeem Abiola, and a security expert, Dr. Gani Adeniran.
The summit was also joined by Kadaria Ahmed, Yarima Abdullahi, Muhammad Bello, Alhaji Buba Galadima, Ajibola Afonja (representing Prince Afonja) and Alhaji Hassan Marafa.
Deliberating on the most topical issue in a region which has been a hotbed of terrorism and criminal activities fuelled by armed gangs, who plunder communities, rape, kidnap and kill people, participants shared their experiences in governance and leadership, and offered suggestions on way out of the security crisis.
There are however four takeaways from the various contributions at the summit.
1) Governance Vacuum Creates Fertile Ground for Banditry
Even though there are many factors responsible for the security crisis in the North, a major cause of the crisis is governance vacuum. This point was emphasized by the Catholic Bishop of Sokoto Diocese, Bishop Mathew Hassan Kukah, who insisted that bandits flourish only in areas where governance vacuum exist.
Noting that "Nigeria has too many pockets of governance vacuum"; Kukah said defined governance vacuum as "Areas where there is neither provision of infrastructure and amenities nor any effective administrative or security mechanism".
Such governance vacuum inevitably leads to poverty, perception of marginalisation and anger, the result of which is the insecurity that pervades the north.
Kebbi State Governor Bagudu agrees that there is anger in many Nigerian communities because of poverty and lack of basic infrastructure. This anger is accentuated by the fact that the Nigerian society is poor at managing anger.
2. No Intelligence Must be Treated with Disdain
Another key point raised at the summit was the need to take intelligence seriously, no matter how impossible it may seem. To drive home this point, former Governor Yari shared his experience as governor of Zamfara. According to him, citizens informed him about a message they received from bandits that they would block the Gusau-Sokoto highway near Maradun at 11pm one night, Without wasting time, he passed the information to security agencies. No action was taken. At the time stated, the bandits blocked the highway and operated for many hours unchallenged. Yari also told a story of how bandits sent message that they would attack Kizara village in Chafe Local Government. He said he pleaded with the Zamfara State police commissioner not to move two Mobile Police Squadrons out of the area. According to him, the police boss moved the squadrons to another location on the orders of the Inspector General of Police. Alas, two days later, bandits attacked Kizara and killed 40 people.
3. Intel Gathering, a Collective Exercise
This point was harped on by security experts and representatives of security agencies at the summit. The representative of the director general of Department of State Services in his contribution stressed the centrality of intelligence gathering in the fight against insurgency and banditry. He said Intelligence gathering was too important to be left to the security and intelligence agencies alone. He called for the involvement of traditional institutions and citizens in intelligence gathering. Zamfara State Governor Mutawalle, whose state has seen several attacks by bandits, also shares this views. He believes banditry is not just limited to the men who roam around with weapons, killing, maiming, raping people and destroying communities. According to him, it is aided by a large network of other people who supply food, weapons and information to the bandits. To win the war against banditry, all of them must be effectively tackled, he posited.
4. Military Formations Grossly Undermanned, Under-equipped
If the north will overcome the serious security challenge plaguing the region, the military and other security agencies must have enough boots on the ground. Currently, with its large expanse of land and pockets of criminal activities across its length and breadth, the number of military and security personnel needed to exterminate bandits and effectively hold ground in liberated areas is enormous. The problem currently being faced in this regard was clearly highlighted by Sokoto State Governor Tambuwal at the summit:
Tambuwal said: "Recently, we are experiencing low level of manpower, even though we have established a military unit of 8 Division in the state, the manpower is not up to a battalion. So it is undermanned.
"They don't have the manpower, they don't have the equipment, so, there's need for deployment of more troops, more hands, more equipment, more flexible vehicles that will lead them to areas because the problem is not in one place; it is sporadic with the bandits hastily moving from one place to another.
"So, they have to be pursued, the land mass is wide and vast even into Niger Republic. So it is very difficult even in gathering intelligence."