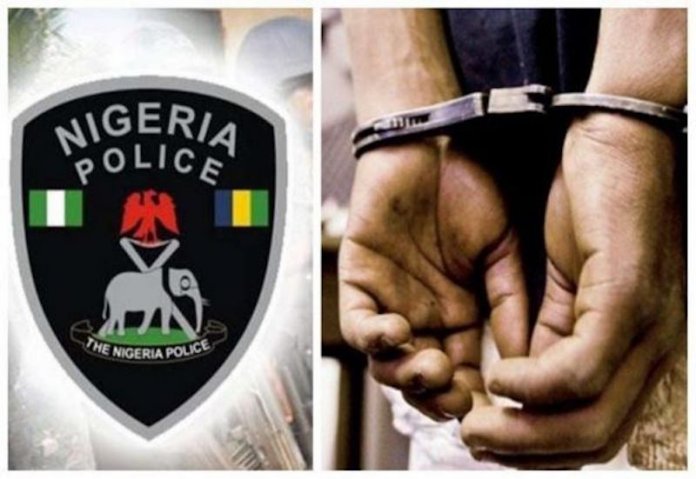 * Begin manhunt for nine jailbreakers
Abia State Command of the Nigeria Police Force has arrested a fleeing alleged killer-officer identified as Sergeant Chinatu Onyema.
This is as the Force said it has begun manhunt for the remaining nine of the 29 criminal suspects that escaped from its cell in Umuahia on Saturday.
Onyema reportedly killed two persons in Aba, the commercial nerve of the state last week.
The gun said to have been used to commit the crime was reportedly recovered at a location in Aba after which the Sergeant has been on the run.
Onyema was reportedly apprehended Sunday night at a location in Isiala Ngwa North Local
Government of the state through intelligence.
Police Public Relations Officer (PPRO), Geoffrey Ogbonna, in a statement said Onyema, who hails from Isiala Ngwa Local Government Area, was arrested by detectives.
According to him, the arrest of Onyema was sequel to an internal intelligence team set up by CP Agbede.
Ogbonna said the arrested cop would appear in court after the conclusion of investigations.
In a related development, the police have begun manhunt for the remaining nine of the 29 criminal suspects that escaped from police cell in Umuahia on Saturday.
Ogbonna confirmed to the News Agency of Nigeria (NAN) yesterday that 29 detainees escaped from the Umuahia Central Police Station's cell after overpowering the guard on duty.
Narrating the incident, Ogbonna said that one of the detainees had appealed to the guard (name withheld) to assist him with water to flush the toilet.
He said that unknown to the guard, the detainees had conspired to attack him in order to escape from detention.
"This happened around 9.00 p.m. on Saturday,'' he said.
He added that as soon as the guard brought the water and opened the iron bar, the suspects rushed out, overpowered him and took to their heels.
The command's spokesman said that 20 of the suspects were rearrested that night and in the early hours of Sunday.
He expressed the confidence that the remaining nine escapees would be rearrested and appealed for assistance from Umuahia residents.
"I appeal to members of the public to be vigilant and report any strange face or faces in dirty attires in their neighbourhood to the police.
"The suspects had dirty attires they wore in the cell and may be looking for where to steal people's clothes in order to look decent to be able to escape from the town,'' Ogbonna sai